Personal tools in the cloud
oneview | social bookmarking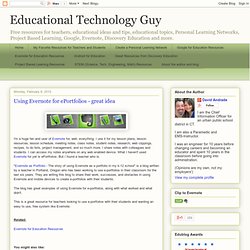 Using Evernote for ePortfolios - great idea
I'm a huge fan and user of Evernote for, well, everything. I use it for my lesson plans, lesson resources, lesson schedule, meeting notes, class notes, student notes, research, web clippings, recipes, to do lists, project management, and so much more. I share notes with colleagues and students. I can access my notes anywhere on any web enabled device.
Evernote- A Teachers Perspective by Rebecca Spink on Prezi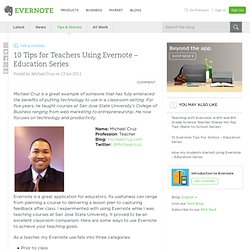 Michael Cruz is a great example of someone that has fully embraced the benefits of putting technology to use in a classroom setting. For five years, he taught courses at San Jose State University's College of Business ranging from web marketing to entrepreneurship. He now focuses on technology and productivity.