Personal tools in the cloud
Prezi - The Zooming Presentation Editor. Thoughtboxes. Diigo - Web Highlighter and Sticky Notes, Online Bookmarking and Annotation, Personal Learning Network. Oneview | social bookmarking. Remember Everything | Evernote Corporation. Skitch - Annotate, edit and share your screenshots and images...fast. Evernote for Education. Android App: I use the desktop version at home and the office, the Android app on my HTC One smartphone, my tablets, web version on my Chromebook.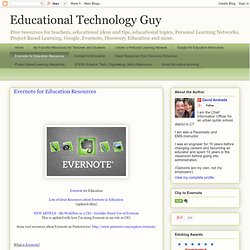 The desktop version sync's all of the data to your computer (good for backup) and you can also export your notes in a variety of formats for backup. You can create new notes via desktop, web, or mobile version. Using Evernote for ePortfolios - great idea. I'm a huge fan and user of Evernote for, well, everything.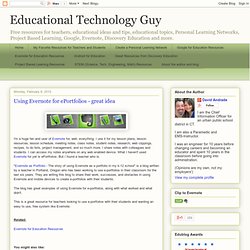 I use it for my lesson plans, lesson resources, lesson schedule, meeting notes, class notes, student notes, research, web clippings, recipes, to do lists, project management, and so much more. I share notes with colleagues and students. I can access my notes anywhere on any web enabled device. Evernote- A Teachers Perspective by Rebecca Spink on Prezi. 10 Tips for Teachers Using Evernote – Education Series. Posted by Michael Cruz on 13 Jan 2011 Comment Michael Cruz is a great example of someone that has fully embraced the benefits of putting technology to use in a classroom setting.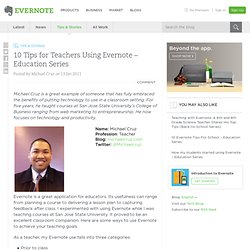 Web Clipper | Evernote Corporation. Research Management for Professionals, Web and PDF Annotation | WebNotes.
---