Personal tools in the cloud
oneview | social bookmarking
This is updated with how I'm using Evernote in my role as CIO. Some cool resources about Evernote on Pinterest too: http://www.pinterest.com/explore/evernote/What is Evernote?Evernote is a way to get organized. It is a great, free resource that allows you to easily capture information using whatever device or operating system you use.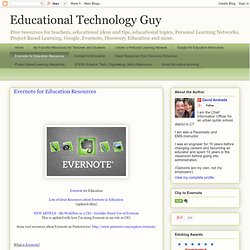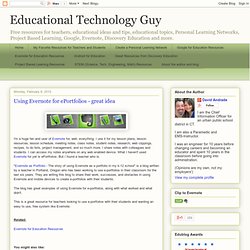 Using Evernote for ePortfolios - great idea
I'm a huge fan and user of Evernote for, well, everything. I use it for my lesson plans, lesson resources, lesson schedule, meeting notes, class notes, student notes, research, web clippings, recipes, to do lists, project management, and so much more. I share notes with colleagues and students. I can access my notes anywhere on any web enabled device.
Bec Spink A Teacher's Perspective Anecdotal Notes & Worksamples I use Evernote to track all of my anecdotal notes on students. I create a note book for each student and add notes for different areas of the curriculum. In this example i have a note set up for Writing, Maths and Reading Conferences. Text You can type in notes to document observations etc Audio You can record students in audio form.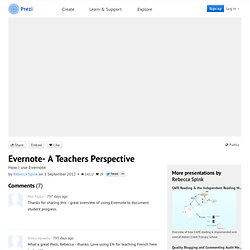 Evernote- A Teachers Perspective by Rebecca Spink on Prezi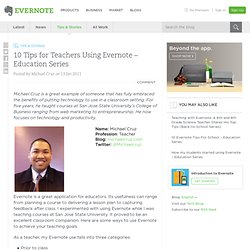 Michael Cruz is a great example of someone that has fully embraced the benefits of putting technology to use in a classroom setting. For five years, he taught courses at San Jose State University's College of Business ranging from web marketing to entrepreneurship. He now focuses on technology and productivity.