Food/Recipes
Pumpkin Cupcakes With Cinnamon Cream Cheese Frosting. I couldn't believe my eyes this week when I saw the ad for Pumpkin Spice Lattes in my local Starbucks.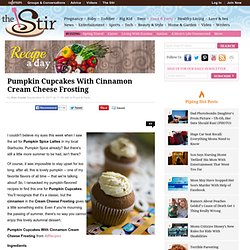 Pumpkin Spice already? But there's still a little more summer to be had, isn't there? Cream Cheese Chocolate Chip Cookies & Betchacanteatjustone's Blog. This just may be my new favorite Chocolate Chip Cookie.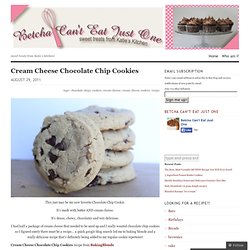 It's made with butter AND cream cheese. It's dense, chewy, chocolatey and very delicious. Chocolate Chip Cookie Dough + Cupcake = The BEST Cupcake. Ever. Recipe - Al... Parmesan Roasted Potatoes. Easter Cupcakes Baked in Real Egg Shells ~ Cupcake Project. I watched my Grandmother's face when she realized that I hadn't handed her a hard boiled egg but rather a cake baked inside a real egg shell.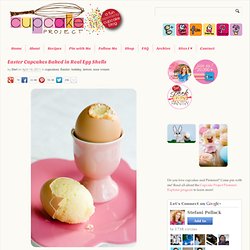 Her eyes were filled with wonder and I could envision what she must have looked like as a tyke the very first time she saw a red balloon float across the sky or the the trunk of a giant elephant spewing a stream of water. "Crack it on the table," I told her. Eggs were cracked, cupcakes were eaten, and I was perceived as a cupcake Houdini. Update 3/19/2012: For the basic instructions on these Easter cupcakes, keep reading. To see another example of them with dyed eggs and cream cheese "yolk" filling, see my latest version of these Easter cupcakes. Bacon and Cheddar Macaroni & Cheese. 1 Bring a medium (6- to 8-quart) pot of water to a boil.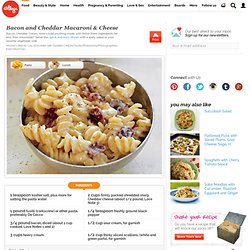 Salt it generously (it should taste like the sea). Stir in the pasta and cook according to the package directions. Drain (but don't rinse, or you'll rinse away starches that will help thicken the sauce) and return to the empty pot. 2 Meanwhile, place a large (12- to 14-inch) sauté pan over high heat for several minutes. When hot, add the bacon and sauté until browned and crispy (lower the heat to medium-high if necessary to prevent scorching), about 5 minutes. The Ultimate Strawberry Lemonade. One of the first times I ever realized that – HEY!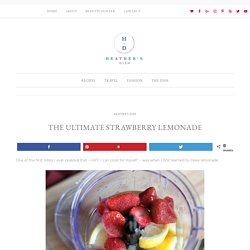 I can cook for myself! – was when I first learned to make lemonade. I magically found the refrigerated lemon juice at our house and followed the directions to make my own lemonade. I stirred and stirred and stirred again until that sugar was finally dissolved. Speaking of which, what gives sugar?! Italian Grilled Cheese. Who doesn't love a good grilled cheese?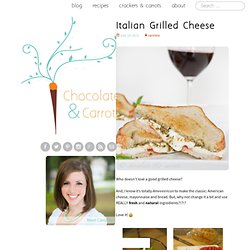 And, I know it's totally Ameeeerican to make the classic: American cheese, mayonnaise and bread. But, why not change it a bit and use REALLY fresh and natural ingredients?!?!? Love it! There's nothing more delicious than fresh and homemade ingredients. S'more Brownies Recipe. Baking & Dessert Recipes. Cinnamon Sugar Pull-Apart Bread. I'm sorry.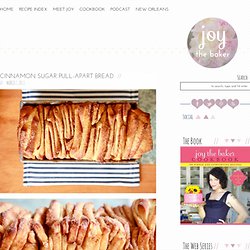 I know it's Monday morning and you probably came here for some pretty pictures of food that you could glance at, and then move on with your day… and here I go thrusting warm, soft cinnamon sugar bread in your face. It's not fair. I know it's not fair. I know that now you're craving cinnamon rolls, and cream cheese frosting and chili fries and hot dogs.
I am too… and I already ate half of this warm bread. Over 100 Quick and Easy Recipes. We Have Preparation and Cooking Times of 30 Minutes or Less The majority of recipes we offer can be both prepared and cooked in 30 minutes or less, from start to finish.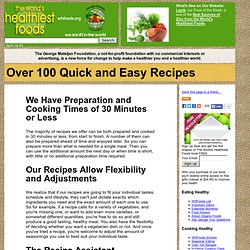 A number of them can also be prepared ahead of time and enjoyed later. So you can prepare more than what is needed for a single meal. Watermelon Limeade - Recipe. Garlic Parmesan Pull-Apart Bread - Recipe. I once made the driest pancake in the world.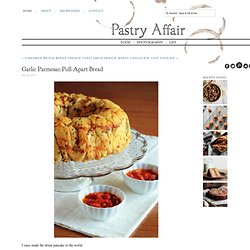 I can see you sitting at home, staring at your computer screen, and scoffing at my bold statement. Driest pancake in the world? The Infamous Jacques Torres Chocolate Chip Cookies. Now, I have a chocolate chip cookie recipe that I swear by.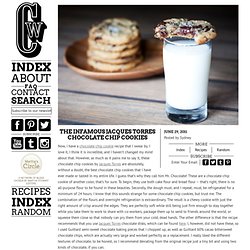 I love it, I think it is incredible, and I haven't changed my mind about that. However, as much as it pains me to say it, these chocolate chip cookies by Jacques Torres are absolutely, without a doubt, the best chocolate chip cookies that I have ever made or tasted in my entire life. I guess that's why they call him Mr. Chocolate! These are a chocolate chip cookie of another color, that's for sure. Recipe Idea & Finder Tool.
---