Drinks
How a Hangover Works.................in case you were wondering. What is a Hangover?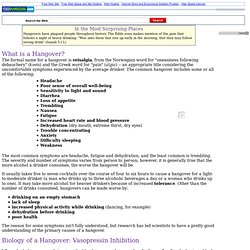 The formal name for a hangover is veisalgia, from the Norwegian word for "uneasiness following debauchery" (kveis) and the Greek word for "pain" (algia) -- an appropriate title considering the uncomfortable symptoms experienced by the average drinker. The common hangover includes some or all of the following: The most common symptoms are headache, fatigue and dehydration, and the least common is trembling.
The severity and number of symptoms varies from person to person; however, it is generally true that the more alcohol a drinker consumes, the worse the hangover will be. It usually takes five to seven cocktails over the course of four to six hours to cause a hangover for a light-to-moderate drinker (a man who drinks up to three alcoholic beverages a day or a woman who drinks up to one). 10 Jello Shots Worth the Hangover. Chocolate Guinness Goodness Recipe at Epicurious. Editor's note: This recipe was developed by Shane Philip Coffey, the chef at Alias restaurant on New York City's Lower East Side.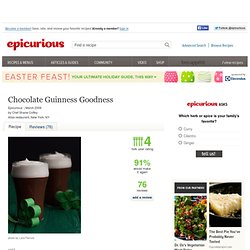 This rich and luscious dessert came about because I needed a special dessert for a St. Patrick's Day tasting menu. I was on a mission to use my favorite beer, Guinness, something I consider to be one of Ireland's gifts to the world. As the 17th of March drew closer, I looked for inspiration at my favorite Irish pub in Manhattan.
Pairing Beer With Food | Men's Journal. Now That Is Truly, - Other - Apr 6. How to make Mead. Pink Panty Droppers | Drunk In College. How to Make Caramel Apple Shots. Photo: Michelle Oddis Once in a while, a party trick comes along that grabs our attention.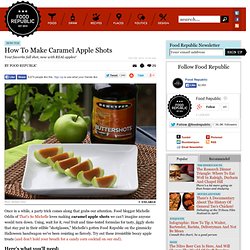 Food blogger Michelle Oddis of That's So Michelle loves making caramel apple shots we can't imagine anyone would turn down. Using, wait for it, real fruit and time-tested formulas for tasty, jiggly shots that stay put in their edible "shotglasses," Michelle's gotten Food Republic on the gimmicky Halloween bandwagon we've been resisting so fiercely. Try out these irresistible boozy apple treats (and don't hold your breath for a candy corn cocktail on our end). Here's what you'll need: Drunken Gummies (Vodka-Infused Gummi Bears)
This Instructable takes a bit more than a week to complete, but the end result is certainly worth it!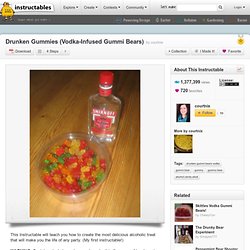 You will need: - 1 1/2 cups of vodka (can use more or less if desired)- 1 tub of gummi bear candies, plastic with lid (about 1kg. Tub found at Wal-mart)- 1 can of frozen juice concentrate, any flavour desired (I used fruit punch.) You can keep the juice frozen for now, as you will not need it for a few days. - First step is to open the lid of your gummi bears and pour in the vodka.
---