iPad in Education
Choose a Showcase - eLearning ICT - DEECD
United Kingdom) - Education - iPad makes the perfect learning companion
There's a reason iPad has become a favourite with students and teachers. Every lesson is more hands-on. You can easily customise the learning experience for each student with apps and books geared to any level. Or teach with your own interactive materials created with iBooks Author. And you can organise and deliver all your lessons with iTunes U, so your students have access to their learning materials on iPad wherever they go.Learn more about teaching with iPad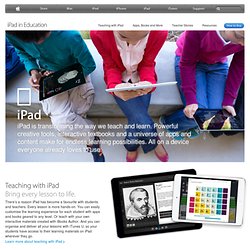 There is a trend taking place throughout the corporate world that has the potential to significantly impact schools. The trends is being called BYOD – bring your own device. What's happening in business is employees – everyone from the manufacturing floor, to secretaries, to sales people, to the executive suite and boardroom – are bringing their personal mobile devices with them to work. They are doing that because their experience – with smart phones and tablets – is one they are liking and getting value from.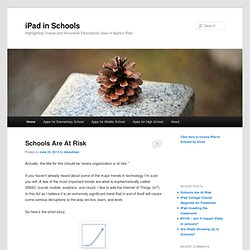 (Education) Why the iPad Absolutely Matters
This wiki is intended to be a clearinghouse of applications, lessons and experiences using the iPad in the classroom. The intention is that all apps listed have been tested and recommended by teachers using them. The Apps pages are generally created using google docs spreadsheets, feel free to update the wiki or the spreadsheets. (A link is provided on each page for the spreadsheets... at least the ones I've started working on...) At this point, as a high school science teacher, most of the apps I've recommended and investigated are geared to this level. Some can be used at any level.