Artistas
Art by Jill Powers
Abigail Brown: creature textile designer extraordinaire - intro
Aude Franjou - Lin Sculpté
Anne Wilson, Artist - topologies walk-through
Alisa Dworsky
The exhibit as opened, the installation is complete! here is an image of "Drawn Out", 10′ X 13′ X 7′, Ribbon, Lead, Carabiners and Steel, 2013. Three lead weights create a tensile force on the horizontally woven ribbons; this force helps to shape the main volume of the piece. The counterweights are connected to the main form by satin ribbons strung through a series of carabiners, mounted on the ceiling and the wall, that redirect the tensile force created by the lead weights. Jeff Bergman, Associate Director at Pace Prints curated the show "Flat/Not Flat" for which I created this work.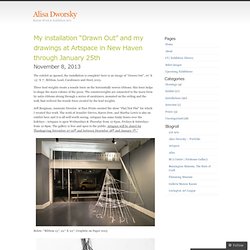 adrienne sloane, fiber artist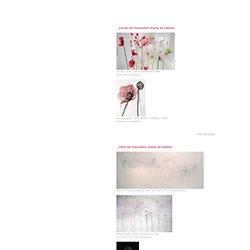 jannick_deslauriers_ sculpture installation dessin _ _ pavots (de l'exposition champ de bataille) pavots. 2008- 2009. installation textile. dimensions variables pavots. détail. 2008- 2009. installation textile. dimensions variables
JANNICK DESLAURIERS _
Marie Noelle FONTAN - Tissage - Art Textile
Shannon Weber
Verena Sieber-Fuchs
JoAnne Russo
Home : Stitch Textile Artists
Artists
62 Group
Mitsuko ASAKURA  dyeing - weaving tapestry Official web site
'Пролет | Spring' unfurling on the streets of Sofia | photo by Abigail Doan There is something so poignant about the transition to a new season. Of course, we are all more than ready for spring, but I always feel a bit disloyal about shedding the previous season and casting it off like a dry or dull skin casing that I essentially have no use for.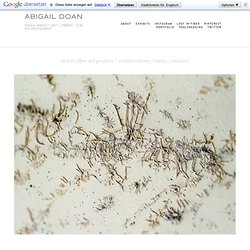 abigail doan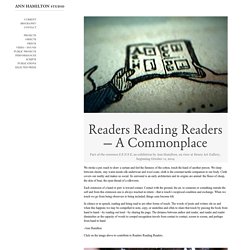 The Art Show at Park Avenue Carl Solway Gallery · Booth A23 March 5-9, 2014 Lecture: This Is Almost That: Ann Hamilton and Jane Hammond in conversation with Lisa Pearson (podcast) New York Public Library New York, NY The O N E E V E R Y O N E series began with Hamilton's participation in The Warhol Museum's Factory Direct: Pittsburgh, a 2012 project partnering artists with Pittsburgh-based businesses.
Why I hacked a knitting machine | Fashion
Where the project all started: Andrew Salomone wearing a balaclava with an image of his own face knitted on to it. Photograph: Becky Stern Some people use hacking to attempt bold endeavours like undermining the governments of tyrannical superpowers, while others use it for more trivial purposes, such as making all of the female characters nude in Skyrim. Brooklyn-based artist Andrew Salomone's innovative use of hacking to make custom knitwear will neither change the world nor impress gaming nerds, but it is going to make a lot of crafters very, very excited. After getting the help of some tech-savvy friends who fiddled with a USB cable to connect a Brother KH-930e electronic knitting machine to a computer, he is now able to make the machine knit photorealistic copies of digital images, sort of in the same way a desktop printer reproduces an image.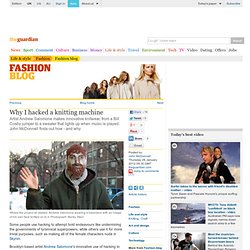 Playground Crochet Artist Toshiko Horiuchi MacAdam — Crochet Concupiscence
If you ever get a chance to go to the children's area of the Takino Suzuran Hillside National Park in Sapporo, Japan then you'll immediately notice a very cool, colorful landscape of crochet netting that kids can play on. This is the most famous work of textile artist Toshiko Horiuchi-MacAdam, the Rainbow Net. More about crochet artist Toshiko Horiuchi-MacAdam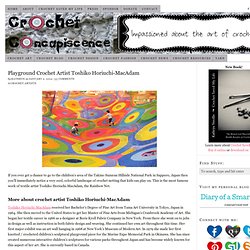 Erin Endicott Contemporary Embroidery
Hannah Streefkerk - Visual artist
Lorenzo Nanni
browngrotta home