Cool Pictures
- StumbleUpon. 267.jpg from earthshots.org - StumbleUpon. Aurora_kuenzli.jpg from nasa.gov - StumbleUpon. Still Looking For Paradise? Maldives - justpaste.it. Double chain of twenty-six atolls… The Republic of Maldives, or simply the Maldives, is an island nation in the Indian Ocean.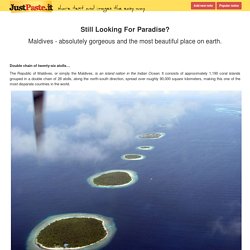 It consists of approximately 1,190 coral islands grouped in a double chain of 26 atolls, along the north-south direction, spread over roughly 90,000 square kilometers, making this one of the most disparate countries in the world. 29500.jpg from unfriendable.com. Plitvice, a watery paradise in Croatia. In recent years, Croatia has changed from a relative unknown to one of the trendiest destinations in Europe.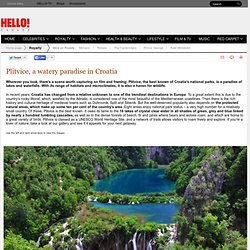 To a great extent this is due to the country's rocky littoral, which, washed by the Adriatic, is considered one of the most beautiful of the Mediterranean coastlines. Then there is the rich history and cultural heritage of medieval towns such as Dubrovnik, Split and Sibenik. 10 Examples of Incredible Starry Night Sky Photography, and a How-To Video |... 03-national-parks-1600.jpg from nationalgeographic.com.
---