Mythology
Timeless Myths: Celtic Mythology. We now leave the mild climate of the ancient Aegean, and the cold, forbidding regions of the North.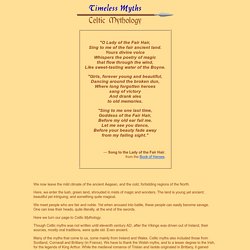 Here, we enter the lush, green land, shrouded in mists of magic and wonders. The land is young yet ancient; beautiful yet intriguing; and something quite magical. We meet people who are fair and noble. Norse Mythology. Important Mythical Objects in Greek and Roman Mythology. Aphrodite's This girdle was popular for its ability to arouse desire and create a great hunger for love.
This girdle was so "potent" that whomever she desired would fall in love with her. It is even sometimes said that Hera once wore the girdle to win back Zeus's affection. Apollo was often depicted carrying a lyre, the Greek musical instrument with seven strings. IRISH LITERATURE, MYTHOLOGY, FOLKLORE, AND DRAMA. Irish PlayographyIrish Writers OnlineStudy Ireland: Poetry - BBCIrish Women Writers - M.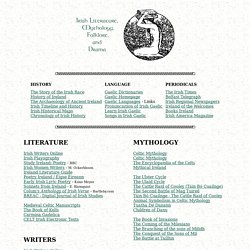 OckerbloomThe Irish and LiteratureLyra CelticaIreland Literature Guide2002 Irish Author RoundtablePoetry Ireland / Éigse ÉireannEarly Irish Lyric Poetry - Kuno Meyer Sonnets from Ireland - E. Blomquist Colum's Anthology of Irish Verse - Bartleby.com. Family tree of the Greek gods. All mythologies.
---