CHM
American Chemical Society <h2>To view this content please <em>enable javascript</em> and <a href="./">refresh this page</a>.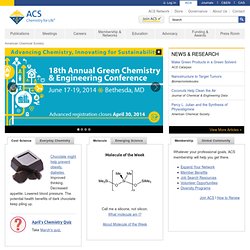 Chemistry Rubric Free Ebooks (pdf , doc , xls and etc.) - Incomplete entry
chemguide: helping you to understand Chemistry - Main Menu
Predicting Bond Type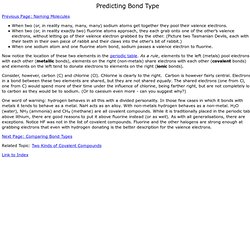 Predicting Bond Type Previous Page: Naming Molecules When two (or, in reality many, many, many) sodium atoms get together they pool their valence electrons. When two (or, in reality exactly two) fluorine atoms approach, they each grab onto one of the other's valence electrons, without letting go of their valence electron grabbed by the other. (Picture two Tasmanian Devils, each with their teeth in their own piece of rabbit and their claws into the other's bit of rabbit.) When one sodium atom and one fluorine atom bond, sodium passes a valence electron to fluorine.
Simplest Formula from Percent Composition - Worked Simplest Formula Chemistry Problem
This is a worked example chemistry problem to calculate the simplest formula from the percent composition. Problem Vitamin C contains three elements: carbon, hydrogen, and oxygen. Analysis of pure vitamin C indicates that the elements are present in the following mass percentages: Use the data to determine the simplest formula for vitamin C. Solution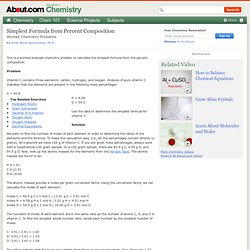 Common Chemicals and Where to Find Them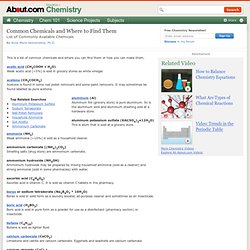 This is a list of common chemicals and where you can find them or how you can make them. acetic acid (CH 3 COOH + H 2 O) Weak acetic acid (~5%) is sold in grocery stores as white vinegar. acetone (CH 3 COCH 3 ) Acetone is found in some nail polish removers and some paint removers. It may sometimes be found labelled as pure acetone. aluminum (Al) Aluminum foil (grocery store) is pure aluminum.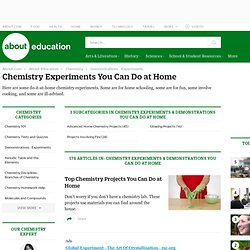 Here are some do-it-at-home chemistry experiments. Some are for home schooling, some are for fun, some involve cooking, and some are ill-advised. Don't worry if you don't have a chemistry lab.
Chemistry Experiments & Demonstrations You Can Do at Home
How To Make Copper and Brass Cleaner Use these instructions to make your own copper, brass and bronze cleaner. How To Make a Sparkler Learn how to make your own sparklers, for Independence Day or New Years Day fun. How To Perform a Quick Saponification Reaction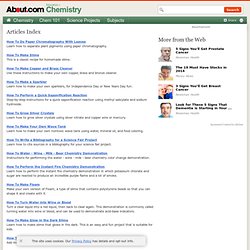 Chemistry - HowTos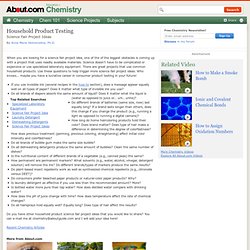 When you are looking for a science fair project idea, one of the of the biggest obstacles is coming up with a project that uses readily available materials. Science doesn't have to be complicated or expensive or use specialized laboratory equipment. There are great projects that use common household products. Use these questions to help trigger more science fair project ideas. Who knows... maybe you have a lucrative career in consumer product testing in your future! If you use invisible ink (several recipes in the how-to section), does a message appear equally well on all types of paper?
Household Product Testing - Science Fair Project Ideas
Lecture Slide Index
Library of Modules
Acids and Bases: An Introduction - This module provides an intrioduction to acid and base chemistry. The Arrhenius and Bronsted-Lowry concepts of acids and bases are discussed as well as the pH scale and neutralization reactions. National Science Education Standard Equivalent: Physical Science / Beyond the NSES Atomic Theory I: The Early Days - This lesson introduces J. J. Thomson's discovery of the electron and E.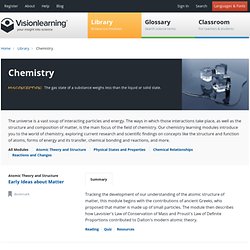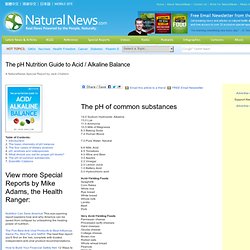 Table of Contents: 1. Introduction 2. The basic chemistry of pH balance 3. The four cases of dietary acidosis 4. pH, acidosis and osteoporosis 5. What should you eat for proper pH levels?
The pH Nutrition Guide to Acid / Alkaline Balance page 5
Common Compound Library A searchable database of over 800 common compound names, formulas, structures, and properties. Companion Notes Hyperlinked notes and guides for first semester general chemistry. Construction Kits Flash-based kits for building chemical formulas, names, equations, and problem solutions.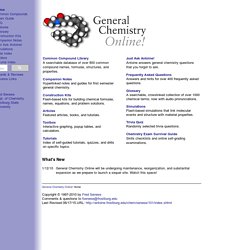 These simulations can be used as lecture demonstrations or as components in prelab exercises. You'll need Macromedia's free Flash Player to use them. Flash Player comes pre-installed with most modern browsers, but if you're using an older browser you may need to download Flash Player here (version 6 or better is required). These simulations appear courtesy of John Wiley and Sons , publisher of Chemistry: Matter and its Changes .
Simulations
Education Materials
Lesson Plans: Supernova Chemistry
Objective Students will observe visible spectra of known elements and identify an unknown element or combination of elements by visible spectra. Grade level
IUPAC nomenclature of organic chemistry
The IUPAC nomenclature of organic chemistry is a systematic method of naming organic chemical compounds as recommended [ 1 ] by the International Union of Pure and Applied Chemistry (IUPAC). Ideally, every possible organic compound should have a name from which an unambiguous structural formula can be created. For ordinary communication, to spare a tedious description, the official IUPAC naming recommendations are not always followed in practice, except when it is necessary to give a concise definition to a compound [ vague ] , or when the IUPAC name is simpler (e.g. ethanol instead of ethyl alcohol).
Stoichiometry ( pron.: / ˌ s t ɔɪ k i ˈ ɒ m ɨ t r i / ) is a branch of chemistry that deals with the relative quantities of reactants and products in chemical reactions. In a balanced chemical reaction, the relations among quantities of reactants and products typically form a ratio of positive integers. For example, in a reaction that forms ammonia (NH 3 ), exactly one molecule of nitrogen (N 2 ) reacts with three molecules of hydrogen (H 2 ) to produce two molecules of NH 3 : Stoichiometry can be used to determine quantities such as the amount of products (in mass, moles, volume, etc.) that can be produced with given reactants and percent yield (the percentage of the given reactant that is made into the product).
stoichiometry