Crafts
Wax Paper Resist. I know, I seem to be on a background paper kick lately.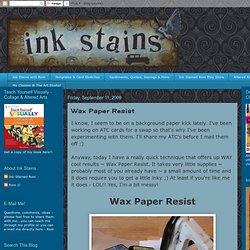 I've been working on ATC cards for a swap so that's why I've been experimenting with them. I'll share my ATC's before I mail them off :) - StumbleUpon. My name is Momma: How to make a reindeer hair bow for Christmas. Random Tutorial Generator.
Creative Kismet & Blog Archive & little guiding stars - StumbleUpon. Since the new year has started I've been trying to think of ways to be more kind to my self.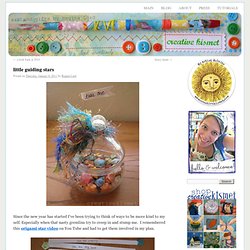 Especially when that nasty gremlins try to creep in and stump me. I remembered this origami star video on You Tube and had to get them involved in my plan. I thought it would be fun to make a whole bunch with kind words and "you are…." phrases inside. Persephone Magazine &124; Blog &124; The Lazy Lady's Guide to DIY: Hanging Herb Garden - StumbleUpon. Paper Filigree Snowflake Gallery - StumbleUpon. I've switched over to using acid free paper and glue to make my paper filigree snowflake ornaments now.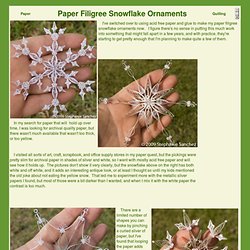 I figure there's no sense in putting this much work into something that might fall apart in a few years, and with practice, they're starting to get pretty enough that I'm planning to make quite a few of them. In my search for paper that will hold up over time, I was looking for archival quality paper, but there wasn't much available that wasn't too thick, or too yellow. I visited all sorts of art, craft, scrapbook, and office supply stores in my paper quest, but the pickings were pretty slim for archival paper in shades of silver and white, so I went with mostly acid free paper and will see how it holds up.
The pictures don't show it very clearly, but the snowflake above on the right has both white and off white, and it adds an interesting antique look, or at least I thought so until my kids mentioned the old joke about not eating the yellow snow. Random Tutorial Generator - StumbleUpon. Paper Fortune Cookie Favors | Flickr - Photo Sharing! - StumbleUpon. Centsational Girl & Blog Archive & DIY: Paint Stick Sunburst Mirror - StumbleUpon. My friends, if there ever was a bandwagon, this carefree DIYer is jumping right on it.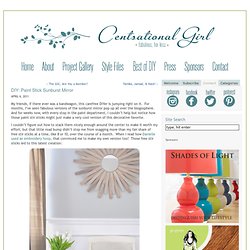 For months, I've seen fabulous versions of the sunburst mirror pop up all over the blogosphere. And for weeks now, with every stop in the paint department, I couldn't help but notice how those paint stir sticks might just make a very cool version of this decorative favorite. Glass Etching | Make It and Love It - StumbleUpon. Have you ever done any glass etching?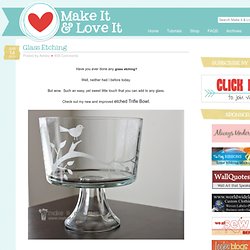 Well, neither had I before today. But wow. Such an easy, yet sweet little touch that you can add to any glass. Check out my new and improved etched Trifle Bowl. How to Make Leaf Skeletons - The Idea Room - StumbleUpon. I wanted to share with you a project from one of my readers who shares with us how to make leaf skeletons.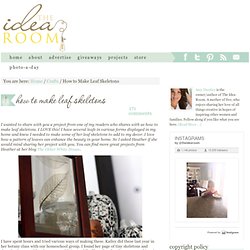 I LOVE this! I have several leafs in various forms displayed in my home and knew I needed to make some of her leaf skeletons to add to my decor. I love how a pattern of leaves can enhance the beauty in your home. So I asked Heather if she would mind sharing her project with you. DIY Chan Luu-Style Wrap Bracelet | Runway DIY.com - StumbleUpon. New England Through Yummy Moms Eyes: Tutorial: Photo Wood Blocks - StumbleUpon. Ing Article: 30 "All About Me" Scrapbook Topics. Article courtesy Scrapjazz.com; by Patter Cross Do you have an 'All About Me' album?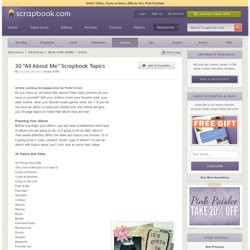 How many pictures do you have of yourself? Will your children know your favorite color, your daily routine, what your favorite board games were, etc.? Build/Make/Craft/Bake: How-to: Hammered flower and leaf prints. Get out the hammer, it's how-to Tuesday and we have some botanical prints to make!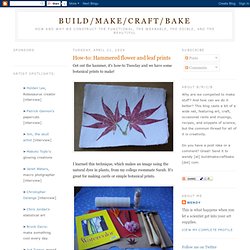 I learned this technique, which makes an image using the natural dyes in plants, from my college roommate Sarah. It's great for making cards or simple botanical prints. Actually, you'll need a little more than just a hammer. V and Co how to: jersey knit bracelet - StumbleUpon. I don't know what it is about this time of year that makes me just want to have my bare feet in the sand, be watching the sun setting into the ocean, and breathing in the warm salty air of the beach...as i get older, more and more i find myself missing that place i used to go to almost every.single.day. as a teen.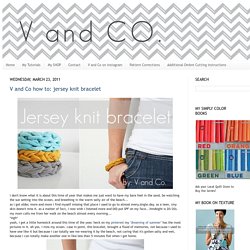 (my skin doesn't miss it. as a matter of fact, i now wish i listened more and DID put SPF on my face...hindsight is 20/20). my mom calls me from her walk on the beach almost every morning... *sigh*yeah, i get a little homesick around this time of the year. heck on my pinterest my "dreaming of summer" has the most pictures in it. ah yes. i miss my ocean. case in point. this bracelet, brought a flood of memories, not because i used to have one like it but because i can totally see me wearing it by the beach, not caring that it's gotten salty and wet, because i can totally make another one in like less than 5 minutes flat when i get home. TableTalk: The Best Idea I've Had This Year. Seed Paper Tutorial | - StumbleUpon. I first heard of seed paper–or hand made paper that has real flower seeds embedded in the pulp itself and is actually plantable–about a year ago while browsing through a stationary catalog.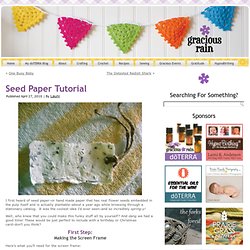 It was the coolest idea I'd ever seen–and so incredibly spring-y! Well, who knew that you could make this funky stuff all by yourself? And dang we had a good time! 3d video showing how to fold an origami peace crane. How to Marbleize Paper and Cards. Immediately after removing the paper, place it in a pan, and pour water over it. Hang paper to dry, marbleized side up. Do not touch the paper until it is dry (typically within 2 hours, depending on humidity levels). Decide whether to keep or discard your solution (it can be used several times). To change paint colors, lay strips of newsprint across the solution's surface, then remove; repeat with clean strips until the solution is clear. Letters.
---