Ściegi
Crocodile Stitch. ...so I came across a lovely pattern on www.ravelry.com that included using, what they called, the Crocodile Stitch.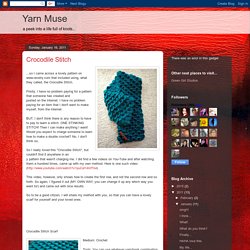 Firstly, I have no problem paying for a pattern that someone has created and posted on the internet. I have no problem paying for an item that I don't want to make myself, from the internet. French Knot. Newstitchaday / Pinterest. The Little eBook of Knitting Stitches – Laylock Knitwear Design. Don't you love looking through books of stitch patterns for knitting inspiration?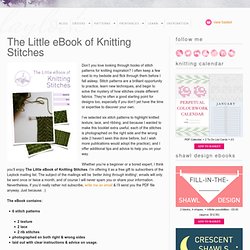 I often keep a few next to my bedside and flick through them before I fall asleep. Stitch patterns are a brilliant opportunity to practice, learn new techniques, and begin to solve the mystery of how stitches create different fabrics. They're often a good starting point for designs too, especially if you don't yet have the time or expertise to discover your own. I've selected six stitch patterns to highlight knitted texture, lace, and ribbing, and because I wanted to make this booklet extra useful, each of the stitches is photographed on the right side and the wrong side (I haven't seen this done before, but I wish more publications would adopt the practice), and I offer additional tips and advice to help you on your way.
Whether you're a beginner or a bored expert, I think you'll enjoy The Little eBook of Knitting Stitches.
---