Hair
111816003217827790_05kkbzyq_c.jpg (JPEG Image, 467 × 700 pixels) Get Out of My Hair. Head Scarves « Glitter & Pearls. I've always believed that girls who wore head scarves just pulled off chic.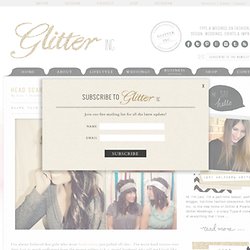 I've worn head scarves over dirty hair to much guffawing from the peanut gallery (a.k.a. stupid brothers) who tell me I look like the chiquita banana lady. Hey, at least she's famous. Also, the vintage vibe is irresistable. Hair. Vacation, staycation, daycation?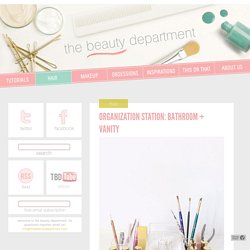 However you decide to classify your next round of downtime, we hope there's a pool or an ocean involved. But here's the thing, little mermaids– you need to prep your hair for swimming, especially if your hair has been colored. Bottle it up. The best stuff in life is free.
Like sunshine, blue skies and THE OCEAN…if you have access to it, that is. Which I don't. And I know it's only January but I'm already Jonesing for spring. So, to scratch the itch, I decided to go with beach hair. Problem was I needed sea spray to get the really beachy look and texture. She Breathes Deeply: Exfoliate! Alright ladies...
Are y'all ready to exfoliate?! We are full blown into fall, and winter is almost upon us. CHALK IT UP. Photos: Kristin Ess, post designed by Kristin Ess Last week, we were shooting Lauren's collection for Kohl's and at the end of the day, we got our hands on some colorful soft chalks.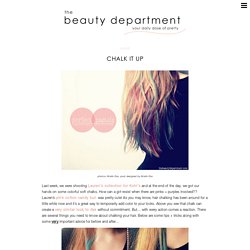 How can a girl resist when there are pinks + purples involved?? Lauren's pink cotton candy bun was pretty cute! As you may know, hair chalking has been around for a little while now and it's a great way to temporarily add color to your locks. French manucure Rocks french-manucure-noire-2 – the Trendy Girl. Lemon Recipes Face | Facial Masks | Get Rid Pimples.
Hair Tutorial For French Braided Updo Bun. If you're tired of always wearing your hair the same way, down or in a ponytail, here is a hair tutorial for a simple braided updo that is very pretty and flattering.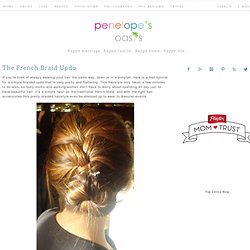 This hairstyle only takes a few minutes to do also, so busy moms and working women don't have to worry about spending all day just to have beautiful hair. It's a simple twist on the traditional french braid, and with the right hair accessories this pretty braided hairstyle even be dressed up to wear to dressier events. 1. Start with hair loose and down. It doesn't matter if your hair is curly or straight, washed or not…this hair tutorial works for everyone and actually looks pretty for all hair styles. Web-goddess: 25 Ways to Wear a Scarf. How To Style a Fishtail Braid.
We love the look of fishtail braids!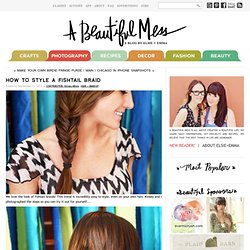 This trend is incredibly easy to style, even on your own hair. Kinsey and I photographed the steps so you can try it out for yourself... Here's how to style a fishtail braid... 1. Part your hair into two even sections. 2. Sea of Shoes: HAIR HOW-TO. I am sometimes asked how I style my hair, and while my method is far from perfect, I thought I'd show you how!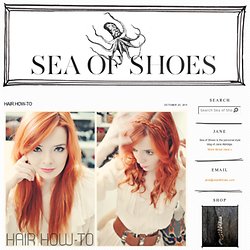 My hair is pretty straight and fine naturally and I always let it air dry. Since I go about three days between washes, I like to curl it on the first day and let it mellow out into some nice waves over the next two. How To Use A Sock To Get Beautiful Curly Hair Without Heat. If you are a mom on the go with long hair you HAVE TO try this.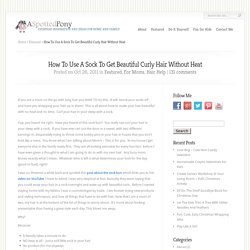 It will knock your socks off and have you wrapping your hair up in them! This is all about how to make your hair beautiful with no heat and no time. Curl your hair in your sleep with a sock. Yup, you heard me right. Have you heard of this sock bun? Homemade Hair Treatments - At-Home Hair Repair at WomansDay.com. Eggs, yogurt and honey are, at first glance, all components of a tasty breakfast—but they also happen to be hair treatment ingredients, and affordable, all-natural ones at that.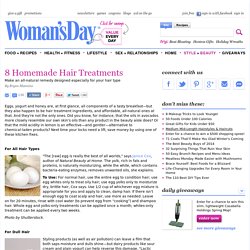 And they're not the only ones. Did you know, for instance, that the oils in avocados more closely resemble our own skin's oils than any product in the beauty aisle does? Or that the mild acidity in lemon is an effective—and gentler—alternative to chemical-laden products? Next time your locks need a lift, save money by using one of these kitchen fixes.
Vitamin HB | My Favorite New Coffee Scrub!!! « huda beauty. Vitamin HB | My Favorite New Coffee Scrub!!! Sun, 13 Nov 2011 DAILY DOSE | BODYBy Huda Heidi Kattan I know I loooove coffee scrubs (remember my HudaBeauty party with the little coffee scrub giveaways), but this one kind of takes the cake when it comes to pure awesomeness! Lovely easy hairstyle. PIN IT UP, GIRL - thebeautydepartment.com. Photo: justin coit for thebeautydepartment.com post designed by kristin ess Our email box is literally flooded with requests for updos so here's a fun one to get us all going! This is always a favorite for attending an event.
This updo looks gorgeous on any hair color but particularly amazing with hilighted hair because it gives the hair lots of depth and dimension. Head Scarf Tutorial. After many requests, I finally made a tutorial on how to tie a simple head scarf. It's really, really easy. I did this without looking in the mirror, so that should tell you how easy it is. Let's get started! Start with a large, square scarf. I like my vintage silk scarves because they're soft and not bulky. THE LONG + THE SHORT OF IT - thebeautydepartment.com. Photos: justin coit + thebeautydepartment.com post designed by kristin ess Remember when Lauren's go-to hairstyle was the bang braid?
Well, lately this little lady's had a new favorite. Check out this gem. It works on literally any hair type – short, long, curly, pin straight, anything! It's so great for those mornings when you're in a rush, but need something to pull your look together. How To Tightline Your Eyes (tutorial) & The Actress I Learnt it From. Tightlining still confuses people. I still see "What did you mean by tightline?? " comments on Youtube and blogs. Tightlining is when you apply eyeliner right onto the base of your upper lash line to give the appearance of thicker lashes and is a method used for most "no-makeup" looks.
Homemade Beauty Products. Mermaid Nails. TIPPED OUT - thebeautydepartment.com. Tipped Out. DIY Turband. Find out about Braids: Our Top 7 Picks. 10 Summer Hair Looks : whoorl. She's Crafty: Feather Hair Extensions | M.I.S.S. Fishtail6.jpg (JPEG Image, 800x563 pixels) Triple Max Tons: Easy Holiday Hair.
---