MYOG (DIY)
Instructables
Quest Outfitters
Thru-Hiker: The Enthusiast's Choice for Cutting Edge Materials For 13 years Thru-Hiker has been the enthusiast's choice when it comes to cutting edge ultralite textiles. We're proud to have helped tens of thousands of people create unique, personalized gear. There's a saying here at Thru-Hiker: We don't make the gear... we make the gear better! Our 2014 run of Momentum 90 20d mini-ripstop is now in stock. There's something for everyone in this year's color slate from mellow earthtones like evergreen to vibrant colors like Ski Patrol Red.
Thru-Hiker.com - Equipment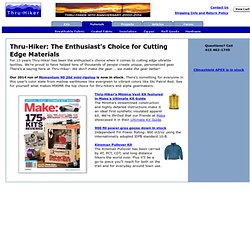 Lawson Hardware // odds & ends
How to Make a USB solar Charger for [mp3 players] and Junk.
Four Way Mobile Charger
Mouser Electronics - Händler für elektronische Komponenten
Lightweight 6VDC Powerful Solar Panel-The Electronic Goldmine
30 Watt Soldering Iron-The Electronic Goldmine
Homemade Backpacking Gear - Home