MYOG (DIY)
Instructables
Toothpaste Dots
Quest Outfitters
Thru-Hiker: The Enthusiast's Choice for Cutting Edge Materials For 12 years Thru-Hiker has been the enthusiast's choice when it comes to cutting edge ultralite textiles. We're proud to have helped tens of thousands of people create unique, personalized gear. There's a saying here at Thru-Hiker: We don't make the gear... we make the gear better! New 2012 Colors for Momentum 50, our highly regarded 10d Downproof Breathable Our new M50 fabric run for 2012 is in and includes 6 great colors. There's something for everyone in this year's color slate, from vibrant colors like ski patrol red to mellow earth tones like coyote and evergreen.
Thru-Hiker.com - Equipment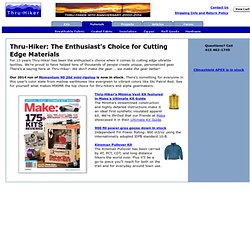 Lawson Hardware // odds & ends
How to Make a USB solar Charger for [mp3 players] and Junk.
Four Way Mobile Charger
Mouser Electronics - Händler für elektronische Komponenten
Lightweight 6VDC Powerful Solar Panel-The Electronic Goldmine
30 Watt Soldering Iron-The Electronic Goldmine
Homemade Backpacking Gear - Home