Memory
the_spacing_effect.pdf (application/pdf Object)
Zapping the Brain Improves Math Skills
- A mild electrical current improves a person's ability to learn math skills.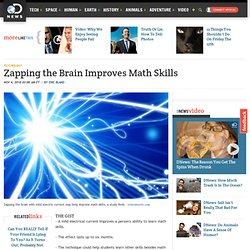 The Invisible Gorilla: And Other Ways Our Intuitions Deceive Us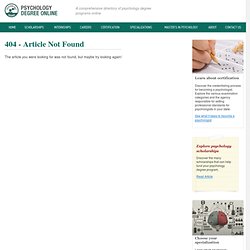 By Tara Miller Almost everyone would love to take advantage of ways to boost their brain power and become smarter, no matter how smart they already are.
(Medical Xpress) -- Forget about working crossword puzzles and listening to Mozart. If you want to improve your ability to reason and solve new problems, just take a few minutes every day to do a maddening little exercise called n-back training.
A brain training exercise that really does work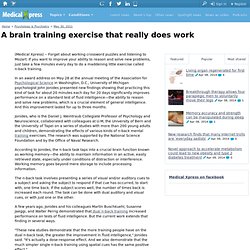 Forget Brain Age: Researchers Develop Software That Makes You Smarter
Brain researchers for the first time claim to have found a method for improving the general problem-solving ability scientists call fluid intelligence, otherwise known as "smarts."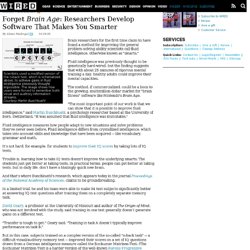 Apr. 13, 2011 — Using advanced imaging technology, scientists from the Florida campus of The Scripps Research Institute have identified a change in chemical influx into a specific set of neurons in the common fruit fly that is fundamental to long-term memory. The study was published in the April 13, 2011 issue of The Journal of Neuroscience . "In studying fruit flies' learning and long-term memory storage, we observed an increase in calcium influx into a specific set of brain neurons in normal fruit flies that was absent in 26 different mutants known to impair long-term memory,," said Ron Davis, chair of the Scripps Research Department of Neuroscience, who led the study.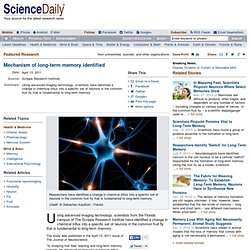 Mechanism of long-term memory identified
Jan. 27, 2011 — A naturally occurring growth factor significantly boosted retention and prevented forgetting of a fear memory when injected into rats' memory circuitry during time-limited windows when memories become fragile and changeable. In the study funded by the National Institutes of Health, animals treated with insulin-like growth factor (IGF-II) excelled at remembering to avoid a location where they had previously experienced a mild shock. "To our knowledge, this is the first demonstration of potent memory enhancement via a naturally occurring factor that readily passes through the blood-brain barrier -- and thus may hold promise for treatment development," explained Cristina Alberini, Ph.D., of Mount Sinai School of Medicine, New York, a grantee of the NIH's National Institute of Mental Health (NIMH).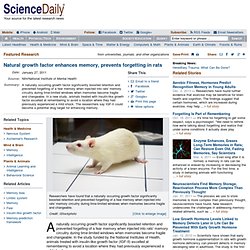 Natural growth factor enhances memory, prevents forgetting in rats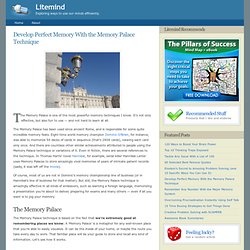 T he Memory Palace is one of the most powerful memory techniques I know. It's not only effective, but also fun to use — and not hard to learn at all.
An Active, Purposeful Machine That Comes Out at Night to Play - New York Times
Super Memory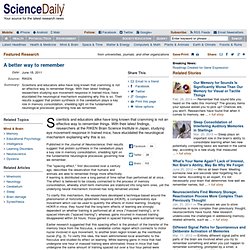 June 18, 2011 — Scientists and educators alike have long known that cramming is not an effective way to remember things. With their latest findings, researchers at the RIKEN Brain Science Institute in Japan, studying eye movement response in trained mice, have elucidated the neurological mechanism explaining why this is so.
A better way to remember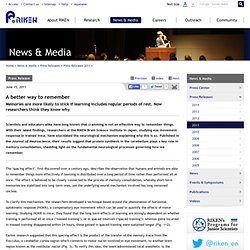 A better way to remember Memories are more likely to stick if learning includes regular periods of rest. Now researchers think they know why
Press Release | 2011 | A better way to remember