Happy
The Instant Comfort Pocket Box House and par kimslittlemonsters. What I Made. Very Enchanting: April Fool's day Crafts and Pranks. April Fool's Day is almost here, are you ready?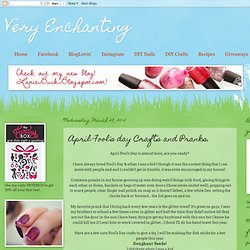 I have always loved Fool's Day & when I was a kid I though it was the coolest thing that I can mess with people and and I couldn't get in trouble, it was even encouraged in my house! Common pranks in my house growing up was doing weird things with food, gluing things to each other or down, buckets or bags of water over doors (those never ended well), popping out to scare people, clear finger nail polish on soap so it doesn't lather, a few white lies, setting the clocks back or forward... the list goes on and on.
My favorite prank that I bring back every few years is the glitter towel! It's great on guys, I sent my brothers to school a few times cover in glitter and half the time they didn't notice till they are out the door in the sun.I have been dying to get my boyfriend with this one but I know he could kill me if I sent him to work covered in glitter... Soylent Green Crackers. HairCrazy.info - A guide to alternative hair styling. Signature COLORS: VALENTINE'S DAY. As a single girl, I look to Valentine's Day this year for a release of "cheesy" energy.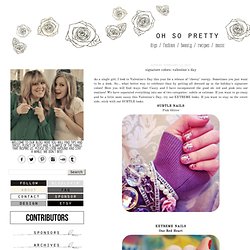 Sometimes you just want to be a dork. So... what better way to celebrate than by getting all dressed up in the holiday's signature colors! Oh comely magazine. T-shirt Issues | T-shirts with a story | Graphic Tee & Magazine, all in one. Subscribe to T-Post Fill out the form below and you'll shortly have your FREE T-shirt in the mail [+1 EUR for shipping].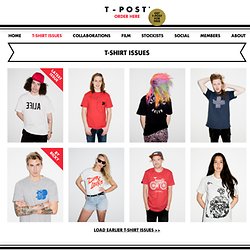 If you stick with us past your FREE T-shirt, our latest release will be in the mail each month for only 33 EUR per T-shirt [SWE: 275 SEK], worldwide shipping included. If you decide that T-post Tees are not for you, you can end your subscription immediately after you've received your FREE T-shirt, all information is included with the delivery, no strings attached. Sleeptripfront. Love letters. Bank of Imagination.
Forgotten Bookmarks. The magic button — Make Everything OK. The quiet place. Communication with the quiet place will be operated via the [spacebar] keycommunication with the quiet place will be operated via your fingergently squeeze that key, nowgently touch the screen, now in order to get the most out of your experience please silence your phone, turn on your speakers and press the [f-11] key or [cmd+shift+f] on macin order to get the most out of your experience turn up the volume and rotate landscapeagain, press [spacebar] to continueagain, tap to continue seriously though, silence your phone. it's pointless otherwisedon't worry - this is *not* one of those places that scare the crap out of youdon't worry - this is *not* one of those places that scare the crap out of you.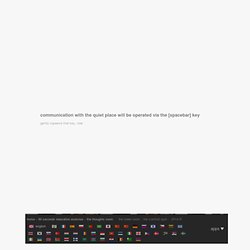 ---