Baked Goods
Chocolate Cupcakes with Flaming Strawberries. Call me easily amused, but these little torch-topped cupcakes delight me.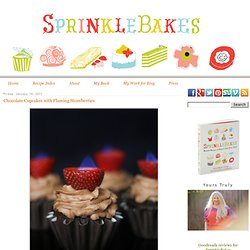 Besides being a cute novelty item for a party, I think they would add a little drama to the end of a romantic meal. I've been looking for something different to serve for Valentine's dessert, and this is definitely different. The strawberries are hollowed out and filled with a bit of liquor, then ignited with a match. Cinnamon Sugar Pull-Apart Bread. I'm sorry.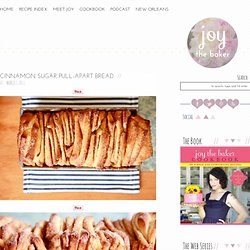 I know it's Monday morning and you probably came here for some pretty pictures of food that you could glance at, and then move on with your day… and here I go thrusting warm, soft cinnamon sugar bread in your face. It's not fair. I know it's not fair. I know that now you're craving cinnamon rolls, and cream cheese frosting and chili fries and hot dogs. I am too… and I already ate half of this warm bread. Chocolate Chip Cookie Dough Truffles | annie's cooking lab - StumbleUpon. Last weekend a friend I decided to neglect our school work and go for a hike in the snow followed by dinner and a movie at my house.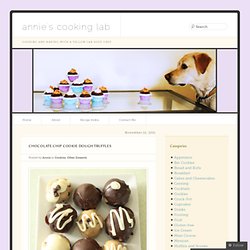 I had all the ingredients on hand for some tasty Corn and Cheese Chowder which was perfect way to warm up after a cold hike. My friend said she'd be in charge of bringing ingredients for us to make dessert and I was so excited to see that she'd picked out these truffles! Eating the cookie dough is usually one of the best parts of making cookies, but then you feel bad because you're supposed to be making cookies- not snacking on the dough!
These cute little truffles taste just like cookie dough and since they don't have any eggs, they're totally safe to eat. These can be decorated in all sorts of creative ways and they'll look like a suitable 'grown up' dessert, even though you're eating cookie dough! Won't Last More Than 10 Minutes Pecan Coffee Cake | Burnt Carrots | Burnt Carrots. Yeah, I know.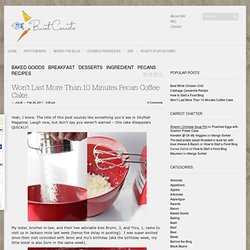 The title of this post sounds like something you'd see in SkyMall Magazine. Laugh now, but don't say you weren't warned – this cake disappears QUICKLY! Twix Cheesecakes – Gingerbread Bagels - StumbleUpon. TasteSpotting | a community driven visual potluck - StumbleUpon. Strawberry Torte.
This beautiful swirled torte is almost too pretty to eat.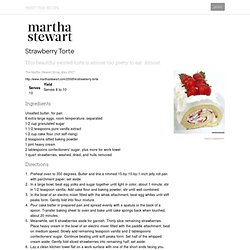 Almost. Photography: The Martha Stewart Show, May 2007 Serves 10 Yield Serves 8 to 10. Nutella Mug Cake | Family Kitchen - StumbleUpon. I have been experimenting with different mug cakes every since I heard about them about a year ago.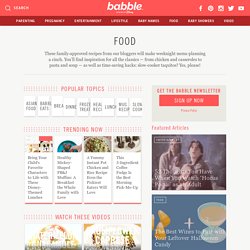 None of them have been winners. They were either too chewy, too dry, or not sweet enough. Well, I continued experimenting, and thought why not add some decadent Nutella into the mix. I modified the classic mug cake recipe, added Nutella, and a little more milk and oil than I had been using before. The results were beyond amazing.
50 Amazing Holiday Cookie Recipes.
---