Tutorials
Tutorials by ChewedKandi on deviantART. Trifold Brochure Writing Tips, design, preparing text, copy, how to, sales, help with, write, printed marketing brochures, designer,tri-fold, affordable, low cost, company, corporate, folder, booklet, manual, marketing material, firm, trifold brochures, q. Tips for preparing text: The bifold, tripanel brochure, often given the misnomer "trifold", is constructed by folding a 8 1/2 x 11 sheet of paper twice to create 3 panels on each side.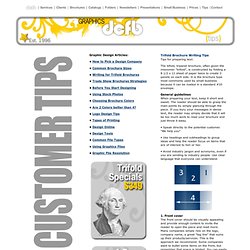 It is the brochure type most commonly used by small business because it can be mailed in a standard #10 envelope. General guidelines When preparing your text, keep it short and sweet. The best 30 photo manipulation tutorials for Photoshop | dpxmag.com. Create a Realistic Wood Texture in Photoshop | Textures & Patterns. In part I of my series on "creating awesome textures using filters in Photoshop" I showed you how to create a realistic water texture using only 2 filters.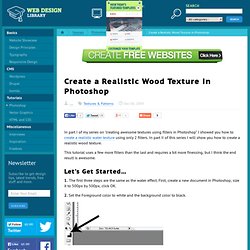 In part II of this series I will show you how to create a realistic wood texture. This tutorial uses a few more filters than the last and requires a bit more finessing, but I think the end result is awesome. 1. Photoshop Pen Tool: The Comprehensive Guide. How to make retro futuristic curves. Tutorial Magazine - 33 Best Photoshop Tutorials of April 2009. Photoshop Recreate the Iron Man Interface Effect This tutorial will show you how to create the screen interface from the hit movie Iron Man. | 41410 views | by abduzeedo How to use type as a creative effect Unlock the power of the Distort tool in Adobe Photoshop to create this enigmatic image.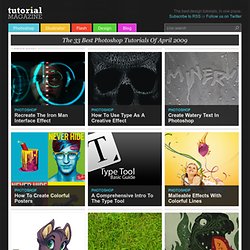 Design a Grunge Vintage Poster in Photoshop. In this Photoshop tutorial I'm going to explain how to easily create a vintage poster design.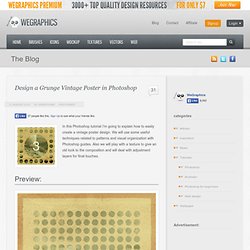 We will use some useful techniques related to patterns and visual organization with Photoshop guides. Also we will play with a texture to give an old look to the composition and will deal with adjustment layers for final touches. Create a Realistic Space Scene from Scratch with Photoshop. In this intermediate-to-advanced-level design tutorial, we are going to create a stunning space scene that has realistic-looking planets, stars, and lighting effects using a few innovative Photoshop techniques and some textures.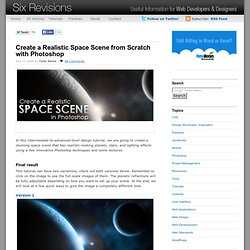 Final result This tutorial can have two variations, check out both versions below. Remember to click on the image to see the full-scale images of them. The planets' reflections will be fully adjustable depending on how you want to set up your scene. At the end, we will look at a few quick ways to give the image a completely different look.
Combine Photo Elements to Create a Surreal Photo Manipulation | Photo Manipulation | all-pages. Combine Photo Elements to Create a Surreal Photo ManipulationReviewed by Oliver Cereto on Feb 13Rating: Preview of Final Results Step 1 – Place the background.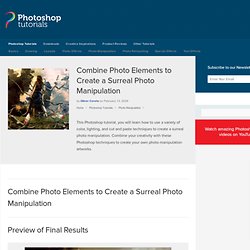 Awesome digital bokeh effect in Photoshop. Our last Wallpaper of the Week was an image I had created using Pixelmator, and I really liked the outcome.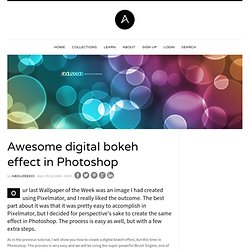 The best part about it was that it was pretty easy to accomplish in Pixelmator, but I decided for perspective's sake to create the same effect in Photoshop. The process is easy as well, but with a few extra steps. As in the previous tutorial, I will show you how to create a digital bokeh effect, but this time in Photoshop. Design a Vibrant Blackberry Inspired Ad in Photoshop. This post was originally published in 2009 The tips and techniques explained may be outdated.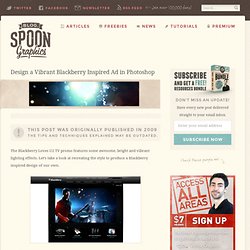 The Blackberry Loves U2 TV promo features some awesome, bright and vibrant lighting effects. Let's take a look at recreating the style to produce a Blackberry inspired design of our own. Much like the old Apple/Coldplay advertisement, the new Blackberry Loves U2 promo features some stunning visual effects. How to Create a Vintage Radio Poster in Photoshop. How to Create a Vintage Radio Poster in Photoshop October 20th, 2009 by ART-D Posted in Adobe Photoshop, Photo Editing In this tutorial, we'll learn how simple it is to create a vintage poster using different brushes, blend mode, adjustment layers and some very simple filters in Photoshop.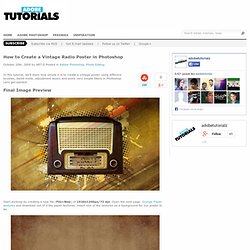 How to design a grunge styled portrait in Photoshop. Today we will learn a technique that can be used to create nice portraits with your grunge textures.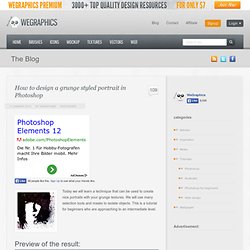 We will use many selection tools and masks to isolate objects. This is a tutorial for beginners who are approaching to an intermediate level. Magic lighting effect in Photoshop. Since my last article on how to create smoke generated lots of traffic, I decided to write another one on some of the photoshop effects. Although I use Photoshop on a daily basis, I am by no means a photoshop expert.
Well what I want to show here is how to create a nice light and magic effect. 1 - Create a radial gradient, in this case from a purple to a really dark purple 2 - Here I added a really cool Icon of a magic hat from the Crystal Clear Collection by Everaldo. How to Create Eroded Metal Text with Photoshop. Realistic Denim Texture | PSDTOP Blog.
On 09.23.09, In Designing, Effects, by sergio This tutorial is about creating a realistic denim texture from scratch by mixing grayscale layers using Blend Modes and Filters. So let's start! Final Image Preview Step 1. To start create a new RGB document 900px wide x 1500px high, set the resolution to 150 ppi and the Background Contents to white. Give Your Photos a Retro Comic Book Effect. Making a Book of Magical Playground Scene.
This tutorial will show how to create a fantasy book scene. We will be using various advanced Photoshop techniques to make the composition as realistic as possible. Preview of Final Image. How to make Amazing Retro Rainbow Curves. So you want to create a font. Part 1. By Alec Julien So you're a brilliant designer, a master calligrapher, and you've learned all about serifs, side-bearings, and kerning. Now you want to create your own font. (What! From Sketch to Vector. Easy Abstract Wallpaper | Special Effects. For this tutorial you are going to need to download the following brush: Tech Brush Set V5 by Z-Design Step 1: Start with the size wallpaper you want. I'm using 1024x768 with 72dpi with a black background. Press D to get your default colours (black and white), create a new layer, then go to Filter > Render > Clouds.
Abstract Watercolor Wallpaper in Photoshop. Making Unrealistic Things Look Possible in Photoshop CS4 - Layers Magazine | Layers Magazine. 18 Awesome Photoshop Text Effect Tutorials.
---