Indulgences
10 Jello Shots Worth the Hangover
Wait for it....
Now, I have a chocolate chip cookie recipe that I swear by. I love it, I think it is incredible, and I haven't changed my mind about that. However, as much as it pains me to say it, these chocolate chip cookies by Jacques Torres are absolutely, without a doubt, the best chocolate chip cookies that I have ever made or tasted in my entire life. I guess that's why they call him Mr. Chocolate!
The Infamous Jacques Torres Chocolate Chip Cookies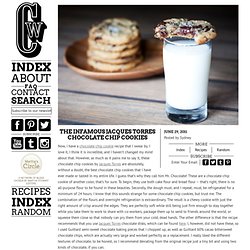 What is it about bacon & avocado that I absolutely love?? And these quesadillas… with their buttery, crispy, heavenly tortilla shells… are seriously yum. Don't let the green scare ya, avocados have a really delicious taste. I promise they're not just thrown in to "healthify" this recipe! ;) Quesadillas are one of our favorite quick and easy weeknight meals. Come on, let's make these, you'll love 'em!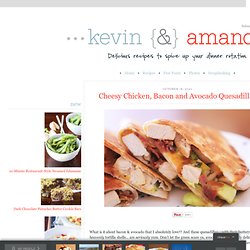 Cheesy Chicken, Bacon and Avocado Quesadillas
most gawked all-time - page 20
We were having steak for dinner and I thought some creamy potatoes would be a delicious side dish. I found this recipe on The Food Network for Scalloped Potatoes. I adapted it to work with what ingredients I had on hand. This dish was simple to make and so delicious. I loved the sharp flavor of the Asiago cheese with the soft potatoes and creamy caramelized onions.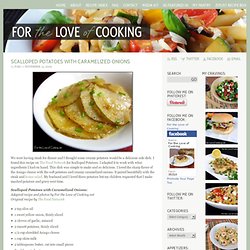 Scalloped Potatoes with Caramelized Onions
unnamed pearl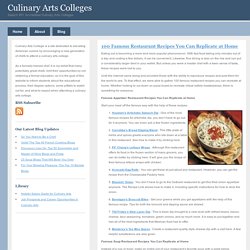 Eating out is becoming a more and more popular phenomenon. With fast food taking only minutes out of a day and costing a few dollars, it can be convenient. Likewise, fine dining is also on the rise and can put a considerably larger dent in your wallet. But unless you were a master chef with a keen sense of taste, these recipes were lost to you. Until the internet came along and provided those with the ability to reproduce recipes and post them for the world to see.
Culinary Arts College » 100 Famous Restaurant Recipes You Can Replicate at Home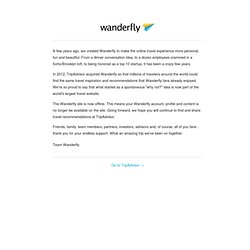 Places To Visit, Trip Planner, Travel & Vacation Ideas
A few years ago, we created Wanderfly to make the online travel experience more personal, fun and beautiful. From a dinner conversation idea, to a dozen employees crammed in a Soho/Brooklyn loft, to being honored as a top 10 startup, it has been a crazy few years. In 2012, TripAdvisor acquired Wanderfly so that millions of travelers around the world could find the same travel inspiration and recommendations that Wanderfly fans already enjoyed. We're so proud to say that what started as a spontaneous "why not?"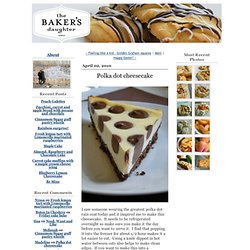 The Baker's Daughter: Polka dot cheesecake
I saw someone wearing the greatest polka dot rain coat today and it inspired me to make this cheesecake. It needs to be refrigerated overnight so make sure you make it the day before you want to serve it. I find that popping it into the freezer for about 1/2 hour makes it a lot easier to cut. Using a knife dipped in hot water between cuts also helps to make clean edges.
This time I decided to make it with those mini fruit flavored marshmallows. I had to sort them by colour first. I figured they would add a little bit of flavor to the fondant so I wouldn't have to add much flavoring oil. I use gel colours to dye my fondant but regular food colouring will work too. You won't be able to get really dark colours without making your fondant sticky, but for lighter colours you can just even it out with more icing sugar.
How to Make Marshmallow Fondant