Astronomia
iaco.es
ISS (ZARYA)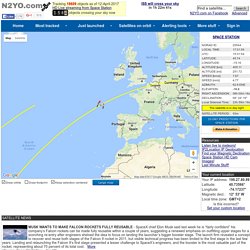 SPACEX DELAYS FALCON 9 LAUNCH TO NEXT WEEK - SpaceX has delayed the launch of a Thai communications satellite from Friday until at least Monday, according to the U.S. Air Force. "We're not aware of anything that would cause a mission failure, but in order to ensure the highest possible level of mission assurance we decided to conduct additional inspections of the launch vehicle," said Emily Shanklin, a SpaceX spokesperson. More (Source: SpaceFlight Now - Jan 2) THAICOM 6 SATELLITE LAUNCH NEARS - Thaicom Plc, Thailand's sole satellite service provider, will launch its Thaicom 6 satellite in the first week of 2014 to support the burgeoning local broadcasting industry. Built by the Virginia-based Orbital Sciences Corporation, the broadcast satellite contains 26 transponders including 18 C-band and 8 Ku-band transponders.
Semper observandum...! Estamos en Argentina, Bolivia, Brasil, Chile, Colombia, Costa Rica, Cuba,Ecuador, El Salvador, Guatemala, Honduras, México, Nicaragua, Panamá,Perú, Paraguay, República Dominicana, Uruguay, Venezuela, España yPortugal Somos LIADALiga Iberoamericana de Astronomía
LIADAweb
El cielo del mes
SkyServer DR7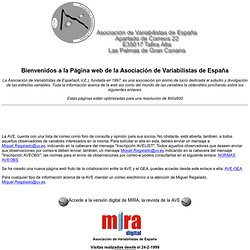 Bienvenidos a la Página web de la Asociación de Variabilistas de España La Asociación de Variabilistas de España(A.V.E.), fundada en 1997, es una asociación sin ánimo de lucro dedicada al estudio y divulgación de las estrellas variables. Toda la información acerca de la web así como del mundo de las variables la obtendréis pinchando sobre los siguientes enlaces.
ASOCIACIÓN DE VARIABILISTAS DE ESPAÑA
Agrupaciones Astronomicas
Exoplanet Orbit Database | Exoplanet Data Explorer
Catching the Light: Astrophotography by Jerry Lodriguss
astronomos.org
Astronomia ESP
Página Principal - SondasEspaciales.com
Diagrama Hertzsprung-Russell
diagrama Hertzsprung-Russell
Astronomia - Espacio Profundo
Advanced Composition Explorer (ACE) Meetings/Workshops Latest 4-day Browse Plot ACE in the News Mission Overview | Science Center | Public Outreach | Science News | Publications | Online DataPersonnel | Picture Gallery | Other Links | ACE Guest Investigators ACE Instruments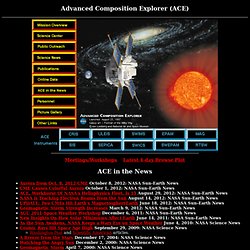 Advanced Composition Explorer (ACE) Home Page
Near Earth Objects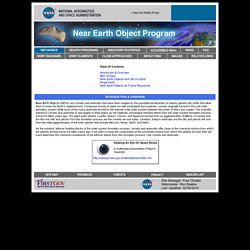 Near-Earth Objects (NEOs) are comets and asteroids that have been nudged by the gravitational attraction of nearby planets into orbits that allow them to enter the Earth's neighborhood. Composed mostly of water ice with embedded dust particles, comets originally formed in the cold outer planetary system while most of the rocky asteroids formed in the warmer inner solar system between the orbits of Mars and Jupiter. The scientific interest in comets and asteroids is due largely to their status as the relatively unchanged remnant debris from the solar system formation process some 4.6 billion years ago. The giant outer planets (Jupiter, Saturn, Uranus, and Neptune) formed from an agglomeration of billions of comets and the left over bits and pieces from this formation process are the comets we see today. Likewise, today's asteroids are the bits and pieces left over from the initial agglomeration of the inner planets that include Mercury, Venus, Earth, and Mars.