Astronomia
iaco.es
ISS (ZARYA)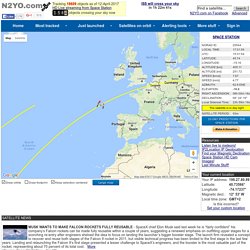 WEATHER FORCES ONE-DAY DELAY OF DRAGON'S SPACE STATION DEPARTURE - The threat of inclement weather has forced the departure of the SpaceX Dragon capsule from the International Space Station (ISS) to be delayed until Tuesday morning, NASA officials announced on Friday. According to Mara D. Ballaby of Florida Today, the return voyage was originally scheduled to take place on Monday, but was delayed by one day due to anticipated poor conditions near its Pacific Ocean splashdown site. More ( Source: RedOrbit ) SPACE STATION CAPSULE TO RETURN MONDAY TO EARTH - International Space Station managers gave the OK Thursday for SpaceX's Dragon cargo capsule to head back to Earth early Monday. Station managers and SpaceX officials met Thursday to discuss preparations for the flight home, including a review of thruster problems the spacecraft experienced shortly after its March 1 launch from here atop a Falcon 9 rocket.
Semper observandum ... ! Estamos en Argentina, Bolivia, Brasil, Chile, Colombia, Costa Rica, Cuba, Ecuador, El Salvador, Guatemala, Honduras, México, Nicaragua, Panamá, Perú, Paraguay, República Dominicana, Uruguay, Venezuela, España y Portugal Somos LIADA Liga Iberoamericana de Astronomía
LIADAweb
El cielo del mes
SkyServer DR7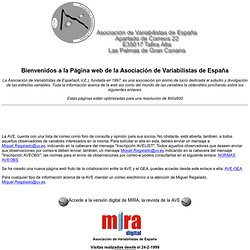 Bienvenidos a la Página web de la Asociación de Variabilistas de España La Asociación de Variabilistas de España(A.V.E.), fundada en 1997, es una asociación sin ánimo de lucro dedicada al estudio y divulgación de las estrellas variables. Toda la información acerca de la web así como del mundo de las variables la obtendréis pinchando sobre los siguientes enlaces.
ASOCIACIÓN DE VARIABILISTAS DE ESPAÑA
Agrupaciones Astronomicas
Exoplanet Orbit Database | Exoplanet Data Explorer
Catching the Light: Astrophotography by Jerry Lodriguss
astronomos.org
Astronomia ESP
Página Principal - SondasEspaciales.com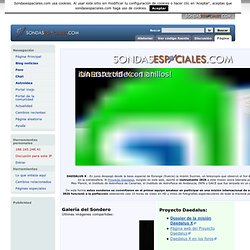 El dia 1 de Octubre a las 10:58 UTC China lanzó su segunda sonda lunar, la Chang'e 2 ( 2.480 kg ) similar a la Chang'e 1 a bordo de un cohete Larga Marcha CZ-3C (CZ3C Y7) desde la rampa LC2 del Centro Espacial de Xichang , en Sichuan. Info lanzamiento ( Eureka ) El 18 de Mayo fue lanzado la sonda Akatsuki junto al prototipo japonés de vela solar IKAROS se realizó desde el Tanegashima Space Center mediante el H-IIA Nº17 a las 6:44:14 a.m. hora japonesa. Enlace a la web oficial @ IKAROS
Diagrama Hertzsprung-Russell
diagrama Hertzsprung-Russell
Astronomia - Espacio Profundo
Advanced Composition Explorer (ACE) Meetings/Workshops Latest 4-day Browse Plot ACE in the News Mission Overview | Science Center | Public Outreach | Science News | Publications | Online Data Personnel | Picture Gallery | Other Links | ACE Guest Investigators ACE Instruments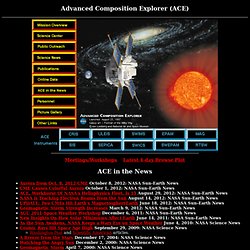 Advanced Composition Explorer (ACE) Home Page
Near Earth Objects