recipes
Get flash to fully experience Pearltrees
Asparagus with Guy Kawasaki's Teriyaki Chicken For dinner at home, with or without company, I like to serve asparagus because fresh asparagus can get cleaned, trimmed and steamed in the microwave in less than 10 minutes. I steam the "spears" just to the point where they are tender but still have a bite to them.
© Copyright 1995-2013, Clay Irving <clay@panix.com> , Manhattan Beach, CA USA Servings: About 3/4 cup. 1 tablespoon rosemary 1 tablespoon oregano 1 tablespoon powdered sage 1 teaspoon powdered ginger 1 teaspoon marjoram 1 ½ teaspoon thyme 3 tablespoons packed brown sugar 3 tablespoons dry minced parsley 1 teaspoon pepper 1 tablespoon paprika 2 tablespoons garlic salt 2 tablespoons onion salt 2 tablespoons powdered chicken bouillon; or 4 cubes mashed 1 package Lipton tomato cup of soup mix There are actually 11 spices in the above combination, but an additional 3 ingredients were necessary to derive that special flavor.
With the weather cooling down, I was more than happy to break out the hot cocoa mugs last week. Autumn comfort food, here we come! And, what better comfort food that this quick and easy mug cake that tastes just like chocolate chip cookie dough, and can be microwaved in less than two minutes? After testing, trying, and tweaking, here is our family-favorite version of Chocolate Chip Cookie Dough mug cake. All you need is a mug, a microwave, and a scoopful of ice cream!
Most students don't have a lot of cash to spend on food, but that doesn't mean you have to go hungry. With the right recipes and some kitchen savvy, you can eat great even on a student's budget. Here we'll share 100 tasty recipes that you can make on the cheap. Along with saving money on meals, budget-savvy students can also save big on a college education by attending inexpensive online colleges . Breakfast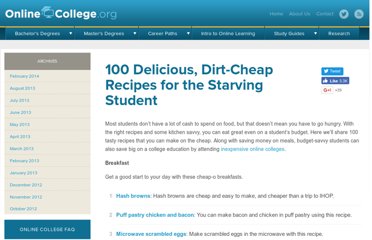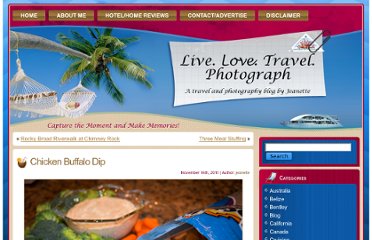 This Chicken Buffalo Dip will please any crowd! Ingredients: 3 Chicken Breast, cooked and cut into bite sized pieces Moore's Buffalo Wing Sauce (1 jar) 2 (8 oz) packages cream cheese, softened Marie's Ranch or Blue Cheese Dressing (located in the refrigerated section) 1 1/2 C shredded Mozzarella Cheese 1 Bag of your favorite chips or Celery Sticks I took three chicken breast and boiled them. Then I cut them into bite-sized pieces!
November 14, 2011 by SoHungryBlog by Caitlin Saniga My mom used to make a similar soup for our family when I was younger, so this one brings back warm memories. If you're not going to slurp down the whole batch at once, store the rice separately and add a scoop to the soup when you heat it up. That way, the rice won't absorb the liquid and turn mushy. 1 medium sweet, yellow onion, chopped 1 clove garlic, minced 1/4 cup and 1 tablespoon butter, divided 1/4 cup flour 2 cups half-and-half 3 cups chicken stock 1/2 pound broccoli, just crowns, chopped into small florets 1/4 teaspoon allspice salt and pepper, to taste 2 cups grated sharp cheddar cheese 2 cups prepared brown rice
Chocolate Chip Cookie Dough Truffles I've never liked chocolate chip cookies. Go ahead and throw tomatoes at me if you'd like, but I don't like 'em. They're just a plain old cookie, after all, with a few studs of chocolate chips in them.
Oreo Cookies and Cream No-Bake Cheesecake Oreo Cookies and Cream No-Bake Cheesecake ~ An adult dessert gets some kid lov'n with an Oreo crush. Oreo Cookie and Cream No-Bake Cheesecake
Chocolate Chip Cookie Dough Dip It's time for a little confession. I realize this may get me shunned (especially in my hometown of Pittsburgh!), but….I don't like football. I don't like to watch it, I never liked playing football with my friends, I don't even like playing catch with a football. If there was one thing Mike could change about me, I'm pretty sure this would be it.