Photoshop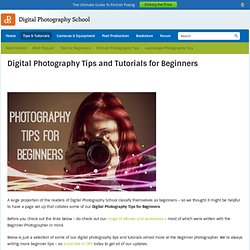 Discover how to Take Beautiful Images with Our dPS eBook Collection The HelloBar - a little bar that gets noticed! Close Open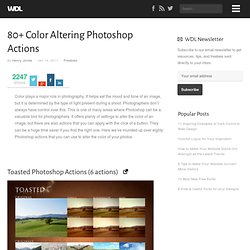 Color plays a major role in photography. It helps set the mood and tone of an image, but it is determined by the type of light present during a shoot. Photographers don't always have control over this. This is one of many areas where Photoshop can be a valuable tool for photographers. It offers plenty of settings to alter the color of an image, but there are also actions that you can apply with the click of a button. They can be a huge time saver if you find the right one.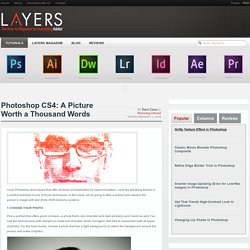 I love Photoshop techniques that offer all kinds of possibilities for experimentation—and the following tutorial is a perfect example of one of those techniques. In this issue, we're going to take a portrait and replace the person's image with text (think 2009 Grammy posters). Pick a portrait that offers good contrast—a photo that's very dramatic and dark probably won't work as well. I've had the best success with straight-on head and shoulder shots, but again, feel free to experiment with all types of photos. For the best results, choose a photo that has a light background (or select the background around the person and make it lighter). Create a new document (File>New) in a size that's smaller than your photo: the specifics don't really matter.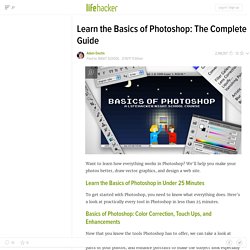 Want to learn how everything works in Photoshop? We'll help you make your photos better, draw vector graphics, and design a web site. Learn the Basics of Photoshop in Under 25 Minutes - To get started with Photoshop, you need to know what everything does. Here's a look at practically every tool in Photoshop in less than 25 minutes. Basics of Photoshop: Color Correction, Touch Ups, and Enhancements - Now that you know the tools Photoshop has to offer, we can take a look at using them to correct and alter color, retouch blemishes and other unwanted parts of your photos, and enhance portraits to make the subject look especially good. Basics of Photoshop: Basic Drawing with the Pen Tool - Photoshop isn't just for photos.
If you're interested in learning to make concept art—or simply taking your recreational painting into the digital sphere—concept artist Matt Kohr spent a week teaching us the basics. Here's the complete 101 course for your edification. Lesson 1: Get Started Painting on Your Computer Painting digitally is significantly different from painting with brushes. This kick-off lesson in digital painting provides you with a broad overview of those differences, suggestions for the software and hardware you'll need in your digital painting toolbox, and some tips for getting around with your tools of choice.