Photoshop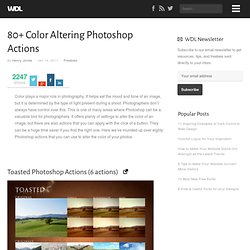 Color plays a major role in photography. It helps set the mood and tone of an image, but it is determined by the type of light present during a shoot. Photographers don't always have control over this. This is one of many areas where Photoshop can be a valuable tool for photographers. It offers plenty of settings to alter the color of an image, but there are also actions that you can apply with the click of a button. They can be a huge time saver if you find the right one.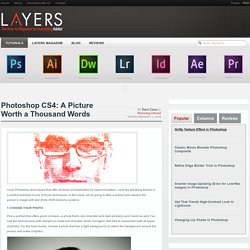 I love Photoshop techniques that offer all kinds of possibilities for experimentation—and the following tutorial is a perfect example of one of those techniques. In this issue, we're going to take a portrait and replace the person's image with text (think 2009 Grammy posters). Pick a portrait that offers good contrast—a photo that's very dramatic and dark probably won't work as well. I've had the best success with straight-on head and shoulder shots, but again, feel free to experiment with all types of photos. For the best results, choose a photo that has a light background (or select the background around the person and make it lighter). Create a new document (File>New) in a size that's smaller than your photo: the specifics don't really matter.
One thing I have to tell you guys who are interested in this (not my thing; I'm so bad at drawing, *stick figures* laugh at me—but I can write pretty well) is to try getting yourself a tablet laptop (NOT an iPad or Android slate) with a WACOM Penabled screen. My fiancee is a professional illustrator, classically trained, and she's so enamored of her now 3 year old Gateway C-140x laptop that I don't think she'll ever give it up as a drawing tool. Particularly if you're on a budget, you can get these laptops pretty cheap on ebay (she paid a lot more when they first came out, but today they can be found for about $350-400) and they're upgradeable to pretty recent Core 2 Duo processors if you need more heft. They run photoshop just fine in their stock configuration.