Cookies
The Sugar Scientist: Cannoli-oli-oli (Daring Bakers) The November 2009 Daring Bakers Challenge was chosen and hosted by Lisa Michele of Parsley, Sage, Desserts and Line Drives.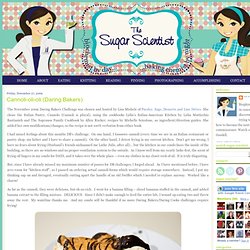 She chose the Italian Pastry, Cannolo (Cannoli is plural), using the cookbooks Lidia's Italian-American Kitchen by Lidia Matticchio Bastianich and The Sopranos Family Cookbook by Allen Rucker; recipes by Michelle Scicolone, as ingredient/direction guides. She added her own modifications/changes, so the recipe is not 100% verbatim from either book. I had mixed feelings about this months DB's challenge. On one hand, I looooove cannoli (every time we are in an Italian restaurant or pastry shop, my father and I have to share a cannoli). On the other hand, I detest frying in my current kitchen.
Hot cocoa cookies. I am a teeny bit obsessed with the cookies from the most recent issue of EveryDay with Rachael Ray magazine.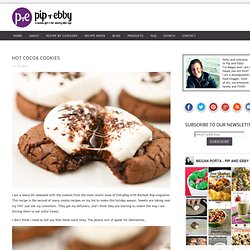 This recipe is the second of many cookie recipes on my list to make this holiday season. Sweets are taking over my life! Homemade Samoas Cookie Recipe. Homemade Samoas Cookies ~ Now you can enjoy one of the most popular Girl Scout cookies year around.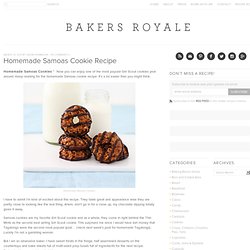 Keep reading for the homemade Samoas cookie recipe. It's a lot easier than you might think. Homemade Samoas Cookies I have to admit I'm kind of excited about this recipe. Once Upon a Plate: Samoas ~ The Girl Scout Cookie Clone. Chocolate Peanut Butter Surprise Cookies. Double chocolate cookies with a peppermint patty surprise. If you haven't noticed, I've been on a bit of a sweet kick lately.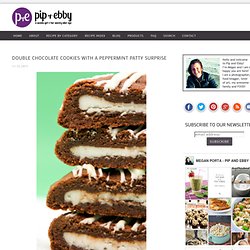 A few nights ago I felt a strong urge to make these peppermint-chocolate cookies when I got home from work. I saw the recipe in Rachael Ray's EveryDay magazine and fell intensely in love. And that was before I bit into them. Then. Strawberry Shortcake Cookies. I have a problem.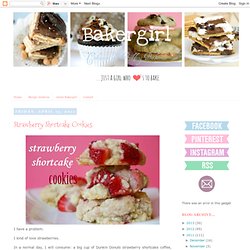 I kind of love strawberries. In a normal day, I will consume: a big cup of Dunkin Donuts strawberry shortcake coffee, wild strawberry-flavored water, a small bowl of fresh strawberries, sometimes frozen, because I'm weird, sometimes with strawberry yogurt, cuz that just seems more healthy, more strawberries snuck throughout the day when no one's looking because I'm convinced I'm starving, & sometimes, if my own wiggling isn't enough, strawberry Jello. So it was only a matter of time really before strawberries found their way into my cookies too.
I immediately fell in love with the idea of these and was so, so excited to try them. Prajiturele cu alune, caramel si ciocolata. Pentru ca se apropie sarbatorile am hotarat sa fac multe prajiturele simple, dar gustoase si potrivite pentru masa de Craciun :) Ingrediente: Strat1.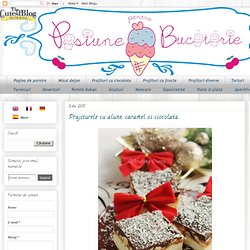 Reese's Chocolate Cookies. Tuesday, December 6, 2011 Reese's Chocolate Cookies I saw this recipe for Reese's peanut butter chocolate cookies on King Arthur Flour and immediately wanted to make them.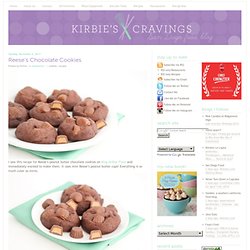 It uses mini Reese's peanut butter cups! Everything is so much cuter as minis. Lookie at my Cookies: Peanut Butter Cup Brownies | NOSH AND TELL. April 1, 2009 • Ariel and Whitney Eat your heart out Reese's, there's a new peanut butter cup in town.
I am convinced peanut butter and chocolate were made for each other, like Charlie and Claire on LOST–I'm only on Season 2 right now but someone please tell me they have gotten together. I find that a lot of my baked creations involve these two perfect ingredients because they are two of my favorite foods…they actually might be my MOST favorite foods. Lofthouse Style Soft Frosted Sugar Cookies. Lofthouse Style Soft Frosted Sugar Cookies I knew I had to have a great recipe to kick off the 12 Days of Christmas Treats 2011, so I'm starting with one of my absolute favorites!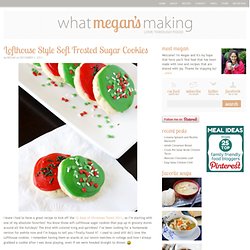 You know those soft Lofthouse sugar cookies that pop up in grocery stores around all the holidays? The kind with colored icing and sprinkles? I've been looking for a homemade version for awhile now and I'm happy to tell you I finally found it! Hidden Candy Cane Kiss Cookies. One of my favourite holiday cookie recipes that I discovered last year was Recipe Girl's Candy Cane Kiss Cookies – they look so cute with the red and white swirled Kiss in the middle, and the chopped up Kisses throughout the cookie give it an amazing peppermint flavour.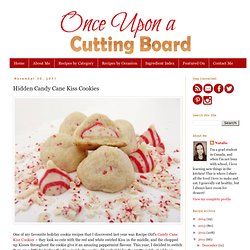 This year, I decided to switch them up a little by hiding the Kiss inside the cookie. Though it hides the pretty swirls, it adds an element of surprise when you bite into the cookies and discover a delicious Candy Cane Kiss inside! These are the perfect holiday cookie because they're nice and small, taste like a festive candy cane, and have a pretty sparkle from rolling them in sugar. Candy Cane Biscotti. Mint Creme Oreo Stuffed Fudge Cookies. All right. It's time. Time to set about the business of baking holiday cookies. Time to put the six-pack of dark cocoa I purchased from Amazon awhile back to good use.
Time for Mint Creme Oreo Stuffed Fudge Cookies. Yup…that's right…Mint Creme Oreo Stuffed Fudge Cookies. Graham Cracker S'mores Cookies | Sweet Pea's Kitchen - StumbleUpon. Graham Cracker S'mores Cookies Graham Cracker S'mores Cookies with a graham cracker base, topped with a chocolate chip marshmallow cookie and chopped Hershey's bars on top. If you are a fan of s'mores, watch out! These are incredible! Homemade Oreos. I almost never repeat recipes. I have soooo many recipes bookmarked and dog eared that it just doesn't make sense to bake the same thing twice. This recipe is the exception. These cookies are the most demanded item that I bake. Chocolate Chip Cookie Dough Truffles. Oh. My. God. Mexican chocolate-chip cookies from LA's ink.sack.
---