Photoshop
Photoshop. 30 Christmas Holiday PSD & AI Flyer Templates The success of any event, being it a show, a sale, a party or a simple get-together, often depends on how well you can promote it.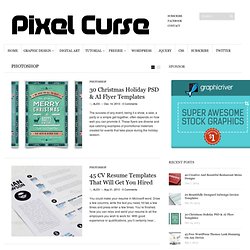 These flyers are diverse and eye-catching examples of promotional materials created for events that take place during the holiday season. 45 CV Resume Templates That Will Get You Hired You could make your resume in Microsoft word. Ultimate Roundup of 750+ Free Photoshop Layer Styles. Hey, everyone!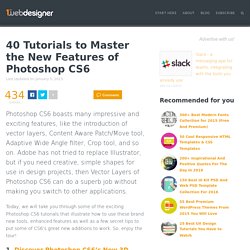 It seems that we have recently lost touch with the magic of Photoshop Layer Styles, until recently, that is. So, in lieu of this, we have compiled the ultimate roundup of 750+ style sets for you! Layer Styles are great resources, and can really save you heaps of time when designing something. Textures. Tutorials. Custom Wallpaper Tutorial | Thoughtlab Blog.
Tutorial Magazine / photoshop / photo_retouching. Stunning Photoshop Typography Tutorials. August 3rd, 2011 The art of creating beautiful text effects is very old and we can trace it from the early ages of the typography development.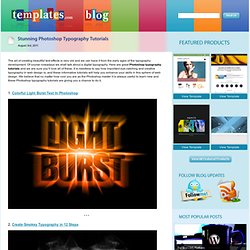 Of course nowadays we shall talk about a digital typography. Here are great Photoshop typography tutorials and we are sure you'll love all of these. It is needless to say how important eye-catching and creative typography in web design is, and these informative tutorials will help you enhance your skills in this sphere of web design. We believe that no matter how cool you are as the Photoshop master it is always useful to learn new and these Photoshop typography tutorials are giving you a chance to do it. 70 Tutorials Using Photoshop To Design A Website. This article features a huge amount of Photoshop web design tutorials, which will teach you simple effects which can be combined together in order to create a great website design.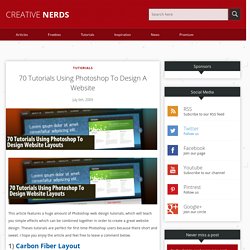 Theses tutorials are perfect for first time Photoshop users because there short and sweet. I hope you enjoy the article and feel free to leave a comment below. 1) Carbon Fiber Layout. Stunning Photoshop Typography Tutorials. 350 Photoshop Tutorials | Best Photoshop Tutorials.
Photoshop is what makes the virtual world seem alive.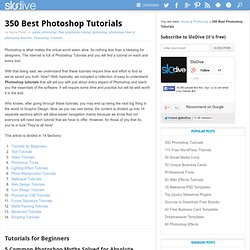 Its nothing less than a blessing for designers. The Internet is full of Photoshop Tutorials and you will find a tutorial on each and every tool. With that being said, we understand that these tutorials require time and effort to find so we've saved you both. 20 PSD Tuts That Will Turn You Into A Photoshop Guru. Many people can use Photoshop, but only a select few can call themselves gurus.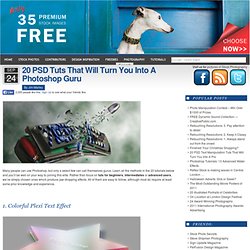 Learn all the methods in the 20 tutorials below and you'll be well on your way to joining this elite. Rather than focus on tuts for beginners, intermediates or advanced users, we've simply chosen ones which produce jaw-dropping effects. All of them are easy to follow, although most do require at least some prior knowledge and experience. 1. Quick Tips: Instagram your images using Photoshop. Instagram reinvented the photo sharing on our social media structure.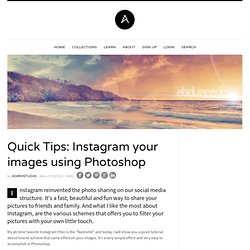 It's a fast, beautiful and fun way to share your pictures to friends and family. And what I like the most about Instagram, are the various schemes that offers you to filter your pictures with your own little touch. My all-time favorite Instagram filter is the "Nashville" and today, I will show you a quick tutorial about how to achieve that same effect on your images. It's a very simple effect and very easy to accomplish in Photoshop. Zombie-Fication! Yet Another Colorization Tutorial. Photoshop Light Effect Tutorials.
Tutorials [ photoshop, flash, pov-ray & polar graphing tutorials ] The best 30 photo manipulation tutorials for Photoshop | dpxmag.com. Knotting a nail. Achieving a Vintage Look Through Color Tones in Photoshop CS. By Guest Contributor Anna Gay Photographers are often striving for a "vintage" look in their photos, and even though there are endless ways of achieving a vintage look, there are a couple of characteristics to keep in mind.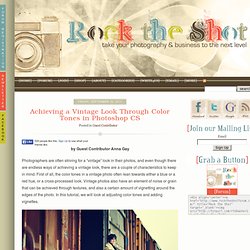 First of all, the color tones in a vintage photo often lean towards either a blue or a red hue, or a cross-processed look. Vintage photos also have an element of noise or grain that can be achieved through textures, and also a certain amount of vignetting around the edges of the photo. In this tutorial, we will look at adjusting color tones and adding vignettes. This photo is the result of adjusting the color curves, adding two vignettes, and a color fill, which we will walk through step-by-step. Brushes.
---