Recipes
Buffalo Chicken Grilled Cheese Sandwich. After the success of turning jalapeño poppers into grilled cheese sandwiches (aka the jalapeño popper grilled cheese sandwich) I was wondering what other dishes I could turn into grilled cheese sandwiches.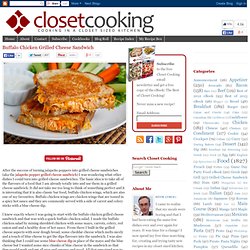 The basic idea is to take all of the flavours of a food that I am already totally into and use them in a grilled cheese sandwich. It did not take me too long to think of something perfect and it is interesting that it is also classic bar food, buffalo chicken wings, which are also one of my favourites. Buffalo chicken wings are chicken wings that are tossed in a spicy hot sauce and they are commonly served with a side of carrot and celery sticks with a blue cheese dip. I knew exactly where I was going to start with the buffalo chicken grilled cheese sandwich and that was with a quick buffalo chicken salad. I made the buffalo chicken salad by mixing shredded chicken with some mayo, carrots, celery, red onion and and a healthy dose of hot sauce.
La prochaine fois: what goes into making chocolate bowls. Leave it up to me to mess up every recipe in the world... but on the flipside, by experiencing everything that goes wrong, I end up learning the most.I had seen these bowls from Stephanie's Kitchen, and decided it was a fantastic idea for my food independent study. ingredients: chocolate, and balloons!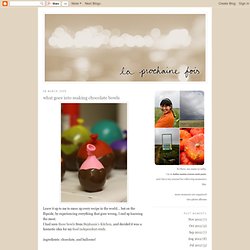 First, a giant bar of chocolate all the way from taiwan! And it's -special- grade, whatever that means. Garlic-Lime Chicken « random anderson. I'm flirting with going vegetarian.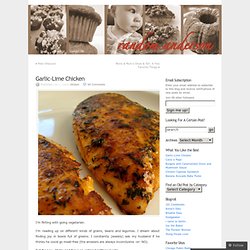 I'm reading up on different kinds of grains, beans and legumes. I dream about finding joy in bowls full of greens. I constantly (weekly) ask my husband if he thinks he could go meat-free (the answers are always inconclusive -or- NO). But for now, I'll try and focus on eating healthier meats. Like chicken. TENDER CRUMB: My FAVORITE Chocolate Chip Cookie. I have experimented with countless recipes searching for that perfect chocolate chip cookie.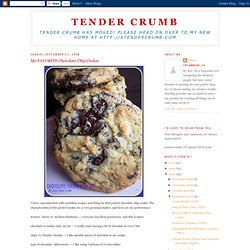 The characteristics of the perfect cookie are a very personal matter, and here are my preferences: texture: chewy w. medium thickness --- everyone has their preference, and this is mine! Chocolate to cookie ratio: 50/50 --- I really enjoy having a lot of chocolate in every bite chips vs. chunks: chunks --- I like sizeable pieces of chocolate in my cookie. type of chocolate: bittersweet --- I like using Valrhona 61% extra bitter. Honey Glazed Chicken and Bacon Bites. I had an idea.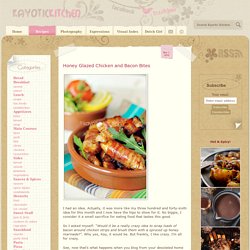 Actually, it was more like my three hundred and forty-sixth idea for this month and I now have the hips to show for it. No biggie, I consider it a small sacrifice for eating food that tastes this good. So I asked myself: "Would it be a really crazy idea to wrap loads of bacon around chicken strips and brush them with a spruced up honey marinade?". Why yes, Kay, it would be. But frankly, I like crazy. Bacon Guacamole Grilled Cheese Sandwich. A guacamole grilled cheese sandwich has been on my to try list for a while now and since I was making the bacon guacamole on the weekend I figured I would just pick up double the ingredients and make both.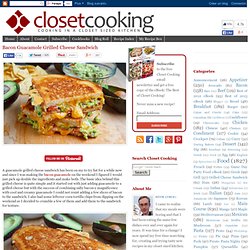 The basic idea behind this grilled cheese is quite simple and it started out with just adding guacamole to a grilled cheese but with the success of combining salty bacon-y magnificence with cool and creamy guacamole I could not resist adding a few slices of bacon to the sandwich. I also had some leftover corn tortilla chips from dipping on the weekend so I decided to crumble a few of them and add them to the sandwich for texture. Creamy Basil Pesto. A Two Bite Breakfast: Bacon & Eggs in Toast Cups. * Updated post from archive: Originally posted March 29, 2009 If you where to ask me what is my favorite meal of the day without a thought my response would be breakfast!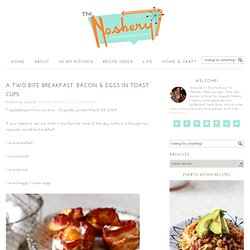 I love breakfast! I love brunch! I love bacon! Gastronomer's Guide: Simple Tiramisu. For a lazy summer afternoon, tiramisu is the perfect pick-me-up.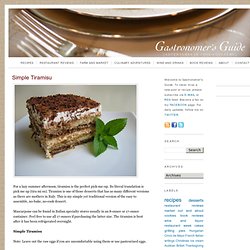 Its literal translation is pick me up (tira mi su). Tiramisu is one of those desserts that has as many different versions as there are mothers in Italy. This is my simple yet traditional version of the easy to assemble, no-bake, no-cook dessert. Mascarpone can be found in Italian specialty stores usually in an 8-ounce or 17-ounce container. Party Food! Pizza in a Bite. October 20th, 2008 by katie Getting together to watch a game?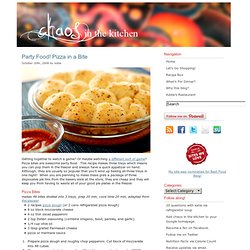 Or maybe watching a different sort of game? Pizza bites are awesome party food. This recipe makes three trays which means you can pop them in the freezer and always have a quick appetizer on hand. Although, they are usually so popular that you'll wind up baking all three trays in one night!
Sex in a Pan. Hasselback Potatoes. These Hasselback potatoes looks beautiful, don't' they?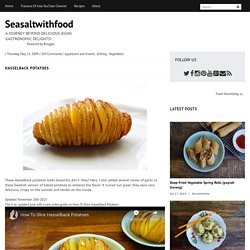 Here, I also added several cloves of garlic to these Swedish version of baked potatoes to enhance the flavor. It turned out great, they were very delicious, crispy on the outside and tender on the inside.. Ham & Cheese Pretzel Bites.
---