Dessert
Fortune Cookies. Santa hat brownies « daisy's world. Aren't these Santa Hat Brownies just so cute?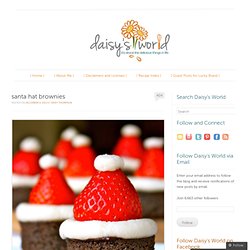 Thanks to Erica's Sweet Tooth for the inspiration. I was looking for a fun and simple holiday treat and I ran across a recipe on her website. They're so good and easy to make, especially since I bought Trader Joe's Ready to Bake brownie mix (just pour the ready-made brownie batter in an 8-X 8-inch pan and bake for 22-25 minutes). Marshmallow Fondant. Fondant always looks gorgeous on a cake but it's not exactly a convenient thing to find.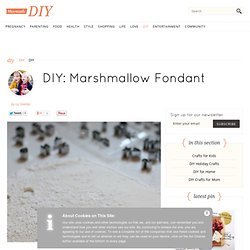 Plus, it's pretty expensive and doesn't taste good, blah! I found a recipe to create a really easy (and delicious) marshmellow fondant substitute and works great! Coffee Custard. Whenever I ask men to choose their favorite dessert, they nearly always answer by naming some sort of cream, custard or pudding.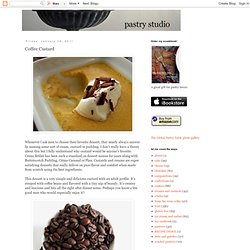 I don't really have a theory about this but I fully understand why custard would be anyone's favorite. Crème Brûlée has been such a standard on dessert menus for years along with Butterscotch Pudding, Crème Caramel or Flan. Custards and creams are super satisfying desserts that really deliver on pure flavor and comfort when made from scratch using the best ingredients. Creamy Custard. The ultimate beauty of custard is found in its simplicity – eggs, dairy, sugar, a bit of flavoring and not much else.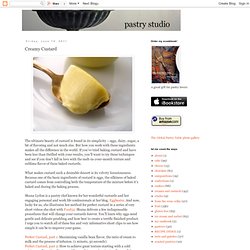 But how you work with these ingredients makes all the difference in the world. If you've tried baking custard and have been less than thrilled with your results, you'll want to try these techniques and see if you don't fall in love with the melt-in-your-mouth texture and sublime flavor of these baked custards. What makes custard such a desirable dessert is its velvety luxuriousness. Because one of the basic ingredients of custard is eggs, the silkiness of baked custard comes from controlling both the temperature of the mixture before it's baked and during the baking process. Shuna Lydon is a pastry chef known for her wonderful custards and her engaging personal and work life confessionals at her blog, Eggbeater. Blueberry Buckle. Blueberries are a beautiful and healthy fruit with a very unique flavor.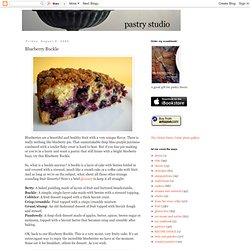 There is really nothing like blueberry pie. That unmistakable deep blue-purple juiciness combined with a tender flaky crust is hard to beat. Individual Boston Cream Pies. If you're in the mood for a delicious little treat, you might consider a return to an old-fashioned American classic from the mid-1800s, Boston Cream Pie.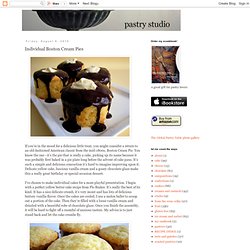 You know the one - it's the pie that is really a cake, picking up its name because it was probably first baked in a pie plate long before the advent of cake pans. It's such a simple and delicious concoction it's hard to imagine improving upon it. Delicate yellow cake, luscious vanilla cream and a gooey chocolate glaze make this a really great birthday or special occasion dessert. I've chosen to make individual cakes for a more playful presentation. I begin with a perfect yellow butter cake recipe from Flo Braker. Pumpkin Chocolate Chip Cookies. I don't like pumpkin foods.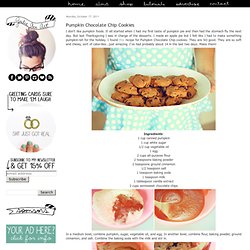 It all started when I had my first taste of pumpkin pie and then had the stomach flu the next day. But last Thanksgiving I was in charge of the desserts. I made an apple pie but I felt like I had to make something pumpkin-ish for the holiday. Homemade pop tarts. I never had a Pop-Tart until college.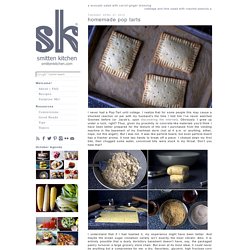 I realize that for some people this may cause a shocked reaction on par with my husband's the time I told him I've never watched Goonies before (or Jacob's, upon discovering the internet). Obviously I grew up under a rock, right? Thus, given my proximity to concrete-like materials you'd think I have been better prepared for the texture of the one I purchased from the vending machine in the basement of my freshman dorm (not at 4 a.m. or anything, either, nope, not this angel!). But I was not. Chocolate whiskey and beer cupcakes. Folklore says that if you order an Irish Car Bomb in an Irish bar, you'll either be greeted with a smile and a drink or a black eye, so proceed at your own risk.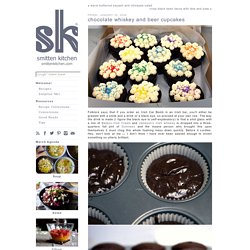 The way the drink is made (I figure the black eye is self-explanatory) is that a shot glass with a mix of Baileys Irish Cream and Jameson's Irish whiskey is dropped into a three-quarters full pint of Guinness and the insane person who brought this upon themselves it must chug this whole foaming mess down quickly.
Before it curdles. Hey, don't look at me — I don't think I have ever been wasted enough to invent something so utterly brilliant. Skeleton Gingerbread Men Cookies. Who says gingerbread men are just for Christmas?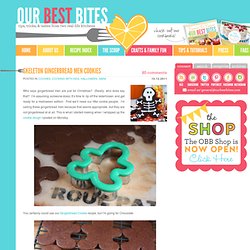 (Really, who does say that? I'm assuming someone does) It's time to rip off the lederhosen and get ready for a Halloween edition. First we'll need our little cookie people. I'm calling these gingerbread men because that seems appropriate, but they are not gingerbread at at all. Raspberry Cheesecake Cupcakes. If you enjoy cheesecake, then you will love these cupcakes. They consist of cheesecake with a graham cracker crust, a layer of homemade raspberry jelly, and are topped with cream cheese whipped cream. Can you say yum? Green apple sorbet. I first made green apple sorbet was about a year and a half ago and it wasn't anything to write home about. I'd just received a stand mixer and an ice cream bowl attachment and I was super excited about using it. I picked a recipe and started making it.
Not knowing anything about making ice cream and sorbet I didn't realise just how smooth a puree needs to be to make creamy ice cream. Cappuccino-Fudge Cheesecake | Handle the Heat. How to Make Chocolate Ice-cream Cups Using Balloons - Funny Mike. Rubik's Battenburg Cake. Why make this cake? The Rubik's cube is close to my heart as I am a child of the eighties and the Rubik's cube always brings me back to a time of joy and wonder. It's hard to imagine kids today being as fascinated as I was by such a simple but clever toy. Foolproof Holiday Fudge. Your Cup of Cake: Andes Mint Cupcakes. New photo from my cookbook "Your Cup of Cake" I was introduced to Andes Mints at a very young age. Though, my strongest memory was not of eating them, it was of being attacked by them. The Pastry Affair - Home - Butterbeer. This is part III in a mini-series of Harry Potter snacks from the books brought to life (part I is on Honeydukes treats, part II is all about the cauldron cakes, and part IV showcases decadent butterbeer cupcakes).
Last August, my family made the two thousand mile journey to the Wizarding World of Harry Potter at Universal Studios. Orlando has always been one of my family's favorite vacation destinations. Add in my love (and obsession) with Harry Potter and we all knew that once the park officially opened I couldn't be kept away for long. On the big day, we woke up at an obscene hour to a bright dawn. Cheapest/Easiest Last min gift ever-Chocolate Toffee Pieces; "Christmas Crack!" - COOKING.
Cupcakes. Frappuccino on a Stick. Ring in a Sweet New Year with Cosmopolitan Cupcakes. Homemade Marshmallows. Homemade Pie Crust Tutorial (Pastry Dough) *PICS ACTUALLY WORK! - CRAFTSTER CRAFT CHALLENGES. Cobbler baked in jars. How to make hard candy jewels | Chica and Jo. Presentation. Rec. Cooking In A Mug | Taste of Home Community. HowTo: Deliciously Sweet Pie Crust French Fries « Wonderment Blog. Fruit Tart.
---