Interior Design
Joel&Sanders. The bed in such an open space is probably a really bad idea.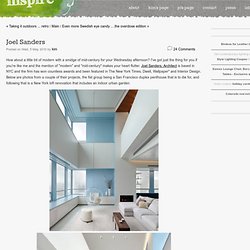 You'd need to be a naturally early riser, Sleeping in would be a cow with all that light coming in, then you'd always have to havethe bed made. and what if you're sick and need to be in bed while your parner is having a party? I'd far rather be in a small, comfortable bedroom where if I can sleep in, all I need to do is pull down my blind. Top 10 Indoor Plants - iVillage. **MIRA NILA** / Wood meets tile floor. 11 Inventive Headboards | Interior Design | Ideas and Inspirations | homedeco2u. Upholstered headboards are everywhere, available in a wide range of colors and fabrics.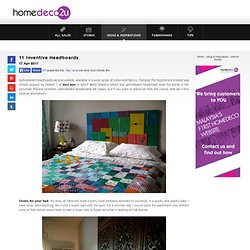 I believe the heightened interest was initially piqued by Season 1 of Mad Men in which Betty Draper's tufted teal upholstered headboard stole the scene in her suburban '60s-era bedroom. Upholstered headboards are classic, but if you want to stand out from the crowd, here are a few creative alternatives. Covers for your bed. An array of flattened book covers, most probably adhered to plywood, is a quirky and playful idea.
20 Ways to Use Color Psychology in Your Home. When you approach home design, you likely do so in a couple of different ways – choosing objects and colors that simply look attractive or using an existing pattern or decor theme to govern your decisions.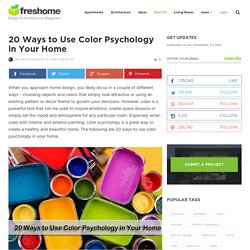 However, color is a powerful tool that can be used to inspire emotions, create space illusions or simply set the mood and atmosphere for any particular room. Especially when used with interior and exterior painting, color psychology is a great way to create a healthy and beautiful home. The following are 20 ways to use color psychology in your home. 1.) Create the illusion of space with bright colors: If you want your home to look larger than it really is – especially when it is about to go on the market – you can use bright and vibrant colors like yellows and eggshells to add space to your home exterior.
Centsational Girl & Blog Archive & Decorating with Yellow. March 23, 2010 I was slicing lemons and trimming the ends of daffodils yesterday, then I was struck by a mad passion for yellow.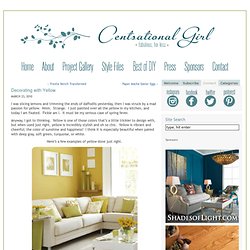 Hmm. Strange. Classic Car Living Room (10 pics) Inspired by their mutual obsession with the classic AC Cobra 427, a pair of Polish designers created this amazing living room collection made of American classic car parts from the 60's.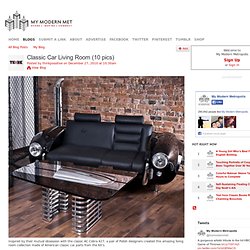 The pieces in the "Spirit of 427″ collection – the sofa, an armchair, a coffee table, office desk, and standing lamp – are all handcrafted from original and collector car parts such as bumpers, fuel inlets, lighthouses, and leather from Bentley and Ferrari factory stencils. "Our top priority was to make as high quality aluminum body as possible," says Andrzej Sapierzyński and Łukasz Siódmok of Poland-based LA Design Studio. "We wanted to create something really unique that has the real spirit of the 427! " Designers Łukasz Siódmok and Andrzej Sapierzyński. Modern Sofa Do-Lo-Rez by Ron Arad. Prêt-à-Porter by Piodão Group. Piodão Group has launched a brand new collection of rugs called Prêt-à-Porter that are just as exciting and colorful as their previous pieces.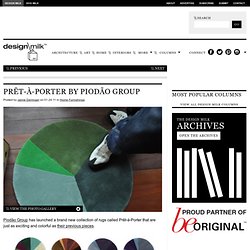 The "Any" rug, designed by Pedro & Rita Ferreira (Pedrita Studio – Lisbon, Portugal) follow the traditional Portuguese multicolor crochet hot-cloth's where no threat is wasted and is truly a statement of sustainability. Following the brand's philosophy, the wool left over from the factory's regular production is re-rolled and reintroduced into the manufacturing process minimizing waste and environmental impact. The resulting material is then utilized to create a one-of-a-kind "Any" with a strong visual character reflecting the factory weekly production. The "Play" set of rugs, designed by Luis Nascimento & David Rodrigues (Lisbon, Portugal), is based on a classic video game. Pallet reading bed for the nursery} & ashleyannphotography.com - StumbleUpon. UPDATE: For those following a link directly to this post, you can find pictures of the entire nursery HERE UPDATE: I recently found out the owner of the bed that inspired mine, check out her incredible site HERE When we began planning the nursery I really wanted a spot I could read with our kids and snuggle with them.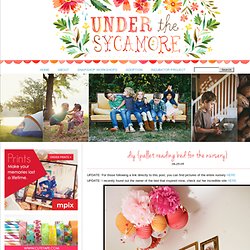 Since I won't be working as much, I have great hopes that maybe every once and a while I could cuddle down for a nap with one of them. So in working on the nursery, I began working on a 'reading bed' for us. Interior Design Ideas | Interior Design Ideas, Modern Furniture Design - zaINTERIORA.net - Part 18. Teal Appeal. | The TaterTwins. Simply Kelly: Stunning Office Transformation - StumbleUpon. Interior Design Ideas | Interior Design Ideas, Modern Furniture Design - zaINTERIORA.net - Part 14. Mid century wonderful& I fell off a ladder today and sprained my wrist hence this is a post I had ready to go for next week.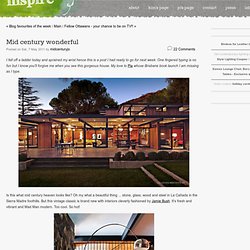 One fingered typing is no fun but I know you'll forgive me when you see this gorgeous house. My love to Pia whose Brisbane book launch I am missing as I type. Is this what mid century heaven looks like? Oh my what a beautiful thing ... stone, glass, wood and steel in La Cañada in the Sierra Madre foothills. But this vintage classic is brand new with interiors cleverly fashioned by Jamie Bush. Best Interiors - High End Interior Design and Architecture | Luxury Interiors | Turnkey Fit-out | Interior Decoration Services | Residential and Commercial - Dubai (UAE) | London (UK) | Delhi (India) | Worldwide.
Psychology of Color | Miss Centsible - StumbleUpon. How to Make a Three-Dimensional Wall Hanging. Ready to craft?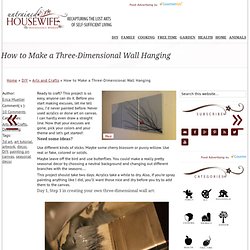 This project is so easy, anyone can do it. Before you start making excuses, let me tell you, I'd never painted before. Never used acrylics or done art on canvas. Neutral Rooms With Texture, Pattern & Shape | Apartment Therapy New York. An Abandoned Country Estate in Yonkers & Scouting NY - StumbleUpon. Note: I DO NOT KNOW ANYTHING ABOUT ALDER MANOR AND WEDDINGS!!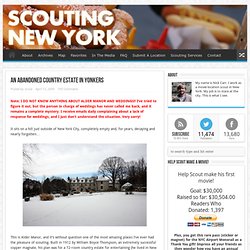 I've tried to figure it out, but the person in charge of weddings has never called me back, and it remains a complete mystery. I receive emails daily complaining about a lack of response for weddings, and I just don't understand the situation. Very sorry! It sits on a hill just outside of New York City, completely empty and, for years, decaying and nearly forgotten… My Search for the Perfect Bed. I am searching for the perfect headboard for my son's room. As I show you the options I'm considering so far, you'll find some DIY ideas that are so customizable, they work for an adult's bedroom too!
I have two young boys. My younger son will soon be ready to transition from his crib to a bed. Etsy Taste Test. Etsy has a new feature in which you take a test and they determine what kind of taste you have by listing a bunch of items that should appeal to your taste. These are a few of my favorites from the suggested items matching my taste. Now THIS is a bed. Hey you two, get out of my bed. Though the item is for the exit sign, I love the whole set up. Architecture - StumbleUpon. Imagine the renovation dilemmas. A huge penthouse of a converted 1930s office building in TriBeCa, New York, is to be turned into a functioning home for a family with three teenagers.
In fact, we can not quite imagine the issues that faced Steven Harris Architects when the family showed up, literally, at the doorstep of the celebrated architect and asked if he'd like to work on their home. Harris said yes and proceeded to make his magic. The scale of the apartment is huge and the freedom from budget constraints allowed for some spectacular solutions. Cultivate | Discover, Share, and Cultivate Your Ideal Kitchen. A VC: What Comes After Post Modernism? Decorating with wall murals - KenyonArt.com.
Bob Vila : Trusted Home Renovation &Repair Expert. Old Garage turned Mini Dream Home! | Hello there! It's been a busy week with a trip to Seattle for the Picasso exhibition and a drive out to the coast but I knew I had to share this amazing remodel with you before the week came to a close. Everyone loves good makeovers and the ones involving tiny spaces, creative design and ingenious solutions are my all time favorites! Check out how Seattle artist, designer and welder, Michelle de la Vega, created this beautiful little 250 sq. ft. haven… The before… This lonely little detached garage is just begging for some love. About the Exhibition | Alexander McQueen: Savage Beauty | The Metropolitan Museum of Art, New York - StumbleUpon.
The exhibition, organized by The Costume Institute, celebrated the late Alexander McQueen's extraordinary contributions to fashion. From his Central Saint Martins postgraduate collection of 1992 to his final runway presentation, which took place after his death in February 2010, Mr. McQueen challenged and expanded the understanding of fashion beyond utility to a conceptual expression of culture, politics, and identity.
- StumbleUpon. Interior Design Ideas | Interior Design Ideas, Modern Furniture Design - zaINTERIORA.net - Part 2. Interior Decorators Toronto : Interior Design : Jen Backstein Interiors : Interior Decorating Toronto Interior Decorators Toronto Ontario. Eight-Arms Hook. Design Crush: Elizabeth Kimberly Designs & Elements of Style Blog. Lord of the Rings House - San Diego interior decorating. Unique and Creative Bookshelves. The Inhabited Fold | Miss Design. Funky Home Decor - Fun Home Accessories by Rocket Design | Ultra Modern Decor.
Home Rejuvenation (by KNQ Associates): A TRIBUTE TO THE LIGHT BULB. PIXERS: Your Walls & Stuff & Design You Trust - Design and Beyond! Cool Finds: Perfectly Pint-Sized Play Kitchens | Mom Spark™ - A Blog for Moms. Trick by Sakura Adachi. Kid Bedroom Designs. Bedroom Decorating Ideas: Yellow Fever. Light Lights Sublime Levitating Lamps. Log Chop Bench by David Long & Antoine Morris & Yanko Design. - StumbleUpon. Check out my cool home design on Autodesk Homestyler! Bookshelf Porn - StumbleUpon. Colorful Crates Turned Awesome Entryway Storage Theas Mania | Apartment Therapy Chicago. FeefeeRN's Blog.
---