Scientists
Dr. Amit Goswami, Quantum Physicist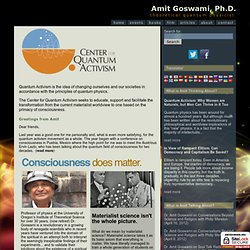 Quantum Activism is the idea of changing ourselves and our societies in accordance with the principles of quantum physics. The Center for Quantum Activism seeks to educate, support and facilitate the transformation from the current materialist worldview to one based on the primacy of consciousness. Greetings from Amit
Self Aware Universe: Amazon.ca: Fren Wolf, Amit Goswami
From Publishers Weekly Consciousness, not matter, is the ground of all existence, declares University of Oregon physicist Goswami, echoing the mystic sages of his native India. He holds that the universe is self-aware, and that consciousness creates the physical world. Calling this theory "monistic idealism," he claims it is not only "the basis of all religions worldwide" but also the correct philosophy for modern science.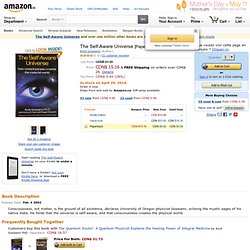 Quantum Activism is the idea of changing ourselves and our societies in accordance with the principles of quantum physics. The Center for Quantum Activism seeks to educate, support and facilitate the transformation from the current materialist worldview to one based on the primacy of consciousness. Greetings from Amit Dear friends, Last year was a good one for me personally and, what is even more satisfying, for the quantum activism movement as a whole.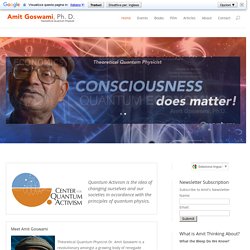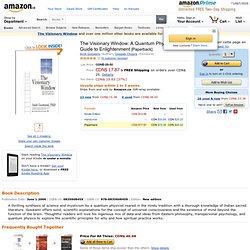 I was about four years old when I discovered that things die, and the outrage that I felt at this news has fueled a fifty year search to understand what we're doing here. This is not my only literary quest, but it is a big one, and it has taken me all over the map. When I studied relativity and quantum physics in college, I saw - 'through a glass darkly' - that this was an important piece of the puzzle, but real understanding eluded me.
The Visionary Window: A Quantum Physicist's Guide to Enlightenme
The Wall Street Journal – The Weekend Interview (A version of this article appeared March 10, 2012, on page A11 in some U.S. editions of The Wall Street Journal, with the headline: Captain Michio and the World of Tomorrow: Humans are born with the curiosity of scientists but switch to investment banking by Brian Bolduc (former Robert L. Bartley fellow at the Journal, is an editorial associate for National Review) By 2020, the word "computer" will have vanished from the English language, physicist Michio Kaku predicts.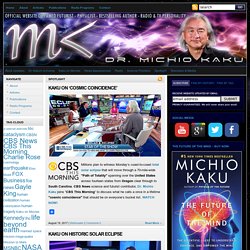 Michio Kaku on String Theory 1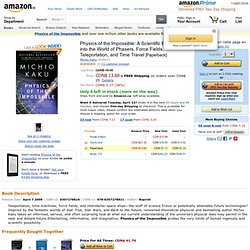 Physics of the Impossible: A Scientific Exploration into the Wor
"Beloved, do not believe every spirit, but test the spirits, whether they are of God; because many false prophets have gone out into the world." -- 1 John 4:1 If books about physics had been this entertaining when I was a child, I'm sure I would have become a theoretical physicist. Professor Michio Kaku begins with ancient beliefs about gods, moves on to science fiction, proceeds through theories proven false, and examines some of the most interesting questions and devices raised by science fiction stories to describe when, if ever, we might see such results. In all but a few cases, he sees hope. Talk about a ray of sunshine . . . this is a profoundly optimistic book that looks realistically at our geometrically increasing rate of learning how to measure and solve problems about the fundamental characteristics of the universe such as matter, energy, time, gravity, and the universe's origins.
Please choose your language ENGLISH Veuillez choisir votre langue FRANÇAIS Contact | Newsletter | Français Menu What's bigger than a bus but has prey smaller than a grain of rice?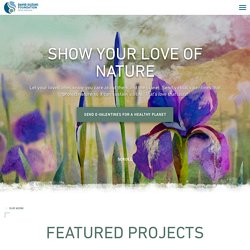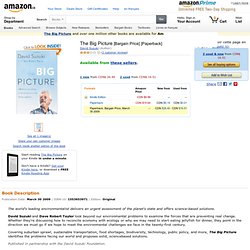 "Unless we can find a way to live in balance with the natural systems that sustain us, our species will ultimately reach a dead end. That's the bottom line... We live in a fractured world, pummelled by random information, very little of which actually addresses this bottom-line reality... This book, a selection of essays [first published under the title "Science Matters"] compiled to help readers put some of the fractured pieces back together, represents a modest start in that direction. It's not comprehensive, by any means. In truth, it will probably raise more questions than it answers.
The Big Picture: Amazon.ca: David T Suzuki
Fred Alan Wolf, Ph.D.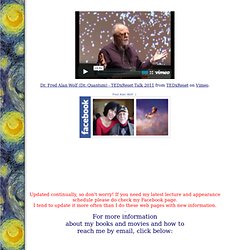 I'm also blogging these days. I prefer you to email me as I tend to answer emails faster than I respond to my blog page. Just go to my blog page at Blog with Fred Look for this now!
Fred Alan Wolf, Ph.D on Poppin the Quiff 1 of 2
Fred Alan Wolf's done it again! His latest book, MIND INTO MATTER, is a masterpiece of insight into the hidden workings of our magical, mysterious universe. As I read this book, I felt exhilarated to join Wolf on his journey "to find our mind" on the frontier of the imaginal and the real.MIND INTO MATTER is structured around Wolf's explanation of the significance and meaning behind the first nine letter-symbols in the Hebrew alphabet, with a separate chapter devoted to each Hebrew letter. The book begins with the concept of Spirit within the Void, and continues onward to Creation, Animation, Resistance, Vitality, Replication, Chance, Unification, and Structure.
Mind into Matter: A New Alchemy of Science and Spirit: Amazon.ca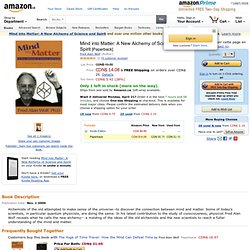 Dean Radin - Conscious Universe and Entangled Minds
5.0 out of 5 stars A Book of the First Order That Deserves a Very Wide Readership April 27 2006 By Dr. Richard G.
Entangled Minds: Extrasensory Experiences in a Quantum Reality:
Nick Herbert's Home Page
Personas Books Visit amazon.com--Earth's Biggest Bookstore
Quantum Reality: Beyond the New Physics: Amazon.ca: Nick Herbert
QUANTUM TANTRA
In his best-selling book How the Hippies Saved Physics, MIT professor David Kaiser describes how the members of an informal, outside-the-mainstream research group in Berkeley (Elizabeth Rauscher's Fundamental Fyziks Group) were able to make significant advances in a then-unfashionable field (quantum foundations) which has since become a respectable and flourishing part of physics. However, Kaiser failed to mention that along with Berkeley's FFG, a like-minded group at Stanford (ANPA West, founded by Stanford professor Pierre Noyes), was also enthusiastically exploring the once disreputable field of quantum foundations. ANPA (an acronym for Alternative Natural Philosophy Association) was organized by Cambridge physicist Ted Bastin and his friends. The "bible" of ANPA was a collection of essays edited by Bastin Quantum Theory and Beyond which featured papers by David Bohm, Yakir Aharonov, Geoffrey Chew as well as lesser-known quantum-edge explorers).
Wise words from a psychonaut - Nick Herbert
From Publishers Weekly Building on the insights in his Quantum Reality , Herbert proposes that mind, instead of being localized in our brains, is a phenomenon as deeply imbedded in nature as light or electricity. Three basic features of the universe predicted by quantum mechanics--randomness, the interconnectedness of all phenomena, and thinglessness (quantum objects do not possess attributes of their own)--were rejected by Albert Einstein, but to Herbert, a Stanford-trained physicist, each of these features of matter is a manifestation of a corresponding basic trait of mind: free will, deep psychic connectedness, and ambiguity. A skillful popularizer, Herbert scrutinizes recent brain research, reviews highly conjectural quantum models of mind, and outlines his own theory of "quantum animism" in which mind permeates the world and interacts with matter at the quantum level, which, if true, might help explain paranormal phenomena. Copyright 1993 Reed Business Information, Inc.
Elemental Mind: Amazon.ca: Nick Herbert
Lee Smolin's home page
Three Roads To Quantum Gravity: Amazon.ca: Lee Smolin
Lee Smolin on science and democracy
Brian Greene
Elegant Universe: Amazon.ca: Brian Greene
The Fabric of the Cosmos: Space, Time, and the Texture of Realit
PBS NOVA - The Elegant Universe