MUSIC
Wandering song (Kerner, set by Robert Alexander Schumann, Julius André) (The Lied, Art Song, and Choral Texts Archive: Texts and Translations to Lieder, mélodies, canzoni, and other classical vocal music)
Wanderlied Language: German Wohlauf! noch getrunken den funkelnden Wein!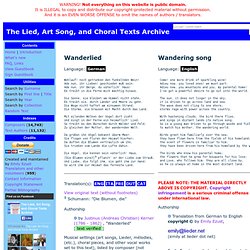 Composer or Pasta?
Classical musicians as you've never seen them before
Spring Song - Mendelssohn : Now playing on Neverending Playlist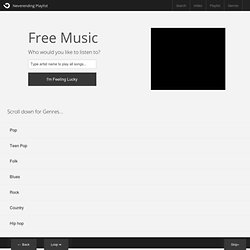 Neverending Playlist Listen to your favorite artists, for free. Mendelssohn
Tem 5 anos e toca assim piano...
The History of Music Told in Seven Rapidly Illustrated Minutes
Your senses do deceive you, my friends. This is not the latest, greatest video from RSA Animate. No, this video comes to us via Pablo Morales de los Rios, a Spanish artist, who has artistically narrated the history of music — or the Historia de la Música – in a shade less than seven minutes. 6:59, to be precise. You don't need much Spanish under your belt to realize that the story starts 50,000 years ago, then moves quickly from the Ancient Greeks, Romans and Egyptians, to the troubadours of the Middle Ages. The video gives disproportionate attention to classical music during the following periods – Renacimiento, Barroco, Classicismo and Romanticismo. But before wrapping up, we tack over to America and witness the birth of jazz and the blues, before heading back across the pond for the Invasión británica.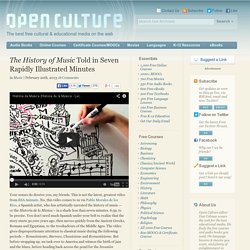 Na Yoon-sun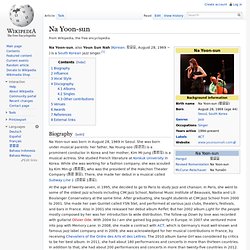 Na Yoon-sun, also Youn Sun Nah (Korean: 나윤선, August 28, 1969 ~ ) is a South Korean jazz singer.[1] Biography[edit] Na Yoon-sun was born in August 28, 1969 in Seoul. She was born under musical parents: her father, Na Young-Soo (나영수) is a prominent conductor in Korea and her mother, Kim Mi-Jung (김미정) is a musical actress.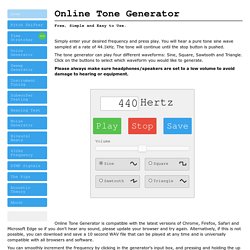 Welcome to the Online Tone Generator. It's free, simple and easy to use. Enter your desired frequency and press play. You will hear a pure tone sine wave sampled at a rate of 44.1kHz. The tone will continue until the stop button is pushed.
Online Tone Generator - Free, Simple and Easy to Use.
The Smelter Rats
Shemekia Copeland "Never Going Back to Memphis" LIVE
Home | unaic.org
Our motto is, "Global voices inspiring cultural understanding." We comprise singers from a variety of cultural, racial, ethnic, and socio-economic backgrounds who live and work in the greater Houston area. We have more than 100 members, representing over 30 nations, who speak 15 different languages, with ages ranging from 16 years old to 80 years young. We are the only United Nations Association choir in the country. Houston Mayor Annise D. Parker has described us as Houston's "singing global ambassadors."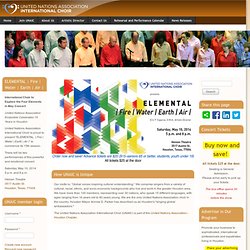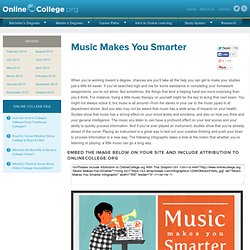 When you're working toward a degree, chances are you'll take all the help you can get to make your studies just a little bit easier. If you've searched high and low for some assistance in completing your homework assignments, you're not alone. But sometimes, the things that lend a helping hand are more surprising than you'd think.
Music Makes You Smarter » Online College.org
Blues Festivals 2011 | Blues Festival Guide
Schubert - Piano Sonata in A major, D. 959 Second Movement (Andantino) - Alfred Brendel
* Ya Got Trouble Lyrics | from "The Music Man"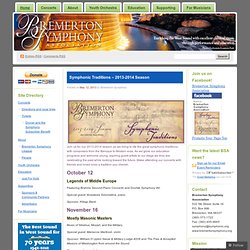 Bremerton Symphony Association
Chorale Concert: But Come Ye Back When: Friday, April 4, 2014, 7:30 p.m. AND Saturday, April 5, 2014, 7:30 p.m. Where: Friday: Gateway Fellowship, 18901 8th Ave NE, Poulsbo Saturday: Sylvan Way Baptist Church, 900 Sylvan Way, Bremerton Tickets: $24 adult / $19 senior & military / $8 youth & student Concert Co-Sponsors: Art Anderson Associates; Tim Quigley Insurance; Edward Jones – Todd Tidball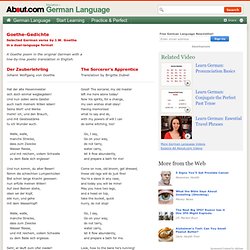 Goethe: Der Zauberlehrling - German/English
Goethe-GedichteSelected German verse by J.W. Goethe in a dual-language format A Goethe poem in the original German with a line-by-line poetic translation in English. NOTE: Paul Dukas composed the tone-poem "The Sorcerer's Apprentice," based on this poem/story.
(First time using "Explore the score?" Just click on the hyperlinks within the text to hear the musical excerpts.) "Here is something truly symphonic, a gesture worthy to introduce a great work…"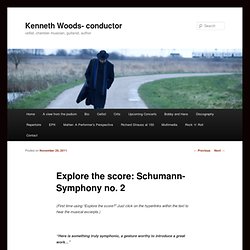 Explore the score: Schumann- Symphony no. 2 | Kenneth Woods- conductor
Dates music classical calendar CLASSICalmanac.com ~ the CLASSICAL music almanac: MARCH 2
Joel Forrester is the composer of more than 1600 tunes, a versatile and accomplished jazz pianist, leader of his own quintet and prolific recording artist. He has performed in an extraordinary diversity of settings – from large ensembles to a duet setting with a tap dancer! His playing draws from stride, boogie-woogie, bebop, trance and what he likes to call 'salon pieces' but each composition bears the stamp of this most individual artist. Joel composed the theme for National Public Radio's "FRESH AIR with Terry Gross . The theme has been broadcast more than 200,000 times in the last three years – it's been played and heard coast-to-coast more often than any other jazz composition in American radio (both public and private stations) for the last 28 years!
JoelForrester.com
You don't need a "1000 Chords Dictionary" to be able to read and play chords. You can learn how to form chords on your own, because chords are built using simple formulas. A chord is three or more notes played at the same time. It's as simple as that. Of course, the trick is to know which three notes…
C Major Scale (no sharps or flats) C D E F G A B C G Major Scale (1 sharp) G A B C D E F# G D Major Scale (2 sharps) D E F# G A B C# D A Major Scale (3 sharps) A B C# D E F# G# A E Major Scale (4 sharps) E F# G# A B C# D# E B Major Scale (5 sharps) B C# D# E F# G# A# B
Rimjin-gang English ASIAPRESS
"Arirang" (Korean: "아리랑") is a Korean folk song, often considered the unofficial national anthem of Korea.[1] In December 2012, the song was inscribed on the Representative List of the Intangible Cultural Heritage of Humanity programme by UNESCO.[2][3] This was followed by an announcement by the Cultural Heritage Administration of Korea of a five-year plan to promote and preserve the song. The plan is aim to support "Arirang" festivals by regional organizations, as well as building an archive for the song, exhibitions, fund research; of which it has allocated ₩33.6 billion.[4] Etymology[edit] Many versions of the song open by describing the travails the subject of the song encounters while crossing a mountain pass.
Arirang
quierosertusombra.mp3 (audio/mp3 Object)
Choir boys' and girls' distinctive voices studied
Diary of a 'One-Man Grateful Dead'
Top 10 Composers You Don't Know