Embodiment
In philosophy , the embodied mind thesis holds that the nature of the human mind is largely determined by the form of the human body. Philosophers , psychologists , cognitive scientists , and artificial intelligence researchers who study embodied cognition and the embodied mind argue that all aspects of cognition are shaped by aspects of the body. The aspects of cognition include high level mental constructs (such as concepts and categories ) and human performance on various cognitive tasks (such as reasoning or judgement). The aspects of the body include the motor system , the perceptual system , the body's interactions with the environment ( situatedness ) and the ontological assumptions about the world that are built into the body and the brain.
Embodied cognition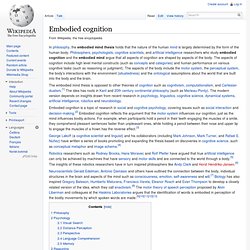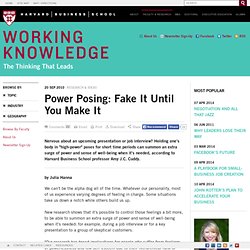 We can't be the alpha dog all of the time. Whatever our personality, most of us experience varying degrees of feeling in charge. Some situations take us down a notch while others build us up.
Power Posing: Fake It Until You Make It
When suiting up with that "power tie," you may also want to strike a pose – a power pose, that is.
Practicing Certain Poses Creates a Sense of Power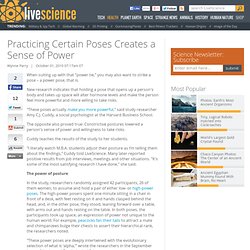 Ron Gutman: The hidden power of smiling
Botox Reduces the Ability to Empathize, Study Says
Corbis SMILE A study has found those with Botox injections cannot mimic the emotions of others. THE SOURCE "Embodied Emotion Perception: Amplifying and Dampening Facial Feedback Modulates Emotional Perception Accuracy" by David T.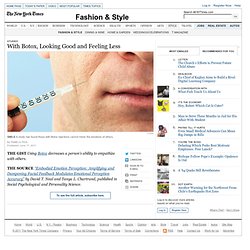 Embodied Emotion Perception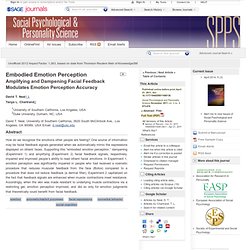 Amplifying and Dampening Facial Feedback Modulates Emotion Perception Accuracy David T.
Neuroanthropology: Evolution and Emotional Embodiment
Albert Einstein Quotes on Spirituality
Carl Jung Quotes - Page 2
Related Quotes Clothing Exercise Health Mind Soul
Body Quotes, Sayings about the Human Body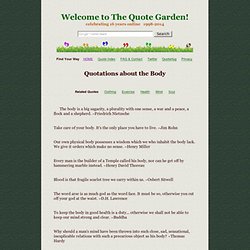 When Emotions Make Better Decisions - Antonio Damasio
Malcolm Gladwell - Blink - full show
bionik im management_teil 1 von 4_mariapruckner.com.mpg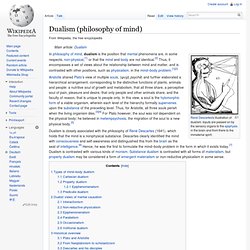 René Descartes 's illustration of dualism. Inputs are passed on by the sensory organs to the epiphysis in the brain and from there to the immaterial spirit. In philosophy of mind , dualism is the notion that mental phenomena are, in some respects, non-physical , [ 1 ] or that the mind and body are not identical. [ 2 ] Thus, it encompasses a set of views about the relationship between mind and matter, and is contrasted with other positions, such as physicalism , in the mind–body problem . [ 1 ] [ 2 ] Aristotle shared Plato 's view of multiple souls , (ψυχή psychē ) and further elaborated a hierarchical arrangement, corresponding to the distinctive functions of plants, animals and people: a nutritive soul of growth and metabolism, that all three share, a perceptive soul of pain, pleasure and desire, that only people and other animals share, and the faculty of reason, that is unique to people only.
4.3 Introduction to Cartesian Dualism
4.4 Modern Responses to Dualism
Epiphenomenalism is the theory in philosophy of mind that mental phenomena are caused by physical processes in the brain or that both are effects of a common cause, as opposed to mental phenomena driving the physical mechanics of the brain. The impression that thoughts, feelings, or sensations cause physical effects, is therefore to be understood as illusory to some extent. For example, it is not the feeling of fear that produces an increase in heart beat, both are symptomatic of a common physiological origin, possibly in response to a legitimate external threat. [ 1 ] [ edit ] Development
Epiphenomenalism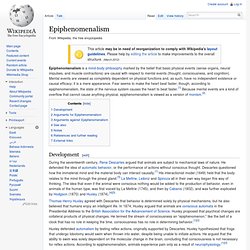 Emotional intelligence ( EI ) is the ability to identify, assess, and control the emotions of oneself, of others, and of groups. It can be divided into ability EI and trait EI . Ability EI is usually measured using maximum performance tests and has stronger relationships with traditional intelligence, whereas trait EI is usually measured using self-report questionnaires and has stronger relationships with personality. Criticisms have centered on whether EI is a real intelligence and whether it has incremental validity over IQ and the Big Five personality traits . [ not in citation given ] [ 1 ] [ edit ] History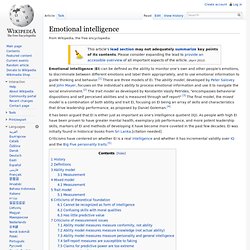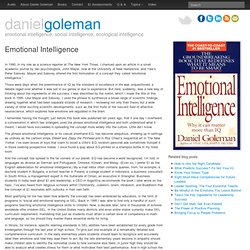 In 1990, in my role as a science reporter at The New York Times, I chanced upon an article in a small academic journal by two psychologists, John Mayer, now at the University of New Hampshire, and Yale's Peter Salovey.
Emotional Intelligence
Emotional Intelligence or Behaviorial Control? (part 1)