Blogs
Create your free Blog. Profewizer. The Flipped Class Blog. JeffLebow.net. Educational Technology Guy. Blogs. Education. Blog | The Magic of Learning. This is the second part of the blog post : Visible Thinking in Math Another Math teacher (sixth grade) at Graded, The American School of São Paulo , Laurel Janewicz, has been passionately piloting metacognitive thinking and reflection in her own Math classes.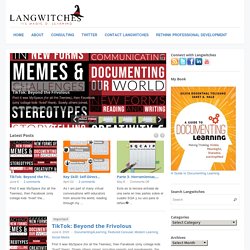 She started out with laying a foundation from the start of the school year. Listen to her students explain the why, how and what next of metacognition in Math class.Why? How? What Now? Bethanyvsmith / FrontPage. Free Technology for Teachers. 77 Educational Games and Game Builders. I'm often asked if I know of any games for subject "x," "y," or "z" for a particular grade level or age group.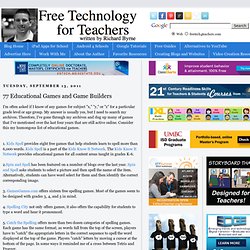 My answer is usually yes, but I need to search my archives. Therefore, I've gone through my archives and dug up many of games that I've mentioned over the last four years that are still active online. Consider this my humongous list of educational games. 1. Kids Spell provides eight free games that help students learn to spell more than 6,000 words. Technology Teacher | Pushing the Boundaries of Tech Use in the Schools. 21st Century Learning. Molehills out of Mountains. EDTEC 470 - Wordle. San Diego State University • Spring 2010 If a picture is worth a thousand words, what is a picture of words worth?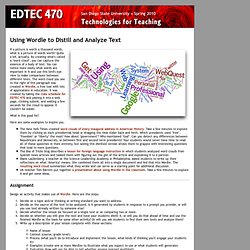 Quite a bit, actually. By creating what's called a "word cloud", you can capture the essence of a body of text. You can notice more easily what words are important in it and use this bird's eye view to make comparisons between different texts. The word cloud you see to the right of this paragraph was created in Wordle, a free tool with lots of applications in education. The Wise Latina Club. Box of Tricks - Technology and Education. - More Than Wordle... Ten Other Word Cloud Generators ... Providing Unique Features - by Michael Gorman. 2 Comments October 23, 2010 By: Tech Learning Blog Staff Oct 23 Written by: 10/23/2010 10:02 AM ShareThis (Michael Gorman) Welcome to a post that covers those other ten Word Cloud Generators and some are pretty amazing!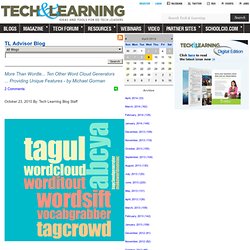 8 Word Cloud Makers for teachers. A word cloud is an attractive way of visualising a large chunk of text in a more pleasing way.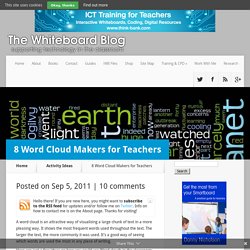 It shows the most frequent words used throughout the text. The larger the text, the more commonly it was used. It's a good way of seeing which words are used the most in any piece of writing. Here are just a few ideas on how you could use Word clouds in the classroom: Technology Tidbits: Thoughts of a Cyber Hero. Announcing the 2011 Winners – Congrats to All! We are proud to announce all of the winners of this year's Edublog Awards!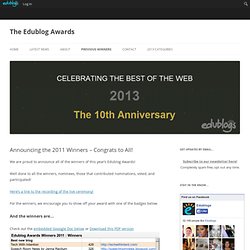 Well done to all the winners, nominees, those that contributed nominations, voted, and participated! Here's a link to the recording of the live ceremony! Tweet it Forward. Profewizer. Mark Brumley | Educational Technology. Edudemic | Education Technology, Teacher Tools, Apps and More.
---