Cool
Step 1
Our Old Classic Fears Translated Into Modern Technology Nightmares
Lots of people think verbal self-defense means fighting back. Their image of verbal self-defense is a collection of killer smart cracks plus strategies for using language to wipe the floor with their opponents. It's not an accurate image. In this edition of How Stuff Works , I'd like to show you a different way to relate to other people, especially when you disagree. Let's talk about it a minute.
How Verbal Self-Defense Works"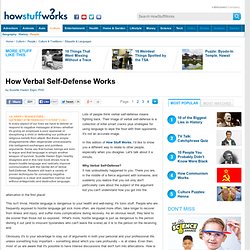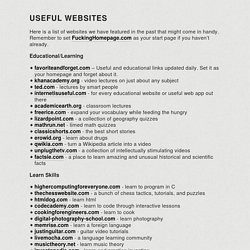 Here is a list of websites we have featured in the past that might come in handy. Remember to set FuckingHomepage.com as your start page if you haven't already. Educational/Learning khanacademy.org - video lectures on just about any subject ted.com - lectures by smart people academicearth.org - classroom lectures freerice.com - expand your vocabulary while feeding the hungry lizardpoint.com - a collection of geography quizzes mathrun.net - timed math quizzes classicshorts.com - the best short stories erowid.org - learn about drugs qwikia.com - turn a Wikipedia article into a video unplugthetv.com - a collection of intellectually stimulating videos factsie.com - a place to learn amazing and unusual historical and scientific facts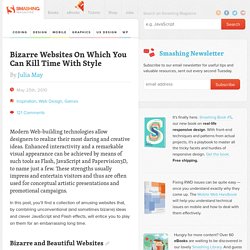 Modern Web-building technologies allow designers to realize their most daring and creative ideas. Enhanced interactivity and a remarkable visual appearance can be achieved by means of such tools as Flash, JavaScript and Papervision3D, to name just a few. These strengths usually impress and entertain visitors and thus are often used for conceptual artistic presentations and promotional campaigns. In this post, you'll find a collection of amusing websites that, by combining unconventional (and sometimes bizarre) ideas and clever JavaScript and Flash effects, will entice you to play on them for an embarrassing long time. Bizarre and Beautiful Websites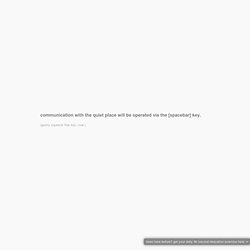 communication with the quiet place will be operated via the [spacebar] key. (gently squeeze that key, now.) in order to get the full experience, please silence your phone(s), turn on your speakers and press the [f-11] key or [cmd+shift+f] on mac. (again, [spacebar] to continue.)
Barcode Yourself is a complete, interactive experience in the series of barcode art, created using the personalized data of participants. Enter an individual's gender, weight, height, age and location, and the barcode is formed using real-world data. The individualized barcode can then be printed, mapped, scanned, even depicted on a t-shirt or coffee mug. Uber-geeks can even test out their barcodes on their next grocery run. It is in scanning a barcode that the project reveals its humor, like a banner that reads: Disclaimer!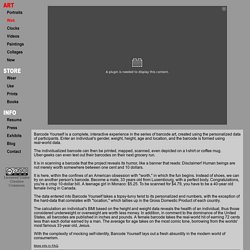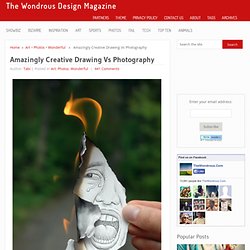 By Tabi , on June 26, 2010 This wonderful work has done by a very talented Belgian painter, illustrator, portraitist, caricaturist and photographer Ben Heine . This creative artist was born in Abidjan, Ivory Coast.