OIL
Among the many factors responsible for the jump in WTI to just shy of $109 over the past hour, and Brent to new records in various currencies, is the following news reported so far only by Iranian PressTV: "An explosion has hit oil pipelines in the flashpoint Saudi Arabian city of Awamiyah in the kingdom's oil-rich Eastern Province." And some more from Arabian Digest: Saudi Arabia's Eastern Revolution hits the oil sector: pipeline under fire
Saudi Oil Pipelines Destroyed In Explosion, Sends Crude Soaring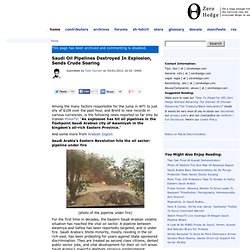 EPA Speaks up on Fracking
OpTarSands KeyStone PipeLine
Frede Oil Field - Chevron & Transocean, Rio de Janeiro.
The Sky May Be Falling, But it's Only a Storm JG Vibes | There is no doubt that we are in the midst of a storm that has been raging for centuries, and the intensity of that storm is growing by the minute. For this, we have every reason to make any and all preparations that we deem to be necessary, but we should not be consumed by fear to the point where we are considering violence or nihilism. … Trust yourself, Resist the State
The International: The Offshore Petroleum Standard :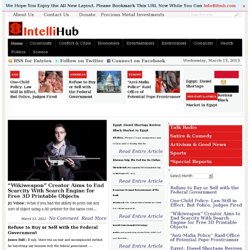 The Mysterious Deaths of Nine Gulf Oil Spill Whistleblowers
Continental Resources : Harrold Hamm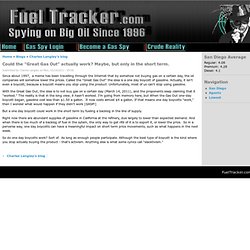 Since about 1997, a meme has been travelling through the Internet that by somehow not buying gas on a certain day, the oil companies will somehow lower the prices. Called the "Great Gas Out" the idea is a one day boycott of gasoline. Actually, it isn't even a boycott, because a boycott means you stop using the product. Unfortunately, most of us can't stop using gasoline. With the Great Gas Out, the idea is to not buy gas on a certain day (March 14, 2011), and the proponents keep claiming that it "worked." The reality is that in the long view, it hasn't worked.
Could the "Great Gas Out" actually work? Maybe, but only in the short term. | FuelTracker
BP Oil Spill Whistleblowers And Experts Continue To Mysteriously Die :
BP's Gulf of Mexico Oil Spill at the Oil Drum Overview - Especially for New Readers - Discussion
Drumbeat The place most readers start is Drumbeat. Leanan puts up a list of news articles in every day. Many will be relevant to the oil spill and responses to it.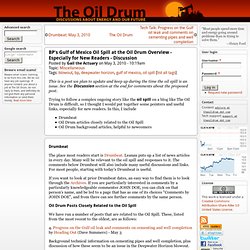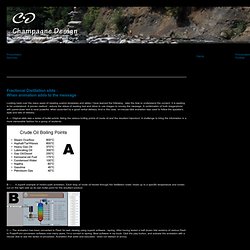 Champagne Design : Best Source for High-end PowerPoint Presentations
Fractional Distillation slide : When animation adds to the message Looking back over the many years of creating custom templates and slides I have learned the following : take the time to understand the content. It is seeking to be understood. A proven method : reduce the stress of reading text and strive to use images to convey the message.
Physlet Quantum Physics by Belloni, Christian, and Cox: Section 4.5
J. J. Thomson's experiment (Section 4.4) resulted in a value for e/m (the ratio of the charge of the electron to the mass of the electron), but it took the Millikan's oil drop experiment to determine the value of the charge on the electron. This animation is a virtual version of the Millikan's experiment.3 The experiment was based on balancing forces: the gravitational pull down on an oil drop and the electric force up on ionized particles. Below is a schematic of the apparatus.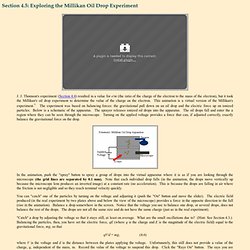 KINDER MORGAN Longest Oil Pipeline In The World
DESTOYERS, PEAK OIL, PLANET DEVESTATION!
Russia gives NATO cold shoulder on Arctic militarization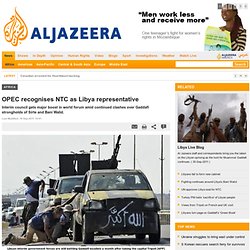 OPEC recognises NTC as Libya representative - Africa
The Organisation of Petroleum Exporting Countries (OPEC) has recognised the National Transitional Council as Libya's representative. The OPEC's recognition came after the United Nations approved a Libyan request to accredit envoys of the country's interim government as Tripoli's sole representatives at the world body on Friday. "OPEC will recognise the NTC ... and they will sit in the same chair," Abdullah al-Badri, OPEC's secretary-general, told the Gulf Intelligence energy forum in Dubai on Monday.
I've never believed in "peak oil." (The notion held with religious conviction by many on the left here, that world production is topping out — and will soon slide, plunging the world into economic chaos.) There's plenty of oil, with the constraints, as always, being the cost of recovery. Witness the vast new North Dakota oil shale fields. I regard oil "shortages" as contrivances by the oil companies, allied brokers and middlemen to run up the price. I fill my aging fleet of 50s and 60s era Chryslers with a light heart.
'Peak Oil' Takes A Deadly Blow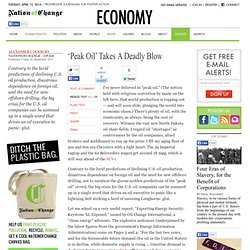 UPDATE 1-Bangladesh raises oil prices from midnight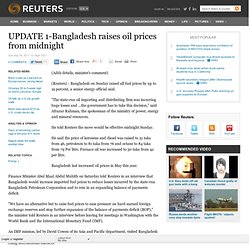 Sun Sep 18, 2011 12:16pm EDT (Adds details, minister's comment) DHAKA, Sept 18 (Reuters) - Bangladesh on Sunday raised all fuel prices by up to 19 percent, a senior energy official said. "The state-run oil importing and distributing firm was incurring huge losses and ...the government has to take this decision," said Afrazur Rahman, the spokesman of the ministry of power, energy and mineral resources.
The Current | Past Episodes
Ezra Levant
Former finance Jim Flaherty died today. Ezra thanks him for his service. Read More » The 'Honor Diaries' film is being censored by radical Islamic group in the US.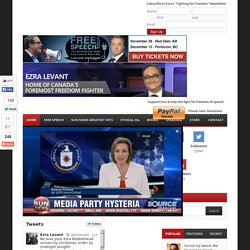 The Bulletin : Australian firm looks to drill near Patagonia : Nogales International : Nogales, AZ
Hunt Oil knew KRG oil deal in disputed territory - Iraq Oil Report
According to a State Dept. cable from Iraq, and despite the U.S. Embassy's warnings, the oil company of a George W. Bush intelligence adviser signed a Kurdish oil deal knowing the field was in disputed territory. Hunt Oil officials David McDonald and Mark Aertker (center left and right) survey the area around Ain Sifne in 2007 after the company signed a production sharing contract with the Kurdistan Regional Government.
PIPELINE SEC - 03OTTAWA334
This record is a partial extract of the original cable. The full text of the original cable is not available. UNCLAS SECTION 01 OF 04 OTTAWA 000334 SIPDIS SENSITIVE STATE FOR EB/TPP/BTA EB/ESC/ISC (MCMANUS AND ERVITI), WHA/CAN (MASON AND RUNNING), OES/EGC (MIOTKE AND DEROSA), D/HS (OPTICAN) AND PM (MARKOFF) HOMELAND SECURITY FOR EPR (BROWN) DOE FOR INT'L AND POLICY (A/S BAILEY) AND IE-141 (DEUTSCH) DOE PASS FERC FOR KELLY AND LEKANG DOT FOR OFFICE OF PIPELINE SAFETY COMMERCE FOR 4320/MAC/WH/ON/OIA/BENDER PARIS FOR IEA E.O. 12958: N/A TAGS: EPET, ETRD, EINV, CA SUBJECT: CRITICAL INFRASTRUCTURE PROTECTION IN CANADA'S OIL AND GAS PIPELINE NETWORK SUMMARY/INTRODUCTION -------------------- 1. (U) This message is sensitive, but unclassified. Please handle accordingly. 2.
Leda Huta: Keystone Pipeline Could Push Endangered Whooping Crane Into Extinction
If you were to choose a route through which to move toxic, highly corrosive, sludgy crude oil, would you place it on the same narrow corridor used by one of the world's most endangered birds? The Canadian energy company TransCanada did and the Obama administration is on the verge of approving that absurd proposal. Migration Pathway -- From the US Fish & Wildlife Service If approved by the administration, the Keystone XL tar-sands pipeline will move a half million+ barrels daily of Canadian crude 1,700 miles from Alberta, Canada to the Texas coast as soon as 2013. TransCanada would like the world to believe that their pipeline is relatively safe, claiming just one predicted spill in the first 7 years. Yet, TransCanada's existing Keystone Pipeline has experienced 12 spills -- in just 12 months of operation.
TransCanada Corporation Home
TransCanada Corporation is a major North American energy company based in Calgary, Alberta, developing and operating energy infrastructure in North America. Its pipeline network includes approximately 3,460 kilometres (2,150 miles) of oil pipeline, plus approximately 68,500 kilometres (42,564 miles) of wholly owned and 11,500 kilometres (7,146 miles) of partially owned gas pipeline that connects with virtually all major gas supply basins in North America. TransCanada is one of the continent's largest providers of gas storage and related services with approximately 400 billion cubic feet (1.1×1010 m3) of storage capacity. TransCanada also owns, or has interests in, approximately 11,800 megawatts of power generation.[2]
TransCanada Corporation
ICE: Homepage