HACK HACKS
Judgment day: UK media faces moment of truth. James Murdoch resigns as head of newspaper group embroiled in hacking scandal. Phone hacking: 54 MPs and peers in Glenn Mulcaire notebooks. To date, seven serving and former MPs have received damages from News Group Newspapers, the publisher of the News of the World.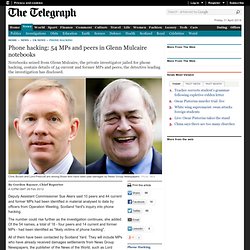 They include Denis MacShane, Claire Ward, Mark Oaten and George Galloway. Almost 6,000 names appear in notebooks seized from Mulcaire in 2006, when he and the then News of the World royal editor Clive Goodman were arrested, but the Met says that only 829 of those are "likely" to have been victims of hacking. Former BBC boss on when phone hacking can be justified17170959. 27 February 2012Last updated at 14:46 Last month, Lord Grade gave evidence to the Leveson inquiry Should we trust British journalism?
That was one of the big talking points of a weekend TV studio debate. Will U.S. join hacking probe? - Entertainment News, TV News. LONDON — The latest arrest of British journalists employed by News Intl. has led to a drumbeat of speculation in this hacking-obsessed nation that U.S. prosecutors could soon turn up the heat on Rupert Murdoch's worldwide media empire.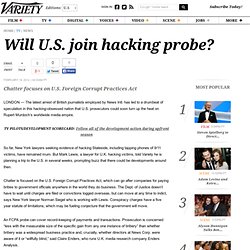 TV PILOTS/DEVELOPMENT SCORECARD: Follow all of the development action during upfront season So far, New York lawyers seeking evidence of hacking Stateside, including tapping phones of 9/11 victims, have remained mum. But Mark Lewis, a lawyer for U.K. hacking victims, told Variety he is planning a trip to the U.S. in several weeks, prompting buzz that there could be developments around then. Chatter is focused on the U.S. Phone hacking: NI faces up to 200 more claims from alleged victims | Media. News International could face almost 200 more civil claims from alleged victims of News of the World phone hacking, with the process of settling the new cases expected to last at least another year, the high court has heard.
Hugh Tomlinson QC, counsel for several phone-hacking victims, told Mr Justice Vos in a case management conference that 14 new claims had been issued and that there were another 180 cases involving individuals "who have approached solicitors that we know about and have said they are considering claims". Among the alleged phone hacking victims who have already filed claims are former boxer Chris Eubank, his ex-wife Karron Stephen-Martin, and Duncan Foster, a long-serving director of ITV soaps Coronation Street and Emmerdale.
Sun Reporter Arrested
Times editor James Harding apologises to High Court judge after failing to reveal reporter's email hacking. By Nick Mcdermott Updated: 00:06 GMT, 8 February 2012 Apology: Times editor James Harding failed to disclose that a reporter had illegally hacked the emails of an anonymous police blogger The editor of The Times has apologised personally to a High Court judge after he failed to disclose that a reporter had illegally hacked the emails of an anonymous police blogger who had served an injunction on the newspaper to keep his identity secret.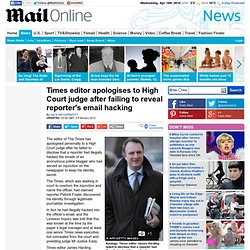 The Times, which was seeking in court to overturn the injunction and name the officer, had claimed reporter Patrick Foster discovered his identity through legitimate journalistic investigation. In fact he had illegally hacked into the officer's email, and the Leveson Inquiry was told that this was known at the time by the paper's legal manager and at least one senior Times news executive, but concealed from the court and presiding judge Mr Justice Eady.
Leveson inquiry: News of the World's Andy Coulson 'should have been quizzed by PCC over hacking', says body's former director. By Nick Mcdermott Updated: 10:02 GMT, 31 January 2012 The Press Complaints Commission should have questioned Andy Coulson over phone hacking following his resignation from the News of the World, the media body's former director admitted yesterday.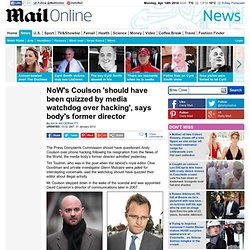 Tim Toulmin, who was in the post when the tabloid's royal editor Clive Goodman and private investigator Glenn Mulcaire were jailed for intercepting voicemails, said the watchdog should have quizzed their editor about illegal activity. Policeman arrested in hacking probe - UK, Local & National. 28 January 2012 Senior Sun staff Chris Pharo, 42, and Mike Sullivan, 48, along with former executives Fergus Shanahan, 56, and Graham Dudman, 48, were named by sources as suspects facing corruption allegations.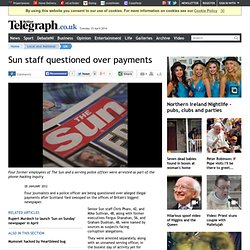 They were arrested separately, along with an unnamed serving officer, in the busiest day of activity yet for detectives investigating police payments. Times reporter hacked into police blogger's email account | Media. News Corp. U.K. Unit Stops Use of Private Eyes After Phone-Hacking Scandal. News Corp.'s U.K. publishing unit has stopped using private detectives in the aftermath of the phone-hacking scandal, Tom Mockridge, News International's chief executive officer, told a media inquiry.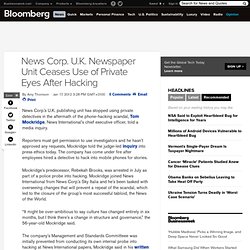 Reporters must get permission to use investigators and he hasn't approved any requests, Mockridge told the judge-led inquiry into press ethics today. The company has come under fire after employees hired a detective to hack into mobile phones for stories. Mockridge's predecessor, Rebekah Brooks, was arrested in July as part of a police probe into hacking.
Google calls Murdoch's piracy allegations 'nonsense' | Media Maverick. News Corp.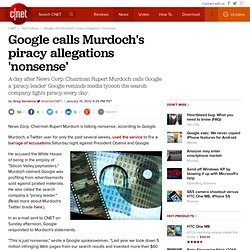 Chairman Rupert Murdoch is talking nonsense, according to Google. Murdoch, a Twitter user for only the past several weeks, used the service to fire a barrage of accusations Saturday night against President Obama and Google. Guardian backtracks on key NOTW claim. The Guardian newspaper broke the News of the World phone hacking scandal Source: Supplied British teenager Amanda 'Milly' Dowler.
Source: The Daily Telegraph THE News of the World did not delete the voicemails belonging to murdered British schoolgirl Milly Dowler and they were "most likely" removed automatically by her phone, a police lawyer told Britain's inquiry into media ethics. British newspaper the Guardian , citing police sources, claimed in a July 4 story that journalists and a private investigator working for the News of the World deleted the messages when they hacked the missing 13-year-old's phone in 2002. Phone hacking: News International pays Tessa Jowell £200,000 | Media. The former Labour cabinet minister Tessa Jowell has accepted a £200,000 settlement from Rupert Murdoch's News International over the hacking of her phone.
Jowell's lawyers, Bindmans, confirmed on Monday that the News International subsidiary News Group, which used to publish the News of the World, had agreed to £200,000 in damages for breach of privacy and harassment. Of this, £100,000 will be paid to a charity of her choice, with which she has worked closely and which will benefit young people in her south London constituency of Dulwich and West Norwood. DAVID CAMERON IS INVOLVED IN CONSPIRACY WITH NEWS INTERNATI. Rupert Murdoch Lobbies Congress To Restrict Internet. WASHINGTON -- News Corp. honcho Rupert Murdoch threw his weight behind Congress' attempt to restrict the Internet, personally lobbying leaders on Capitol Hill Wednesday for two measures that purport to combat piracy. Murdoch's media empire is among some 350 large corporations that have come out in favor of the Stop Online Piracy Act in the House, as well as the Protect IP Act in the Senate.
Both measures would require Internet operators to police activity online, and would mandate Internet giants like Google and AOL (the parent company of The Huffington Post and an opponent of the bills) and credit card companies to take down sites that have content deemed to be in violation of copyright rules. Phone hacking scandal: computer hacker suspect arrested. Over 170,000 people are part of the Sophos community on Facebook.
Why not join us on Facebook to find out about the latest security threats. Hi fellow Twitter user! Follow our team of security experts on Twitter for the latest news about internet security threats. Already using Google+? Leveson Inquiry to 'shine harsh light on press ethics' 13 November 2011Last updated at 02:23 By Peter Hunt BBC News Lord Justice Leveson's inquiry will look at the culture, practices and ethics of the press As the Leveson Inquiry into phone hacking starts on Monday, what can we expect the coming weeks to bring? James Murdoch turns on other execs in hacking probe. News Corp. Says All Board Nominees Are Elected, Withholds Final Vote Total.
Arrest made in Hollywood hacking probe.
MR MURDOCK NEWS CORP
Hacking Victim's Family to Receive Payout. Scarlett Johansson alleges hacking; FBI confirms celeb-focused probe. Glenn Mulcaire reveals News of the World hacking names. Pressure mounts on Murdoch family in hacking probe.
---