Colors
Kuler. 0to255. Color Theory @ ColorJack. Color Scheme Designer 3. Color Hunter. Galerie & nuancier de tendances. A Guide to Choosing Colors for Your Brand. One of the key elements of building a strong brand is color selection.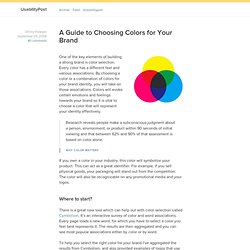 Every color has a different feel and various associations. By choosing a color or a combination of colors for your brand identity, you will take on those associations. Color Trends + Palettes. Extract colors from photos and make color schemes | ColorSuckr. Couleurs par teintes. Les couleurs RGB primaires (Red, Green, Blue) et secondaires —créées par addition des 2 voisines— (Yellow, Cyan, Magenta) sont groupées en une spirale centrifuge vers la gauche (en 5 cycles) : Clair, Moyen, Peu foncé, Foncé + Gris Le but est pragmatique uniquement, à savoir grouper les noms usuels et leur code RGB par zones de plus en plus foncées.
Par exemple, vous voulez un arrière-plan « blanc cassé » : les tons clairs vous les présentent avec des colorations tirant vers le jaune, le vert, le rosé, … Actuellement, les noms usuels sont étendus de 17 à ± 138. « ± » car il y a quelques doublons ; par exemple, cyan et aqua ont le même codage, de même fuchsia et magenta, … Notez aussi que tous les termes utilisant gray (graphie américaine) fonctionnent aussi avec grey (graphie anglaise) : par exemple, lightgray peut s'écrire lightgrey, … KASHIWA SATO ||| 佐藤可士和. CSS Drive: Image to Colors Palette Generator. Notes: - Max file size: 1 MB. - Supported image types:.png, .gif, .jpg and .jpeg images. - Photoshop swatches and CSS styles also generated.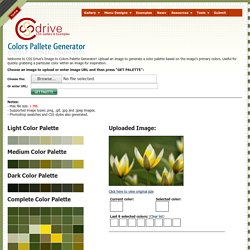 Light Color Palette #909b86 #a0a68f #adb39b. ColorMunki Design. ColoRotate: Colors come to life in 3D.
---