Mysteries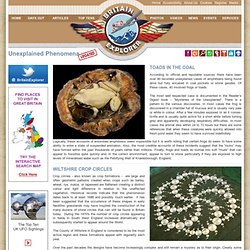 Over the past decades the designs have become increasingly complex and still remain a mystery as to their origin. Clearly some of the formations are man-made but experts are quick to point out that it is fairly easy to identify these as their construction is often very basic and there is usually evidence of human activity ranging from footprints to vehicle tracks. However, a great many of the formations simply seem to appear as if from out of nowhere - often during the night but occasionally during broad daylight. Crop circles in Wiltshire often appear at the centre of the county and within a 15 mile radius of the megalithic stone circles of Avebury.
10 Bizarre Theories And The Facts Surrounding Them
Weird Stuff Previously we posted a list on conspiracy theories, but the items on this list are not really suited to that genre. This is a list of bizarre theories or beliefs that many people subscribe to – with a list of the facts as far as modern science is concerned. This is not meant as a criticism of believers, but as a discussion of the theories and facts. The Theory: The theory is by using certain objects such as a candle, a dagger and a wide variety of things you can bend the universe to your will completely ignoring the laws of physics and the practical laws of the universe. The facts: Many people claim that they can use such powers as summoning demons, angels or other things and the OOBE or out of body experience under laboratory conditions but no one has been able to prove it so far.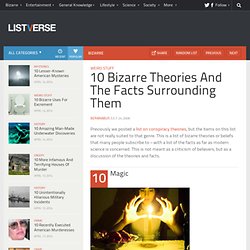 Mysteries To date we have around seven conspiracy theory lists or lists containing entries related to such. This new list is a welcome addition as it has been some time since our last one and they are always extremely fascinating topics to read about. The world is full of conspiracy theories – many of which contain elements of mystery.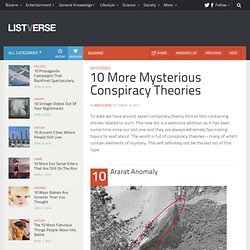 10 of the world's biggest unsolved mysteries: The Wow! Signal
6 Famous Unsolved Mysteries (With Really Obvious Solutions)
The world is a magical place, full of mysteries science may never understand. It's also full of bullshit that people just make up to draw attention to themselves. At the heart of pretty much every "paranormal" phenomenon you find some lonely, attention-seeking soul, or several of them, willing to put a spooky little twist on an otherwise boring story. But it usually doesn't take a whole lot of examination to find the truth. For instance... The Dyatlov Pass Incident
Mysteries What is it about the bizarre and mysterious that piques our curiosity? It entertains our sense of wonder and excites our imagination, for sure. Luckily for us, history is marked with strange, logic-defying occurrences to amuse us. Here is a list comprised of 10 more unexplainable and interesting phenomenon and incidents that we crave so much. This list is made up of a mixture of two submissions to the Christmas competition which shared some items, so it seemed a good idea to combine the two to give us ten things never before shown on the site.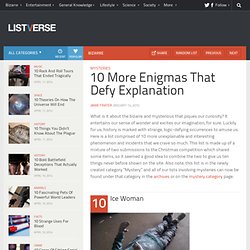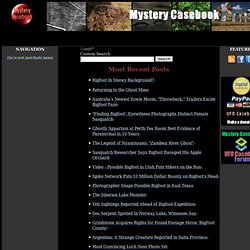 Fair Use Notice: This web site contains some copyrighted material whose use has not been authorized by the copyright owners. We believe that this not-for-profit, educational use on the Web constitutes a fair use of the copyrighted material (as provided for in section 107 of the US Copyright Law.) If you wish to use this copyrighted material for purposes that go beyond fair use, you must obtain permission from the copyright owner.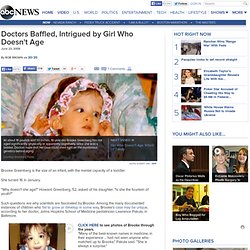 Girl Who Does Not Age, Brooke Greenberg Baffles Doctors
<br/><a href="http://abcnews.go.com/us">ABC US News</a> | <a href="http://abcnews.go.com/business">ABC Business News</a> Copy Brooke Greenberg is the size of an infant, with the mental capacity of a toddler. She turned 16 in January.
The Bible tells us that God created Adam and Eve just a few thousand years ago, by some fundamentalist interpretations. Science informs us that this is mere fiction and that man is a few million years old, and that civilization just tens of thousands of years old. Could it be, however, that conventional science is just as mistaken as the Bible stories? There is a great deal of archeological evidence that the history of life on earth might be far different than what current geological and anthropological texts tell us.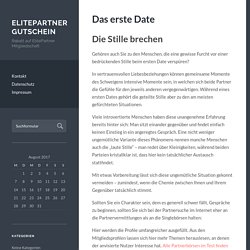 Although they say curiosity has the power to somehow kill your cat, it seems that humans are immune. We would however, suggest putting Pooky away (just in case) because we are about to unleash the biggest mysteries known to man. Although some of these mysteries are only on the list as a result of their infamy, some are genuinely baffling, and if you manage to solve any of them leave a comment below so that we can cross them off.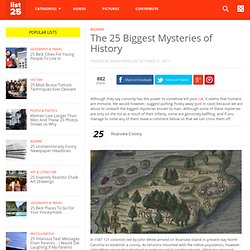 The Tanganyika laughter epidemic of 1962 was an outbreak of mass hysteria – or mass psychogenic illness (MPI) – rumored to have occurred in or near the village of Kashasha on the western coast of Lake Victoria in the modern nation of Tanzania (formerly Tanganyika) near the border of Kenya.[1] The laughter epidemic began on January 30, 1962, at a mission-run boarding school for girls in Kashasha. The laughter started with three girls and spread haphazardly throughout the school, affecting 95 of the 159 pupils, aged 12–18.[2][3] Symptoms lasted from a few hours to 16 days in those affected.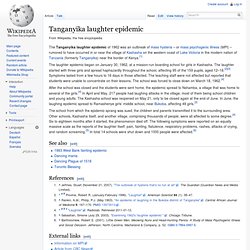 Did electronic fog cause the plane to go down ? A look at the legend of the ghost of Anne Griffith. A look at some of the enigmas surrounding plate boundaries and earthquake faults. Kathleen Meadows looks at how to record and interpret your dreams. Dan Green conducts a remote viewing experiment.
The Voynich manuscript is an illustrated codex hand-written in an unknown writing system. The book has been carbon-dated to the early 15th century (1404–1438), and may have been composed in Northern Italy during the Italian Renaissance.[1][2] The manuscript is named after Wilfrid Voynich, a Polish book dealer who purchased it in 1912.[3] The pages of the codex are vellum.