Movies & TV
Throughout film history certain conventions and themes are constantly reused no matter the time or place. The one genre that's stayed consistent with the same formula throughout the years is horror. It doesn't matter if it's 1965 or 2007, the same stuff pops up in everything.
Top 8 Most Overused Horror Cliches in Movies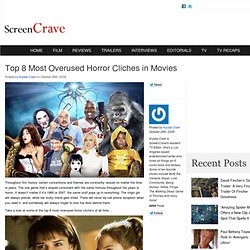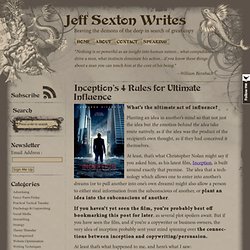 Inception's 4 Rules for Ultimate Influence | Jeff Sexton Writes
What's the ulti­mate act of influence? Plant­ing an idea in another's mind so that not just the idea but the emo­tion behind the idea take route natively, as if the idea was the prod­uct of the recipient's own thought, as if they had con­ceived it themselves. At least, that's what Christo­pher Nolan might say if you asked him, as his lat­est film, Incep­tion , is built around exactly that premise. The idea that a tech­nol­ogy which allows one to enter into another's dreams (or to pull another into one's own dreams) might also allow a per­son to either steal infor­ma­tion from the sub­con­scious of another, or plant an idea into the sub­con­scious of another . If you haven't yet seen the film, you're prob­a­bly best off book­mark­ing this post for later , as sev­eral plot spoil­ers await.
Some of the best comedy around has been British Comedy. The classic one liners, the funny stories and the bizarre slapstick. This list will not just be my opinion, although a few personal favorites will pop up. Starting from the very early moments of comedy, to some newer moments, here are the top 10 British comedy series. I think I will start this list with one of the most recent series. A personal favorite of mine, the I.T Crowd follows the lives of Maurice Moss, Roy Trenneman and Jen Barber in their I.T department at Reynholm Industries.
Top 10 British Comedy Series
6 Things Clarissa Didn't Explain At All from Dashiell Driscoll
The 90's were a golden age of cartoons. We had a blast putting together the 20 best, and we're sure this list will inspire some discussion. Our only criteria was that the cartoon had to start in the 90's, meaning a couple of very late in the decade entries were still eligible.