Language
Wordiness, Wordiness, Wordiness List. Absolutely essential = essential aforementioned = DELETE a bigger/greater/higher/larger degree of = more.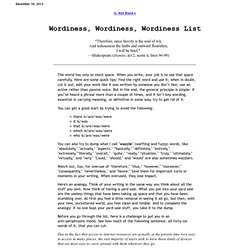 25 Things You Should Know About Word Choice. 1.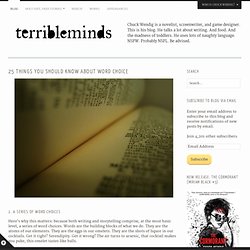 A Series Of Word Choices Here's why this matters: because both writing and storytelling comprise, at the most basic level, a series of word choices. Words are the building blocks of what we do. They are the atoms of our elements. They are the eggs in our omelets. Definr - incredibly fast dictionary. Save The Words. Find Synonyms and Antonyms of Words at Thesaurus.com. Cliche Finder. 50 Problem Words and Phrases. By Mark Nichol Oh, what a tangled web we weave when first we practice to conceive written communication.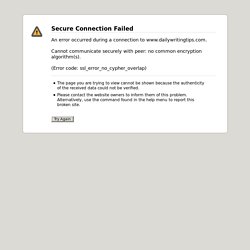 So many pairs or trios of words and phrases stymie us with their resemblance to each other. Here's a quick guide to alleviate (or is it ameliorate?) Your suffering: 1. a while / awhile: "A while" is a noun phrase; awhile is an adverb. Reverse Dictionary. Phrase Thesaurus - ideas generator for writers | online thesaurus.
Cliches
Words. 7 Examples of Passive Voice (And How To Fix Them) By Mark Nichol The sentence construction "(noun) (verb phrase) by (noun)" is known as passive voice or passive construction, because the true subject is relegated to the end of the sentence and is thus acted on, rather than acting, which often weakens the statement.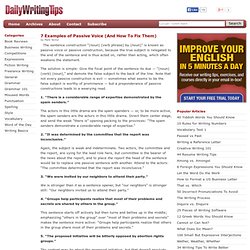 The solution is simple: Give the focal point of the sentence its due — "(noun) (verb) (noun)," and demote the false subject to the back of the line. 40+ Tips to Improve your Grammar and Punctuation. After all these years you finally have the courage and opportunity to write the email announcing that you and you alone have single handedly saved the company from utter disaster.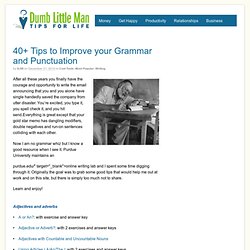 You're excited, you type it, you spell check it, and you hit send.Everything is great except that your gold star memo has dangling modifiers, double negatives and run-on sentences colliding with each other. Now I am no grammar whiz but I know a good resource when I see it. English Pronunciation. If you can pronounce correctly every word in this poem, you will be speaking English better than 90% of the native English speakers in the world.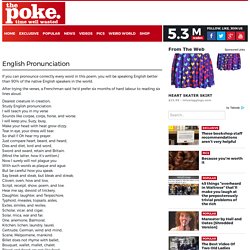 After trying the verses, a Frenchman said he'd prefer six months of hard labour to reading six lines aloud. Dearest creature in creation, Study English pronunciation. I will teach you in my verse Sounds like corpse, corps, horse, and worse. I will keep you, Suzy, busy, Make your head with heat grow dizzy. B-Rhymes - The Rhyme and Slant Rhyme Dictionary. The Forgotten Language of Flowers. In the early 18th century the Turkish "Secret Language of Flowers" was introduced to Europe by Lady Mary Wortley Montague, wife of the British ambassador to Constantinople.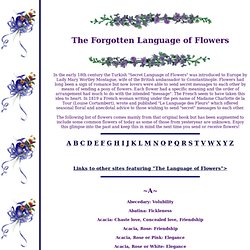 Flowers had long been a sign of romance but now lovers were able to send secret messages to each other by means of sending a posy of flowers. Each flower had a specific meaning and the order of arrangement had much to do with the intended "message". The French seem to have taken this idea to heart. IdiomSite.com - Find out the meanings of common sayings. So much to tell you: the 100 club. These are the 100 most beautiful words in the English language, apparently.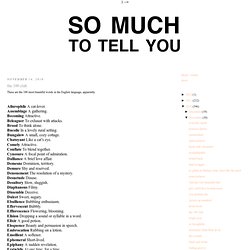 ---