Creativity
33 Ways To Stay Creative. Creative Mind Hacks. Tapping Your Superconscious: How Da Vinci, Edison, Aristotle and Other Great Minds Accessed Extraordinary Creativity And You Can Too!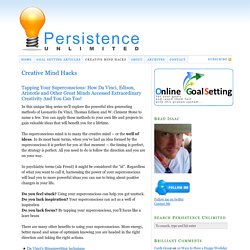 In this unique blog series we'll explore the powerful idea generating methods of Leonardo Da Vinci, Thomas Edison and W. Clement Stone to name a few. You can apply these methods to your own life and projects to gain valuable ideas that will benefit you for a lifetime. The superconscious mind is to many the creative mind – or the . Amy Tan: Where does creativity hide? Why we crave creativity but reject creative ideas. Most people view creativity as an asset -- until they come across a creative idea.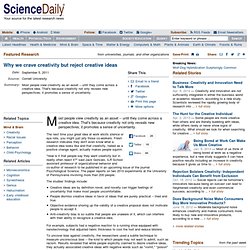 That's because creativity not only reveals new perspectives; it promotes a sense of uncertainty. The next time your great idea at work elicits silence or eye rolls, you might just pity those co-workers. How to be a Brilliant Conversationalist. You probably shy away from some people on social occasions.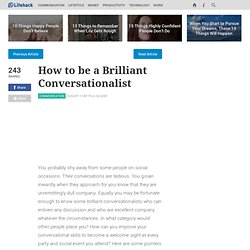 Their conversations are tedious. You groan inwardly when they approach for you know that they are unremittingly dull company.
Meditation
Creative Thinking. Creativity. Litemind. Exciting Links for Boring Days. Robot For President YouTube - Hitler Banned From iSketch!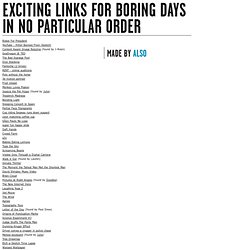 Content Aware Image Resizing (found by J-Roen)SeaDragon @ TEDThe Bad Signage PoolDice StackingFantoche (2 times)RENT - online auditionsPolo without the horse3d motion portraitFruit VesselMonkey Loves PigeonJessica the Pet Hippo (found by Julia)Treadmill MadnessBending LightSleeping Concert In SpainPartial Face TransplantsCop riding Segway runs down suspectcolor matching coffee cupSão Paulo No Logosuper fun happy slide Daft HandsCrowd FarmzZzBabies Eating LemonsType the SkyScreaming BeansVisible Only Through a Digital CameraWalk it Out (found by Lauren)Inmate ThrillerThe Moment the Tallest Man Met the Shortest ManDavid Shrigley Music VideoBrain CloudPictures at Right Angles (found by Doodles)The New Internet HeroLaughing Yoga 2Jed MovieThe WindApneeTypography ToysLetter of the Day (found by Paul Drew)Origins of Punctuation Marks.
---