Ping.fm 6
20 Most Important Inventions of the Next 10 Years - MSN Tech &am
Education is constantly confronted with a dual threat: 1.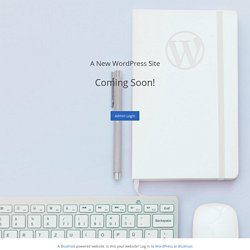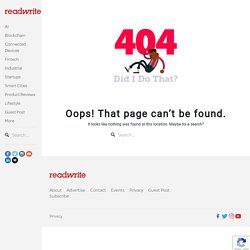 Troys: One Twitter Script to Rule Them All - ReadWriteWeb
Over the past year, all the major tech blogs have done round-up articles of great Greasemonkey scripts to use with Twitter (including us). What this says about Twitter's native functionality we aren't sure, but we know we've had upwards of 10 separate scripts installed and active at different times. All that is going to end, at least for the next little while, as we have just found the GM script that does everything (and we mean everything).
How to be the biggest Twitt in the world with out A to Z guide t
apr282009 Video Watch via YouTube: Screencast from the Wolfram|Alpha team:http://www.wolframalpha.com/screencast/introducingwolframalpha.html Special audio David Weinberger interviews Stephen Wolfram for Radio Berkman: Full: http://cyber.law.harvard.edu/interactive/podcasts/radioberkman/wolfram Edited: http://cyber.law.harvard.edu/interactive/podcasts/radioberkman120
[Apr. 28] A Sneak Preview of Wolfram|Alpha: Computational Knowle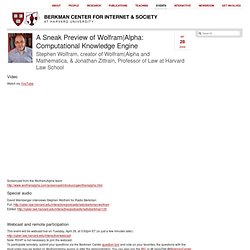 Franke James
Flickr Related Tag Browser
Brandable Domain Names | Unique .com Business Domains For Sale |
Brain-Twitter project offers hope to paralyzed patients - CNN.co
Building Your Teacher-to-Teacher Community! | SimpleTechIntegrat
Heat Haze - Last.fm Random Song Statistics
Paulus Veltman sluiten Auteur: Paulus Veltman Naam : Paulus Veltman E-mail: paulus.veltman@gmail.com Website: http:// Biografie: Meer van deze auteur (127) Geschreven op: 20 April, 2009 - 17:42 Rubriek: ECP AV Workshops Donderdag en vrijdag naar The Next Web 2009 geweest? Dan heb je toch wat gemist. Je had immers ook naar de ECP AV Workshops gekund. Ik koos voor het laatste en maakte een hoogwaardig – en gratis – programma rondom video mee.
Nothing found for Archief Ecp-av-workshops-mengvoer-voor-videof
TwitterPacks / COACHING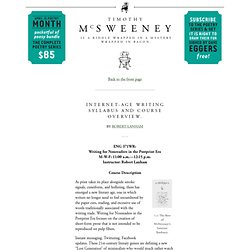 McSweeney's Internet Tendency: Internet-Age Writing Syllabu
ENG 371WR: Writing for Nonreaders in the Postprint Era M-W-F: 11:00 a.m.—12:15 p.m. Instructor: Robert Lanham Course Description
Interface experiments for a new live report on hypernarrative.co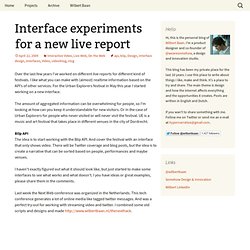 Over the last few years I've worked on different live reports for different kind of festivals. I like what you can make with (almost) realtime information based on the API's of other services. For the Urban Explorers festival in May this year I started working on a new interface. The amount of aggregated information can be overwhelming for people, so I'm looking at how can you keep it understandable for new visitors. Or in the case of Urban Explorers for people who never visited or will never visit the festival. UE is a music and art festival that takes place in different venues in the city of Dordrecht.
In early April, Adam Wilson posted a status update on the social networking Web site Twitter -- just by thinking about it. Just 23 characters long, his message, "using EEG to send tweet," demonstrates a natural, manageable way in which "locked-in" patients can couple brain-computer interface technologies with modern communication tools. A University of Wisconsin-Madison biomedical engineering doctoral student, Wilson is among a growing group of researchers worldwide who aim to perfect a communication system for users whose bodies do not work, but whose brains function normally. Among those are people who have amyotrophic lateral sclerosis (ALS), brain-stem stroke or high spinal cord injury. Some brain-computer interface systems employ an electrode-studded cap wired to a computer.
HootSuite-ultimate-Twitter-profile-management-toolbox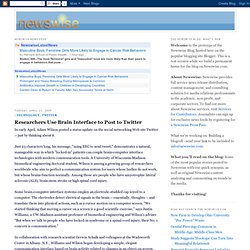 This is Propaganda
Create Your YtDub!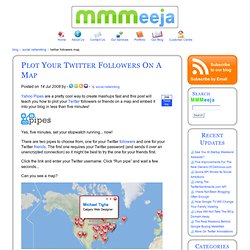 Plot Your Twitter Followers On A Map - MMMeeja Blog
Yahoo Pipes are a pretty cool way to create mashups fast and this post will teach you how to plot your Twitter followers or friends on a map and embed it into your blog in less than five minutes! Yes, five minutes, set your stopwatch running... now! There are two pipes to choose from, one for your Twitter followers and one for your Twitter friends.
HootSuite-ultimate-Twitter-profile-management-toolbox
Gallipoli:The First Day
TWEEEEET Design
The 5 Most Awesome Google-Twitter Combined Applications
Capo
Theeter - Simple YouTube Sharing
DCortesi . blog When Did I Start Twitter
Semantic Gifts - Analysis for Ideas
Over 53 million domains registered. .com .co
Twitr.Us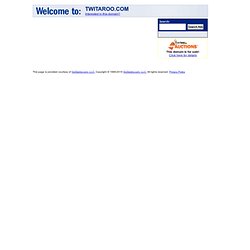 Social media news release (SMNR) creation, publishing and online
Linktive
Youtube – You know that site with videos and all.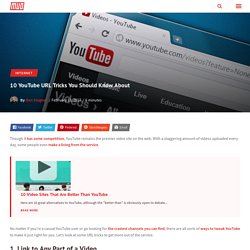 Newlaunches.com