1 MAP COLLECTIONS
Welcome to ETC's collection of historic maps. Here you will find over 5,000 maps representing many different time periods. A friendly license allows teachers and students to use up to 25 maps in non-commercial school projects without further permission. All maps are available as GIF or JPEG files for screen display as well as in PDF for printing. Use the GIF or JPEG maps for classroom presentations and student websites. Use the PDF maps for displays, bulletin boards, and printed school reports.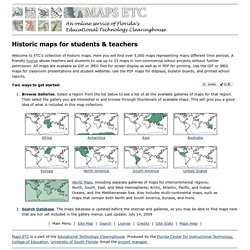 The Internet Map Archive
Broer Map Library - Online Historic Maps
Geographicus Antique Maps
History Map Archive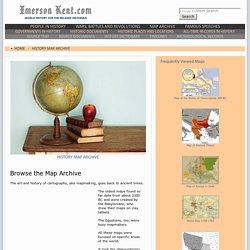 Browse the Map Archive
Maps of the World World Maps Celestial Maps World & Continents Special Maps & Prints
Antique maps of the World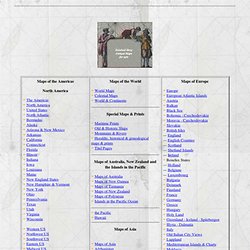 Miklian Antiquarian Maps
Historical Maps Database
1900 Map Collection
Carto-Mondo.fr
American Geographical Society
Skip to Content Libraries Home | Mobile | My Account | Renew Items | Sitemap | Help | University of Texas Libraries Home > Finding Information > PCL Map Collection > Historical
Historical Maps
The Library of Congress Search by Keyword | Browse by Geographic Location Index | Subject Index | Creator Index | Title Index The Geography and Map Division of the Library of Congress holds more than 4.5 million items, of which Map Collections represents only a small fraction, those that have been converted to digital form. The focus of Map Collections is Americana and Cartographic Treasures of the Library of Congress. These images were created from maps and atlases and, in general, are restricted to items that are not covered by copyright protection. Map Collections is organized according to seven major categories.