Yii Error Handling
Error Handling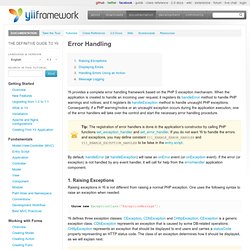 Yii provides a complete error handling framework based on the PHP 5 exception mechanism. When the application is created to handle an incoming user request, it registers its handleError method to handle PHP warnings and notices; and it registers its handleException method to handle uncaught PHP exceptions.
CException
Y!!, on 01 February 2011 - 01:11 PM, said: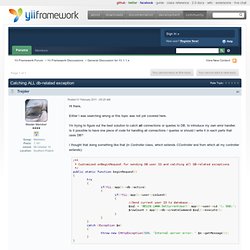 Catching ALL db-related exception
Extending Exceptions PHP 5 has an exception model similar to that of other programming languages. An exception can be thrown, and caught ("catched") within PHP. Code may be surrounded in a try block, to facilitate the catching of potential exceptions.
Exceptions
Exception