Project Based Learning
Get flash to fully experience Pearltrees
For this installment of Schools That Work, we chose Manor New Technology High School, a public high school that is part of the New Tech Network of schools.
Search results Group Discussion What High Engagement Texts Do You Use?
Search results Video Project-Based Learning: An Overview
Andrew Miller is a consultant for the Buck Institute for Education (1) , an organization that specializes in project-based curriculum.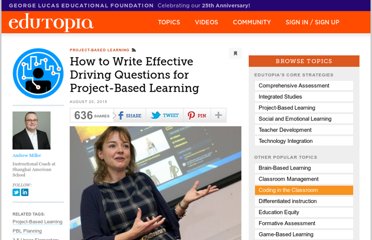 How you can get started today. Five middle schools and one high school in the Whitfield County, Georgia school district are in their second year of a transition to project-based learning. Their model is High Tech High (1) , a San Diego charter school renowned for its hands-on student projects that have real-world impact.
The start of the school year offers an ideal time to introduce students to project-based learning. By starting with engaging projects, you'll grab their interest while establishing a solid foundation of important skills, such as knowing how to conduct research, engage experts, and collaborate with peers. In honor of Edutopia's 20th anniversary, here are 20 project ideas to get learning off to a good start.
In this hands-on approach to teaching, students create schoolwork that demonstrates core subject knowledge.