Smart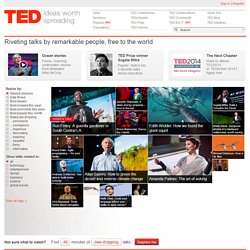 Gabby Giffords and Mark Kelly Be passionate. Be courageous. Be your best. On January 8, 2011, Congresswoman Gabby Giffords was shot in the head while meeting constituents in her home town of Tucson, Arizona. Her husband, the astronaut Mark Kelly, immediately flew to be by her side.
Discover the cosmos! Each day a different image or photograph of our fascinating universe is featured, along with a brief explanation written by a professional astronomer. 2012 March 12 The Scale of the Universe - Interactive Flash Animation Credit & Copyright: Cary & Michael Huang Explanation: What does the universe look like on small scales?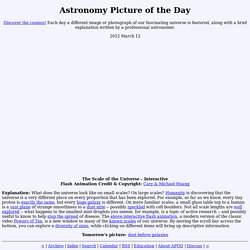 The Codex is a zipper-pull that contains humanity's accumulated wisdom, the EVR1 Canon. Its made of upcycled leather, a stainless Omega shackle and metal bolts. Use It is designed to be played with and meditated upon daily, whether at home or work or car. You can secure it to a belt loop, valuables or rear-view mirror.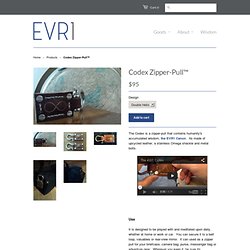 Codex (TM) | eVr1 About the Peace Crane This animation shows how to fold a square of paper into a peace crane (a bird). The crane is a bird with a long neck and tail feathers. It makes a great table decoration or gift. Good quality wrapping paper can also be used to make the model.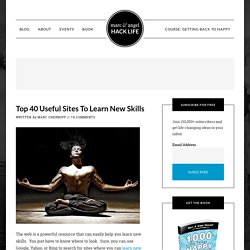 post written by: Marc Chernoff Email The web is a powerful resource that can easily help you learn new skills. You just have to know where to look. Sure, you can use Google, Yahoo, or Bing to search for sites where you can learn new skills , but I figured I'd save you some time.
by Mark and Angel Self-reliance is a vital key to living a healthy, productive life. To be self-reliant one must master a basic set of skills, more or less making them a jack of all trades. Contrary to what you may have learned in school, a jack of all trades is far more equipped to deal with life than a specialized master of only one. While not totally comprehensive , here is a list of 50 things everyone should know how to do.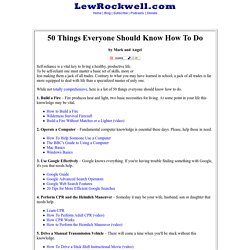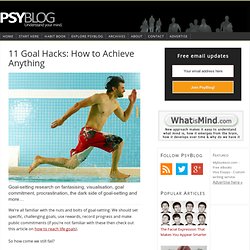 Goal-setting research on fantasising, visualisation, goal commitment, procrastination, the dark side of goal-setting and more… We're all familiar with the nuts and bolts of goal-setting. We should set specific, challenging goals, use rewards, record progress and make public commitments (if you're not familiar with these then check out this article on how to reach life goals). So how come we still fail?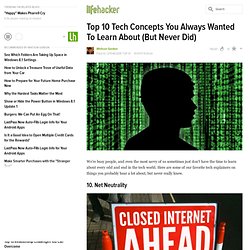 Store your data on someone else's computer, hope they don't do anything bad with it or decide to shut down. Stallman calls it "Careless Computing". If you put personal data in-the-cloud like future plans., trips, your current GPS location, then you should expect that data to be shared all over the world with nice people, nice companies and criminals (looking for when to rob you). Facebook connections and twitter followers provide information about you and your friends. If they assume you are similar to your friends, then the personal information those other people enter helps them build a profile of your likes/dislikes too.
I've been striving to simplify my life for many years now, and have recently (through my writing) been advising others how to do the same. In the process, I've learned that making little changes in our attitudes, habits, and environment can have a big impact. So today, I thought I'd compile a list of 100 ways to simplify your life – from the practical to the philosophical, and everything in between. Of course, not every item on the list will work for every person reading it. However, I hope that you'll find at least a little something that speaks to you, helps you save some time, space, and energy — and perhaps even increases your serenity and happiness!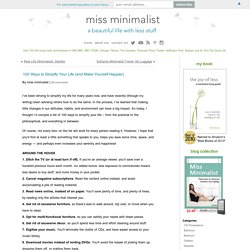 August 1st, 2012 By: Alvina Lopez Even the most eloquent of public and private speakers could always stand to tweak their communication skills just a little bit. After all, the ability to convey feelings and facts stands as essential to keeping the human species rolling along. Both the Internet and bookshelves sport advice a-go-go on how to get points across as clearly as possible, and the venerable open source lecture series TED does not disappoint in this regard.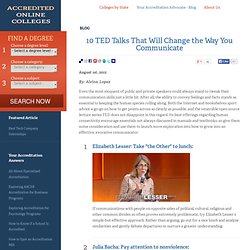 By: Maria Popova What a 13,000-year-old eucalyptus tree reveals about the meaning of human life. "Our overblown intellectual faculties seem to be telling us both that we are eternal and that we are not," philosopher Stephen Cave observed in his poignant meditation on our mortality paradox And yet we continue to long for the secrets of that ever-elusive eternity.
Google is the internet surfer's best friend and worst enemy. If you know what you're after, just type it into the search engine's famous little box and – hey presto – you'll be given a list of related sites in order of relevance. Such is Google's dominance that its name has become a synonym for search.