Writing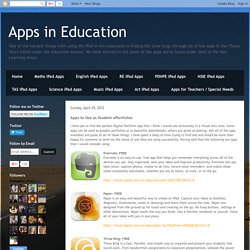 I have yet to find the perfect Digital Portfolio app that I think I would use exclusively in a Visual Arts class. Some apps can be used as graphic portfolios or as beautiful sketchbooks, others are great at sharing. Not all of the apps available are great at all of these things. I have spent a heap of time trying to find one and would be more than happy for someone to send me the name of one they are using successfully. Having said that the following are apps that I would consider using; Evernote: FREE Evernote is an easy-to-use, free app that helps you remember everything across all of the devices you use.
ISTE 2011 - Using Google Docs to Improve Student Writing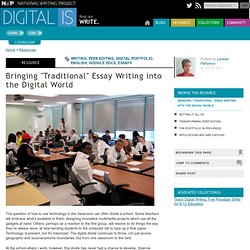 The question of how to use technology in the classroom can often divide a school. Some teachers will embrace what's available to them, designing innovative multimedia projects which use all the gadgets at hand. Others, perhaps as a reaction to the first group, will resolve to do things the way they've always done, at best sending students to the computer lab to type up a final paper. Technology is present, but it's tokenized. The digital divide continues to thrive, not just across geographic and socio-economic boundaries, but from one classroom to the next.
Bringing "Traditional" Essay Writing into the Digital World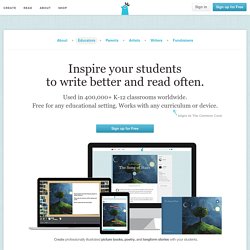 Inspirational The gorgeous illustrations inspire students to write. The more they write, the more they read. It's an addictive, virtuous cycle.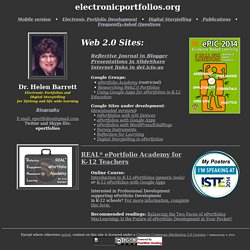 REAL* ePortfolio Academy for K-12 Teachers *REAL = Reflection, Engagement, and Assessment for Learning Introduction to K-12 ePortfolios Facilitated Course Registration Once a paid member of a REAL ePortfolio Academy course, participants may continue participating in discussions with subsequent cohorts. Interested in Professional Development supporting ePortfolio Development in K-12 schools? For more information, complete this form.
Printing Press
The interactive Printing Press is designed to assist students in creating newspapers, brochures, and flyers. Teachers and students can choose from several templates to publish class newspapers, informational brochures, and flyers announcing class events. Text added to the templates can be modified using a simple WYSIWYG editor, which allows students to choose text features, such as font size and color. Documentation for the Printing Press includes instructions for using the tool. Customized versions of the tool, which include additional instructions and more focused choices, are included with some lessons. A basic planning sheet is available to help students gather ideas before working on this interactive tool.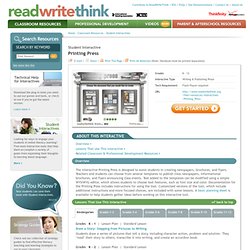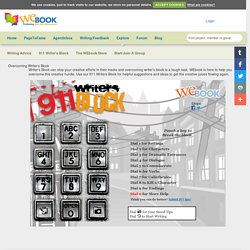 ^ Back to top We use cookies, just to track visits to our website, we store no personal details. ACCEPT COOKIES What are cookies? Login Overcoming Writer's Block Writer's Block can stop your creative efforts in their tracks and overcoming writer's block is a tough task.
Education Blog :: TeachHUB Blogs :: TeachHUB Video Writing Prompts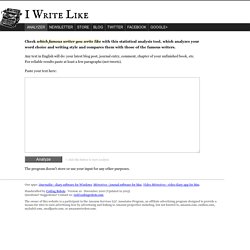 Check which famous writer you write like with this statistical analysis tool, which analyzes your word choice and writing style and compares them with those of the famous writers. Any text in English will do: your latest blog post, journal entry, comment, chapter of your unfinished book, etc. For reliable results paste at least a few paragraphs (not tweets).
WritingFix: Sharing Quality Writing Lessons techniques strategically designed to "fix" reluctant writers and writing teachers Our Northern Nevada resource website freely shares with the world! Here in Northern Nevada, our local writing project (the NNWP) will continue to sponsor this WritingFix website, which we launched back in 2001. In 2011, our tenth year, we faced massive budget cuts to our program, but we will keep the lessons, resources, and inservice ideas posted here over our ten years of growth. We inspired teachers locally and globally during our peak of popularity, and even though we are not growing like did during the heyday, we are here.
Amanda Car Dear FutureMe, Our daughter Amanda, today March 30 2006 has told us, after asking what kind of car she wanted for her 16th birthday that "I DO... sent 8 years into the future, to Today A LETTER FROM THE PAST Dear FutureMe, Hey, how are you? I wonder if you're married and have kids, or married at least. I hope you're stilly insane, independent, and f... sent 10 years into the future, to March 20th, 2014