Digital Citizenship
Overview We have devised an interactive curriculum aimed to support teachers of secondary students (approximately ages 13-17). The curriculum helps educate students on topics like: YouTube's policies How to report content on YouTube How to protect their privacy online How to be responsible YouTube community members How to be responsible digital citizens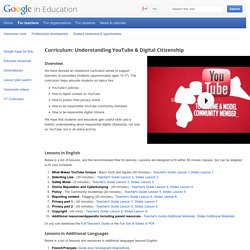 The following FAQs are intended to supplement the compliance materials available on the FTC website. To view the Rule and compliance materials, go to the FTC website at business.ftc.gov/privacy-and-security/children's-privacy . 1.
COPPA FAQ's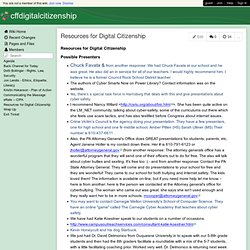 Resources for Digital Citizenship Possible Presenters Chuck Favata & from another response: We had Chuck Favata at our school and he was great. He also did an in service for all of our teachers. I would highly recommend him. I believe he is a former Council Rock School District teacher.
cffdigitalcitizenship - Resources for Digital Citizenship
Published Online: December 8, 2011 By Robin L. Flanigan Premium article access courtesy of Edweek.org.
Bad Online Behavior Jeopardizes Students' College Plans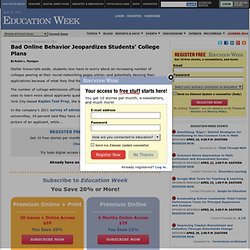 The Think Before You Post campaign
SonicWALL - Web Site Blocked
Be Cyber Safe - Cyberproofing 101 - Internet Safety for Parents and Children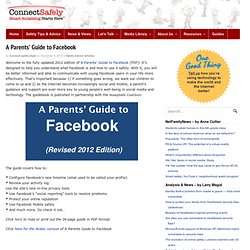 A Parents' Guide to Facebook | Safety Advice Articles
Welcome to the fully updated 2012 edition of A Parents' Guide to Facebook (PDF)! It's designed to help you understand what Facebook is and how to use it safely. With it, you will be better informed and able to communicate with young Facebook users in your life more effectively.
iKeepCurrent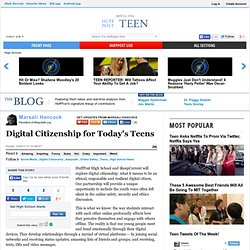 Marsali Hancock: Digital Citizenship for Today's Teens
HuffPost High School and iKeepCurrent will explore digital citizenship: what it means to be an ethical, responsible and resilient digital citizen. Our partnership will provide a unique opportunity to include the youth voice often left silent in the online safety, security and ethics discussion. This is what we know: the way students interact with each other online profoundly affects how they perceive themselves and engage with others offline. The reality is that our young people meet and bond emotionally through their digital devices.
Web 2.0 Guru - The New 3 Rs
R #1 - Responsibility Digital responsibility is one of the most critical R s to expose, teach and model for our young impressionable digital learners to. Learning to be digitally responsible and ethical must be taught in today's classrooms. We can not expect our students to know and understand how to behave digitally responsible without formal and informal instruction. Consider this, schools teach children about the harmful effects of drugs, alcohol, sex so why are we not teaching them how to become responsible and ethical digital citizens? We should block the harmful explicit sites not meant for children, but we should not continue blocking sites that offer effective productive opportunities for them, but teach them to use them responsibly.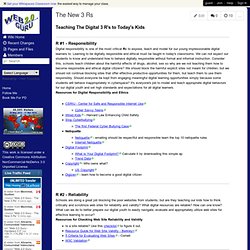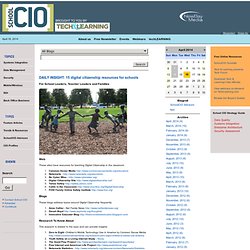 Blogs - DAILY INSIGHT: 15 digital citizenship resources for schools
Nov 1 Written by: 11/1/2011 10:40 AM For School Leaders, Teacher Leaders and Families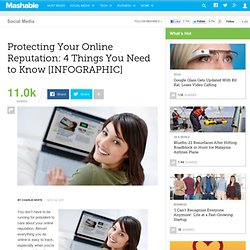 You don't have to be running for president to care about your online reputation. Almost everything you do online is easy to track, especially when you're using social media sites. This infographic shows you how to manage your "e-reputation," perhaps saving you some embarrassment, or even your career.
lhotastuff - Digital Citizenship and Safety Resources for Schools