UX
InspireUX - User Experience quotes and articles to inspire and connect the UX community. Ideation + Design | Writings on Digital Product Strategy & Design. EverydayUX — 30 Website Navigations that Make You Wanna Click It. The navigation might be the single most important aspect of a web design's usability.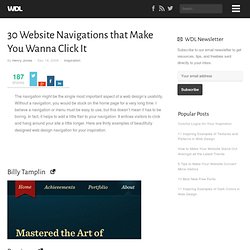 Without a navigation, you would be stuck on the home page for a very long time. I believe a navigation or menu must be easy to use, but this doesn't mean it has to be boring. In fact, it helps to add a little flair to your navigation. UsabilityPost. EverydayUX —
The Official Blog of AREA203 Digital. Schema.org - Home. Applying Psychology to Understand How People Think, Work, and Relate. Smashing Magazine - For Professional Web Designers and Developers. UX Magazine | Defining and Informing the Complex Field of User Experience (UX) A List Apart. Web development tutorials, from beginner to advanced. UX Booth: User Experience & Usability Blog.
37signals: Web-based collaboration apps for small business. Cooper: Product Design & Strategy. Adaptive Path. Designing for humans | Information & Design. Boxes and Arrows: The design behind the design.
---