UX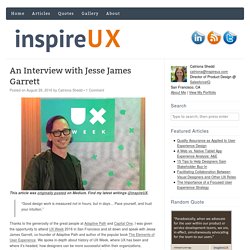 How to Find a UX Job in the San Francisco Bay Area 3 months ago, I relocated to San Francisco from Philadelphia. Finding a job in the San Francisco Bay Area proved to be harder than I originally anticipated. After all, San Francisco is known as one of, if not the, largest tech centers of the world, right?
Publications on the critical details and big picture behind digital product design. LukeW's 13 years of writing cover Web and device strategy, interaction design, visual design, usability, and much more. January, 2014 Customizing Help & Tips By Input Type January 13, 2014
Ideation + Design | Writings on Digital Product Strategy & Design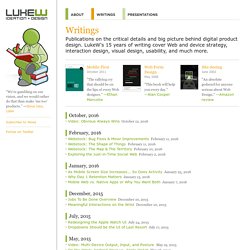 2013 was as eventful a year as I can remember. We sold our apartment in Brooklyn and bought a house in Westchester. We added a new member to our family, Oliver, in June and moved the whole family up north 3 weeks later to the first house I've ever lived in. In November, I left Foursquare after 4 years and spent the last month and a half of the year hanging with the kids and having a wide variety of conversations with people exploring different possibilities for what may lie ahead. Reviewing 2013's goals.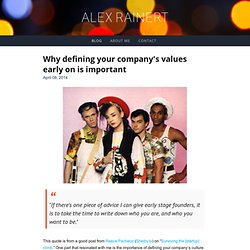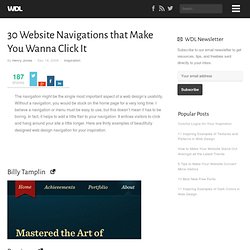 The navigation might be the single most important aspect of a web design's usability. Without a navigation, you would be stuck on the home page for a very long time. I believe a navigation or menu must be easy to use, but this doesn't mean it has to be boring. In fact, it helps to add a little flair to your navigation.
30 Website Navigations that Make You Wanna Click It
New UI Pattern: Website Loading Bars Here's an emerging UI pattern: a web page loading bar. Unsatisfied with progress indicators provided by the browser, some sites are implementing their own ones to show the load status of the next page.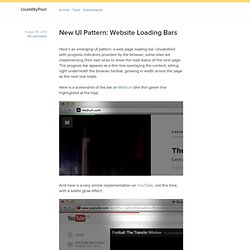 The Official Blog of AREA203 Digital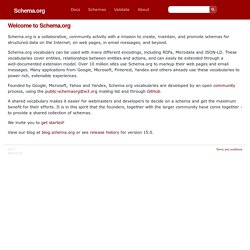 This site provides a collection of schemas, i.e., html tags, that webmasters can use to markup their pages in ways recognized by major search providers. Search engines including Bing, Google, Yahoo! and Yandex rely on this markup to improve the display of search results, making it easier for people to find the right web pages. Many sites are generated from structured data, which is often stored in databases. When this data is formatted into HTML, it becomes very difficult to recover the original structured data. Many applications, especially search engines, can benefit greatly from direct access to this structured data.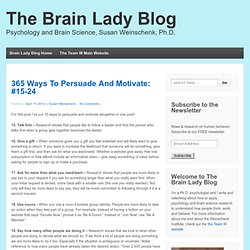 Applying Psychology to Understand How People Think, Work, and Relate
"We want them to type in their email and click on the "Join" button", was the response from my client as I asked him what was the one action he wanted people to take on his landing page. Good. That was clear. But now the question was what else should be on the landing page to persuade people to click. Like most of my clients the landing page was filled with lots of reasons why the visitor should click and join, but almost all of those reasons were "logical", and most were about price. The people coming to the landing page didn't have a relationship with this company yet — it was unlikely they would click and join based on a few weak logical arguments.
Interview With Khajag Apelian"Type Design Is Not Only About Drawing Letters" Having started his career studying under some of the best typographic minds in the world, Khajag Apelian not only is a talented type and graphic designer, unsurprisingly, but also counts Disney as a client, as well as a number of local and not-for-profit organizations throughout the Middle East. Even more impressive is Khajag's willingness to take on work that most people would find too challenging. Designing a quality typeface is a daunting task when it's only in the Latin alphabet. Khajag goes deeper still, having designed a Latin-Armenian dual-script typeface in four weights, named "Arek", as well as an Arabic adaptation of Typotheque's Fedra Display.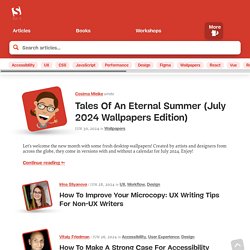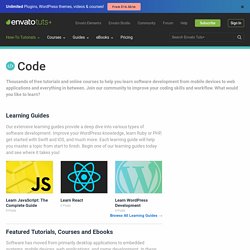 Are you getting started with mobile design? Any designer who's had the opportunity to design for ... Are you getting started with mobile design? Any designer who's had the opportunity to design for mobile devices as well as desktop computers knows that mobile design is a one of a kind discipline. You'll find challenges unique for mobile. In this introductory article, I'd like to take a look at some of the attributes that make mobile unique.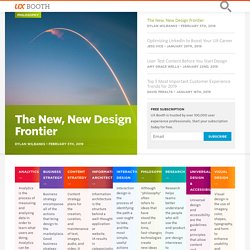 What Testing Won't Tell You What do users think and feel while setting up an online store? This week, Lynsey Thornton from Shopify tells us what the Shopify team learned while investigating this very question. WYSIWYG Round Up The conversation surrounding what content management systems and their accompanying WYSIWYG editors do, could do, and should do is a complex one, with myriad potential solutions. This week, Marli Mesibov brings us up to speed on the arguments for – and against – the next generation of WYSIWYG.
Our loyal customers include designers, developers, freelancers, lawyers, accountants, architects, non-profits, charities, universities, PR firms, retailers, manufacturers, consultants, authors, publishers, government agencies, students, marketers, airlines, restaurants, filmmakers, farmers, and just about everyone in-between. The world's most popular brands depend on our products every day. We'll never take their trust — or your trust — for granted.
Information & Design is Gerry Gaffney's user experience (UX) and usability company, based in Melbourne, Australia. Since 1991, we've been helping clients understand their users and design successful applications. We've worked in government, consulting, education, finance, risk & compliance, engineering and manufacturing.
Designing for humans | Information & Design