APPS
Home
HandsWeb - Creating WebSites on Ipad
About DocScan HD Did you ever need a digital copy of some paper document to send out, but there is no flatbed scanner nearby? Taking a picture from iPad is intuitive, but the picure would be perspective distored, with low-light environment or even has some shadows covered texts.
DocScan HD: iPad Document Scanner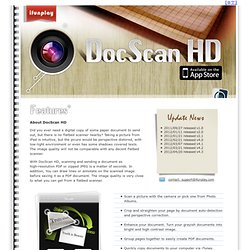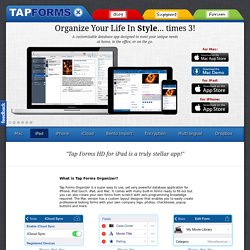 "Breaking News: Tap Forms for Mac is finally here!" "Tap Forms HD for iPad is a truly stellar app!" "Tap Forms for iPhone is the gold standard in iPhone database apps." "iCloud sync is the icing on the cake!" "With such beautiful Retina graphics, I can hardly believe my eyes!"
Tap Forms - iPhone Mobile Database App
Viewing, browsing and editing PDFs is simpler with options like zoom in / zoom out, book content search, highlighted searched text, etc. PDFPro also provides a phenomenal feature of personalizing a PDF by adding signature. PDFPro enables us to import/export PDFs from local disk and/or from Dropbox account. Its handy toolbar offers a host of editing tools such as pencil, shapes, highlight, eraser, bookmark, and more which provide flexible options while editing. It is also possible to save a PDF with the added/edited notes and share the same file via email. Additional options like Wi-Fi transfer and Wi-Fi print are available that offer more flexibility.
Download PDF Reader, Install PDF Reader, PDF Reader for iPhone, iPad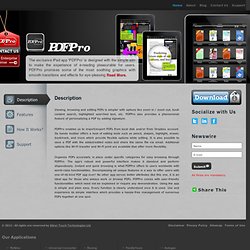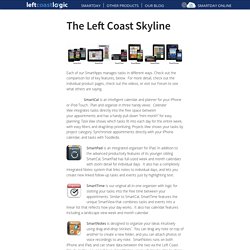 Smart Apps | Left Coast Logic
Each of our SmartApps manages tasks in different ways. Check out the comparison list of key features, below. For more detail, check out the individual product pages, check out the videos, or visit our Forum to see what others are saying. SmartCal is an intelligent calendar and planner for your iPhone or iPod Touch. Plan and organize in three handy views: Calendar View integrates tasks directly into the free space between your appointments and has a handy pull-down "mini month" for easy planning; Task View shows which tasks fit into each day for the entire week, with easy filters and drag/drop prioritizing; Projects View shows your tasks by project category. Synchronize appointments directly with your iPhone calendar, and tasks with Toodledo.
This is 2000 Calories Mar 29th, 2013 BuzzFeed produced this informative video info-graphic that shows just how easy it is to hit 2000 calories (US Daily Allowance) from some everyday foods. Note how few items it takes of the fast foods, and guilty foods it takes to reach the total. ... Read More » Facial Features Reflect Heart Health, Study Finds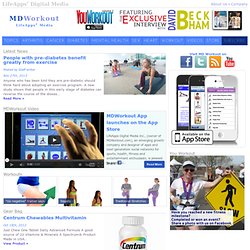 MDWorkout.com
Owen Mathews - iTakeNotice Quick Start
Preliminaries Thank you for downloading iTakeNotice! At first launch, iTakeNotice will ask you to choose how you'll use the app. There are a few templates to choose from; don't worry if none of them seem to apply to you, since the differences are only in nomenclature. Below is a table that shows how your choice affects your use of the program: For the rest of this Quick Start document, I'll be referring to them with the default names of Person, Context and Event, but remember that they simply correspond to the icons you see above, and so you might have to think "Student" or "Athlete" when you read "Person."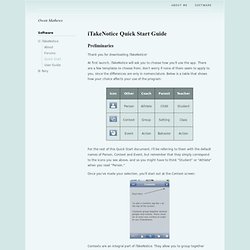 MySportsApp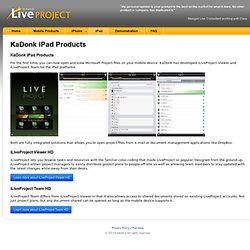 KaDonk iPad Products For the first time, you can now open and view Microsoft Project files on your mobile device. KaDonk has developed iLiveProject Viewer and iLiveProject Team for the iPad platforms. Both are fully integrated solutions that allows you to open project files from e-mail or document management applications like DropBox. iLiveProject Viewer HD
iPad
These step-by-step instructions show you how to add a bookmark that uses the current page in Safari for a new bookmark in HomeMarks. Tap the add button in the toolbar at the bottom of the screen, then select Add Bookmark. Take note of the name and bookmarks folder and then tap Save. Tap the Bookmarks button in the toolbar at the bottom of the screen. Navigate through your bookmarks until you locate HomeMark It! in the list.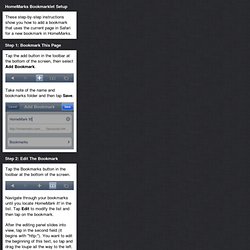 HomeMark It!
Type on PDF iOS app demo
iPad 2 - Je familie en vrienden zien terwijl je met ze praat.
FaceTime works right out of the box — no need to set up a special account or screen name. And using it is as easy as it gets. Let's say you want to start a video call with your mom. Find her entry in your contacts and tap the FaceTime button.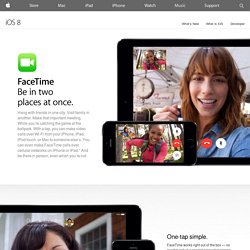 MotionX-GPS HD Videos
Caution: - The size of the DXF files which can be opened, is limited to about 20 MB (on iPhone 4 and iPad 2); - Opening a big file can take some times; - Some complex objects (spline, hatch,...) are not read; New, a forum about iPocket Draw is opened and an user manual is available : english - français.Watch some tutorials on YouTubeOn YouTube, choose HD.More videos will be added. Screens of hatch and texture in version 1.92 - and result after applying a texture on a rectangle and an ellipse in the same time : Opacity in version 1.92 : screen 1 = rectangle with opacity 100%, screen 2 = new settings of the object, screen 3 = result Screens of different versions of iPocket Draw : iPocket Draw sur iTunes.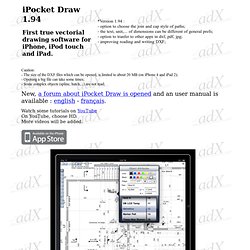 iPocket Draw
Eva Twardokens, MotionX-GPS Spokesperson and Olympic Skier, Inducted into U.S. Ski and Snowboarding Hall of Fame SANTA CRUZ, CA–(Marketwire – Nov 15, 2011) – MotionX® is excited to announced and congratulate its spokesperson and Olympic skier Eva Twardokens as she is inducted into the U.S. Ski and Snowboard Hall of Fame. The U.S. Ski and Snowboarding Hall of Fame inducted eight skiing greats to its Class of 2011 Hall of Fame — headlined by 1985 World Championship bronze medalist Eva Twardokens and 2002 Olympic silver medalist Joe Pack.
MotionX News » MotionX-GPS
Top-of-the-line GPS system for adventurers and professionals in the great outdoors! GPS Kit is a full-featured GPS system for the iPhone that combines all the functionality of expensive handheld units with the power of wireless technology. Using advanced technology optimized for the iPhone, GPS Kit offers a superbly easy-to-use system that puts data from a wide range of sensors at your fingertips. Designed for outdoor activities such as hiking, hunting, camping, skiing, cycling, geocaching, mountain biking, motorcycling, off-roading, fishing, and other romping in or out of the backcountry--anywhere in the world. "This absolutely crushes every other GPS app on the market."
GPS Kit & GPS Kit HD: The ultimate apps for getting outdoors
AppSolutely.it
Air Sketch for the iPad by qrayon
Features: View more Air Sketch Tips and Tricks, and also check out the FAQs. People Love Air Sketch We work hard to build 5-star Apps, and are very grateful for all our 5 star reviews. Just a few:
Stickyboard 2 for the iPad by qrayon
Stickyboard for the iPad by qrayon
CarbonFin - Outliner for iPhone, iPod Touch, and iPad
Sugarsync
Home - Elevenworks
Home Page
UPAD - writing
YouTube
Puffin webbrowser flash