Games and Diversions
Otomata. New!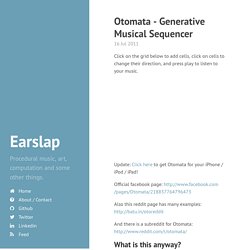 If you like Otomata, check out my new instrument Circuli by clicking here! Update: Click here to get Otomata for your iPhone / iPod / iPad! Official facebook page: Also this reddit page has many examples: And there is a subreddit for Otomata: Glitchscape. Isle of Tune. SoundCloud. Top 10 Lists - Listverse. Drum Kit. Qwerty Beats | Online Drum Machine | Keyboard Drum Loops | Remix | Samples | uπit.
Drench - the world's simplest flash game. INCREDIBOX [ Official website ] BallDroppings. Face Memory Game - 2. Famous Objects from Classic Movies. Matrix.
---