Recipes
10 Easy Steps to Homemade Ricotta Cheese - The Pelsers. My husband Josh loves cheese.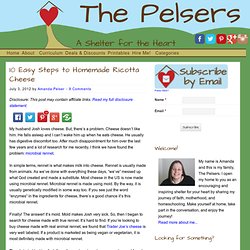 But, there's a problem. Cheese doesn't like him. He falls asleep and I can't wake him up when he eats cheese. He usually has digestive discomfort too. How to make potstickers - from scratch! - StumbleUpon. 2 lbs of ground pork* 1 bunch of Chinese chives** 1 bunch of green onions 1 pieces of ginger 1 egg (optional) some uncooked shrimp (optional) 3 packs of dumpling wrappers*** some all-purpose flour soy sauce sesame oil rice vinegar garlic (optional) chili paste (optional) *The preferred of pork for this recipe is pork butt, which has a higher fat content than most other cuts of pork.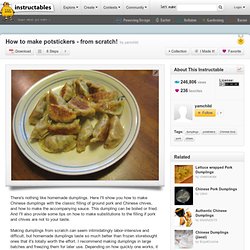 Leaner cuts can be substituted, but the filling will taste more dry. 5 Minute Chocolate Fudge Smores Mug Cake. Oh hi!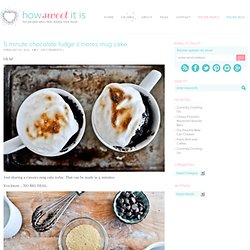 Just sharing a s'mores mug cake today. That can be made in 5 minutes. You know… NO BIG DEAL. Since you're asking, yes… I have always thought the whole "cake in a mug in a microwave" thing was sort of skeevy. One Hour Bread Rolls | April 26th, 2011 Amy Allred 3 Comments.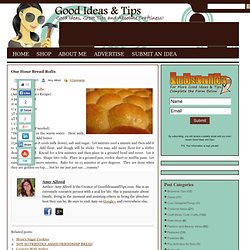 Chicken Adobo — Just One Cookbook. Update: Pictures and recipe updated in June 2012 This past Monday, Carolyn from All Day I Dream About Food posted this Filipino recipe called Chicken Adobo.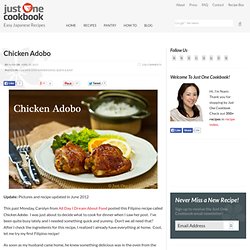 I was just about to decide what to cook for dinner when I saw her post. I've been quite busy lately and I needed something quick and yummy. Don't we all need that? After I check the ingredients for this recipe, I realized I already have everything at home. Somme Borscht and Whole Wheat and Honey Biscuits « eatto. Good things to eat together around this time of year: hearty somme borscht full of all your garden (or farmers market) bounty and some tasty whole wheat and honey biscuits for dunking.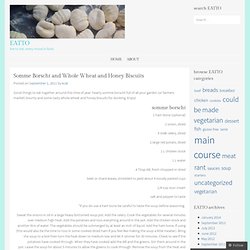 Enjoy! Somme borscht 1 ham bone (optional) 2 onion, diced 3 stalk celery, diced. Steamed Tofu & Broccoli with Almond Butter Sauce. Gluten free Almond Butter Sauce (kind of like Peanut Sauce), three nights in a row.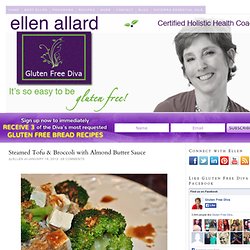 With steamed tofu and broccoli. Each night, after I took the last bite, I licked the plate. Girl Scout's honor. If you're looking for fast, easy, Gluten free Chinese food, this should do the trick. From start to finish, it takes just about 20 minutes. Stacy Stowers. There's a very good reason why it's called the Happy Shake!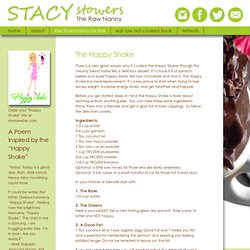 Though this creamy blend tastes like a delicious dessert, it's chock-full of spinach, berries and super happy foods, like raw chocolate and maca. The Happy Shake is a meal replacement. It's a key place to start when trying to lose excess weight, increase energy levels, and get healthier and happier. Before you get started, keep in mind the Happy Shake is more about technique than anything else. You can take these same ingredients, throw them into a blender and get a glass full of lawn clippings. Baking: 100% Whole Grain Molasses Cookies. Molasses cookies seem like such a boring cookie.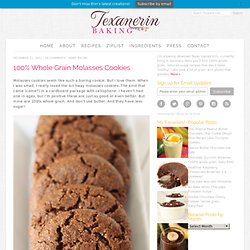 But I love them. When I was small, I really loved the Archway molasses cookies. Cherry Clafoutis Recipe. Cherry Clafoutis or Clafouti (pronounced kla-foo-TEE) is a rustic looking French country dessert from the Limousin region that has become very popular in North America.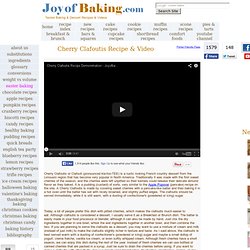 Traditionally it was made with the first sweet cherries of the season, and the cherries were left unpitted so their kernels could release their delicate almond flavor as they baked. It is a pudding (custard) of sorts, very similar to the Apple Popover (pancake) recipe on the site. Choc-TASTIC!!! Quinoa Chocolate Cake with Dark Chocolate Ganache! This past weekend was my wonderful friend Robin's birthday (but don't tell her I've mentioned her again in my blog, she`s getting kind of a big head about it) and due to some various dietary restrictions in the group, I decided to make her cake gluten-free, dairy-free.
Do not be concerned. This cake was so delicious that we devoured the leftovers the morning after her party like hungry sharks attacking their prey. Wet: 2 cups cooked quinoa 1/2 cup almond milk (or other alternative milk) 4 eggs 1 tsp vanilla 3/4 cup canola oil Dry: 1 1/2 cups sugar 1 cup unsweetened cocoa powder 1 Tbsp baking powder 1 tsp salt So, start by cooking you quinoa. The best taco seasoning recipe ever — Celebrities, Current Events, Health & Fitness, Northwest Indiana Mom Blog - StumbleUpon. Make Newsletter - Healthy Recipes - goop.com. 1.Put the beans in a saucepan or bowl and add cold water to cover by about 2 inches.
Cover and soak for at least 6 hours or overnight in the refrigerator. Drain and rinse. 2.Put the beans, kombu, onions, chipotle powder, bay leaves, 1 teaspoon of the salt, and the pepper in a large saucepan. Vote! Then Eat Some Rosemary Garlic Sweet Potato Fries. This was originally posted on election day four years ago, but I'm updating and bringing it forward because I have the same message for you today and these oven-baked sweet potato fries with rosemary and garlic are just as appealing to me now as they were back then. These delicious baked sweet potato fries have so much flavor, you'll never miss that they aren't deep-fried. First of all, if you're reading this post and you haven't voted yet, I'd prefer that you bookmark this recipe, go find your local polling place, then come back and read this later.
Really. Butter Flaky Pie Crust Recipe. Irish Beef Stew Recipe, Guinness Stew Recipe. Please use beef chuck stew meat that is well marbled with fat. Lean stew meat will end up too dry. Save prep time by prepping the onions, carrots, and potatoes while the stock with beef is simmering in step 2. Method 1 Sprinkle about a teaspoon of salt over the beef pieces. Basic Biscuits Recipe. Daily Bread - StumbleUpon. To make all of these Instructables, download this collection of How To's as an ebook. Download » Daily Bread gives you full step-by-step instructions for baking 26 amazing breads, dark to light, from around the world. Learn how to make an artisan sourdough loaf, authentic Montreal bagels, Uzbek Tashkent non, and Indian paratha. All projects come from Instructables.com, are written by baking experts, and contain pictures for each step so you can do it yourself in your kitchen.
---