Photo's
Aim for Square When stitching together an image for eBay hosting, the goal is to create a photo that is generally square and completely filled with image. That gives you the best coverage in the searches and at the top of the listing. Watch the dimensions under the cells and aim for matching numbers, like 360x360. That is the onscreen size you will see on the workspace. The composite that you ultimately make will be based on the size you choose from the dropdown list next to the MAKE button.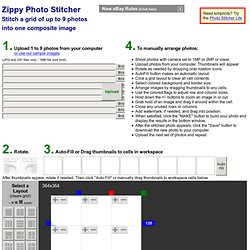 Zippy Photo Stitcher
Digital photography tips, tricks , tutorials and inspiration - Photopoly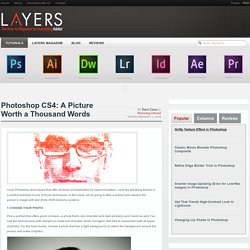 I love Photoshop techniques that offer all kinds of possibilities for experimentation—and the following tutorial is a perfect example of one of those techniques. In this issue, we're going to take a portrait and replace the person's image with text (think 2009 Grammy posters). Pick a portrait that offers good contrast—a photo that's very dramatic and dark probably won't work as well. I've had the best success with straight-on head and shoulder shots, but again, feel free to experiment with all types of photos.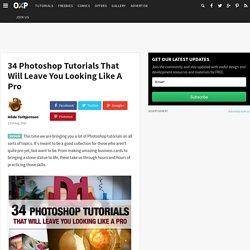 This time we are bringing you a lot of Photoshop tutorials on all sorts of topics. It's meant to be a good collection for those who aren't quite pro yet, but want to be. From making amazing business cards to bringing a stone statue to life, these take us through hours and hours of practicing those skills.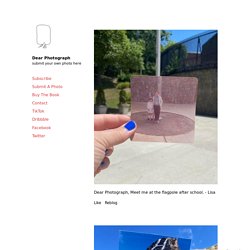 This past October, Dear Photograph and About Time had a contest to give away a trip to anywhere in the world for people who sent in a Dear Photograph related to love or their family. Once our winner Jennifer found out she won she told me in an email it was the best day of her life because a day before she found out the adoption papers for their new child went through. Jennifer just sent me an email linked to a blog post to their trip they went on to Turks & Caicos in March. Looks like they made a few new memories and an unforgettable trip of a lifetime. Not only has Dear Photograph given me so many amazing opportunities, it's given me a different outlook on life.
One of the growing areas in photography is taking photographs that are so brilliant that the viewer will initially conclude that they must have been significantly altered or manipulated in Photoshop. There are entire blogs devoted to showcasing these images, and the photographers who take them. A combination of perfect composition, lighting, color and timing are required to capture these brilliant photographs at the perfect moment. Today, we'll showcase 30 unbelievable, brilliant, non-Photoshopped images that will blow your mind. These photographers are masters of exposure and composition, and you might have a hard time believing that these photographs are real and not manipulated.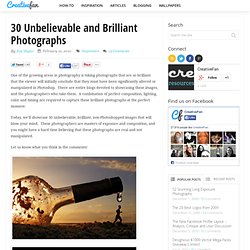 30 Unbelievable and Brilliant Photographs
National geographic contest for 2010
25 Examples of Breathtaking Nature Photography | Animal Photography
"Earth From Above" is the result of the aerial photographer Yann Arthus-Bertrand's five-year airborne odyssey across six continents. It's a spectacular presentation of large scale photographs of astonishing natural landscapes. Every stunning aerial photograph tells a story about our changing planet. Coal mine in South Africa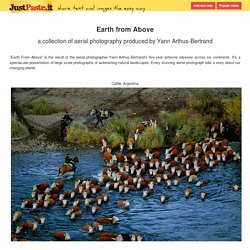 Article by James Pond I am the owner of Pondly.com / art lover / electrical engineer / software developer / MBA in e-business student. I blog for pleasure and love to share my Internet findings. Web site: http://www.pondly.com Body painting is form of art in which Craig Tracy excels. Shapes of models' bodies are an inspiration for this artist who was born and raised in New Orleans, Louisiana.