Crafts
Mini Embroidered Cards. Sometimes it's the little connections that makes the biggest difference in our day.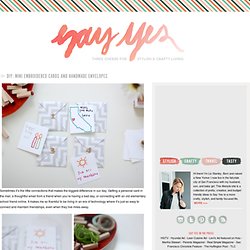 Getting a personal card in the mail, a thoughtful email from a friend when you're having a bad day, or connecting with an old elementary school friend online. It makes me so thankful to be living in an era of technology where it's just so easy to connect and maintain friendships, even when they live miles away. It's those small, thoughtful things that make all the difference in our relationships, don't you think?
These mini embroidered cards and handmade envelopes, though small, are personal and sweet. Simple Ideas That Are Borderline Crafty (38 Pics) DIY Instagram Photo Blocks. Posted on February 7, 2013 by Christina Looking for a creative way to display your Instagram photos?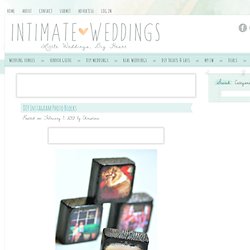 Maybe you have heaps of Instagram photos from your wedding on your computer. Why not make photo blocks out of them? You could even use photos of you and your sweetheart and display them at your wedding. I have mine displayed on my fireplace mantle. Lovely Wire Knot Ring Tutorial. You can make this lovely ring (or a version of this design) yourself, using just some basic tools, wire and a lip balm!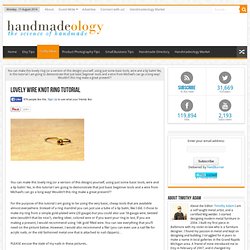 Yes, in this tutorial I am going to demonstrate that just basic beginner tools and a wire from Michael's can go a long way! Wouldn't this ring make a great present?? Circle Zip Earbud Pouch Tutorial - Dog Under My Desk. UPDATE: I have completely re-written this tutorial with all new photos and better instructions and it is available as a licensed pattern in my pattern shop.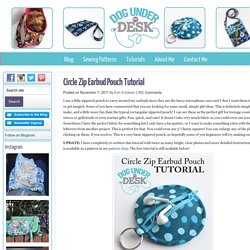 The free tutorial for personal use is still available below! I use a little zippered pouch to carry around my earbuds since they are the fancy microphone ones and I don't want them to break or get tangled. Some of you have commented that you are looking for some small, simple gift ideas. This is definitely simple to make, and a little more fun than the typical rectangular zippered pouch! I can see these as the perfect gift for teenage cousins or nieces or girlfriends or even teacher gifts. Tutorial-Credit Card Holder. I just finished a giveaway at Tatertots & Jello & Jen was kind enough to let me guest post on her super blog!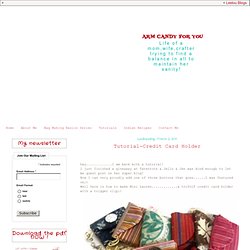 Now I can very proudly add one of those buttons that goes......I was featured on;) Well here is how to make Mini Lauren.............a trifolf credit card holder with a trigger clip:) 4.5"(12cm) wide x 3.5"(9.5cm) high when closed 9"(23.5cm) long when fully open including the flap. The slots are 3"(7.5cm) by 4.5"(12cm) each. Gift Ideas- Paper Cups. Posted by: Cathy on Jun 03, 2012 Tagged in: Untagged Summer Lights Garland I loved this idea and who would not love to receive this pretty gift.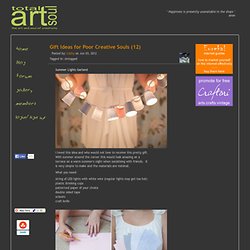 Gift Ideas- Stones. Posted by: Cathy on Jun 11, 2012 Tagged in: Untagged Painting stones has to be one of the cheapest forms of art and a wonderful way to give someone an inexpensive but thoughtful gift.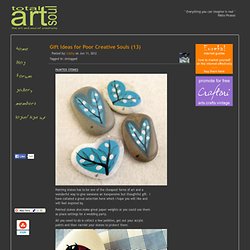 I have collated a great selection here which I hope you will like and will feel inspired by. Painted stones also make great paper weights or you could use them as place settings for a wedding party. All you need to do is collect a few pebbles, get out your acrylic paints and then varnish your stones to protect them. Marble Magnets. I finally gave in and made marble magnets.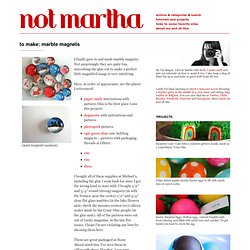 Not surprisingly they are quite fun, smooshing the glue out to make a perfect little magnified image is very satisfying. Here, in order of appearance, are the places I referenced: paper candy instructions with pictures (this is the first place I saw this project) dogmestic with instructions and pictures photogeek pictures ugly green chair cute ladybug magnets – pictures with packaging threads at Glitter:onetwothree I bought all of these supplies at Michael's, including the glue I went back for since I got the wrong kind to start with. I bought 1/2″ and 3/4″ round (strong) magnets (in with the frames, near the corks); 1/2″ and 3/4″ clear flat glass marbles (in the fake flowers aisle, check the mosaics section too); silicon sealer made by the Crazy Glue people (in the glue aisle).
Page Corner Bookmarks. This project comes to you at the request of Twitterer @GCcapitalM.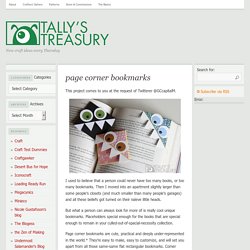 I used to believe that a person could never have too many books, or too many bookmarks. Then I moved into an apartment slightly larger than some people's closets (and much smaller than many people's garages) and all these beliefs got turned on their naïeve little heads. But what a person can always look for more of is really cool unique bookmarks. Exploding Box Instructions.
Done. It's 9:00pm.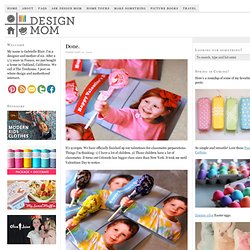 We have officially finished up our valentines-for-classmates preparations. Things I'm thinking: 1) I have a lot of children. 2) Those children have a lot of classmates. It turns out Colorado has bigger class sizes than New York. Pop Up Card . Just Piece of Paper . Amazing Flower. Paint chip greeting cards. Like most of you, I'm sure, I tend to go through a lot of paint chips when trying to decide on a color to paint a room. And when the project is done, I toss the paint chips into a box I keep in my craft room. They are the perfect "I'll use these one day" items, right? Well I stumbled upon the box a few days ago and realized just how many I'd collected over the years. Oh the memories this pile brings back! Pop Tab Bracelet | Version | Cut Out. No-Sew Duct Tape Zipper Pouch.
Take your duct tape skills to the next level with this great zippered pouch. The interior is water-proof, making this bag great for carrying, pens, make-up, whatever you can imagine. Choose an outer fabric that suits your personality and function. Wallet-to-Tote On the Go ~ Tutorial. Lorraine from ikat bag is a favorite around here… She has tons of fun tutorials on her blog and she's joined us before with this wonderful Back to School Pencil Case tutorial.
Today Lorraine shares a tutorial for a new summer essential, the On the Go Wallet-to-Tote! Construction includes three main parts: Assembling the Wallet, Assembling the Outer Bag and Making the Lining. The tote zips into a convenient wallet in this unique and handy design. Turn Photo Negatives Into Artsy, Personalized Lamps. Free Craft Projects & Ideas. How to Make Crayon Monogram | Tutorial.
Craft thursdays. Links - how to stop junk mail, green design blogs, d.i.y. blogs, recycled products. You knew i was going to make one. They are all over pinterest.... (i still am not signed up for pinterest because i don't have time for one more thing but browsing is fun!)
So we made one. i took a box of 64 crayons and took out the blacks and browns.i used another small box and doubled up on the good colors i liked and hot glued them to the top of our canvas. Moneywallet.org.
---